This page is part of © FOTW Flags Of The World website
New England (Australia)
Last modified: 2016-05-20 by ian macdonald
Keywords: australia | new england | lion | southern cross | stars: southern cross |
Links: FOTW homepage | search | disclaimer and copyright | write us | mirrors

---
See also:
---
New England Statehood Movement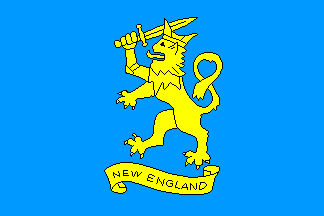 image by António Martins, 14 Feb 1998

Many people within the New England area (northern New South Wales) supported New England becoming a separate state. A referendum on the matter held in 1967 narrowly failed and New England has remained part of the state of New South Wales ever since, although there has been the occasional rumble. Accompanying the article is a black and white photo of the New England New State movement flag. The flag features what looks like a lion standing upright holding a sword with the words "New England" on a scroll underneath.
Zane Whitehorn, 6 February 2001
The lion holds the sword with a gauntletted paw. The background is light blue, and the lion and sword are yellow.
Source: the 1976 French edition of Smith's Flags through the Ages and Across the World [smi76]
António Martins, 28 February 2001
The lion looks like the Finnish national Coat of Arms, I have no idea why.
António Martins, 5 December 2005
---
Mid-2000s proposal
At www.newstates.net is a new proposal for a flag of a New England state. I think the site is run by someone supporting New England statehood, and I remember someone associated with the New England statehood movement appearing in the Sydney Morning Herald after holding a debate at the NSW parliament house. The accompanying photo showed the proposed New England flag from that site.
Their page about New England, archived here, says:
Both the proposed New State flag for New England and River-Eden are loosely based on the "National Colonial Flag for Australia"
...

All proposed New State house-flags have replaced the Union Flag in the first canton with a stylised "Union Pennant" on the hoist.

While the pennant is clearly derived from the Union Flag, it no longer takes up all of the Canton (first quarter of prominence), it is slightly reduced, (from a full quarter to about a fifth), and could no longer be described as a British Ensign of any sort. Its shape can be seen to acknowledge and honour a British heritage yet points towards an independent future as evidenced by the now dominant remainder of the flag.

The central device of the flag is a red cross ending in a seven-pointed star (the seventh state), at the three points where it rests against the white background. This red cross could variously be seen as the cross of St George (Old England), a stylised Southern Cross, a red Eureka flag or derived from the badge of the mother state, New South Wales.

At the centre of the cross is a crowned gold lion rampant bearing a sword (the traditional New England symbol). This differs from the NSW badge in that the NSW lion passant, (passive), is now actively demanding the rites of separate statehood.
Concerning the previous new state movement flag, the site says "If you were part of that movement and if you still have that flag, you should also fly it proudly. Both flags should be actively promoted as symbols of the New State movement on various merchandise items."
Jonathan Dixon, 5-6 December 2005
This flag was indeed designed by Ian Johnston, who also created the new states website. It was pictured in a Sydney Morning Herald report on support for New England statehood, http://www.smh.com.au/articles/2005/01/24/1106415528397.html.

The design is not entirely clear from the explanation of symbolism quoted above. Rather than placing a Union Jack in the
canton, Ian has used about a quarter of the Union Jack at full size in a triangular section at the hoist (the vertical centreline of the UJ being placed at the hoist of this flag. The rest of the field is white, with a red cross, of which one arm merges seamlessly with the St George's cross of the UJ portion, and the other three arms end in a red seven pointed star in a similar style to modern Eureka flags. In the centre is a yellow lion with sword, taken from the flag used by the New England Statehood Movement in the 1960s.

Ian used a similar triangular Union Jack portion approach for flags of other proposed states on the newstates.net site, but I expect the New England design is where it started.
Jonathan Dixon, 10 March 2016