This page is part of © FOTW Flags Of The World website
Governor of South Australia (Australia)
Last modified: 2015-06-22 by ian macdonald
Keywords: south australia | governor | union jack | stars: southern cross | stars: southern cross and pointers | southern cross | southern cross and pointers | britannia | man: aboriginal | piping shrike | magpie | crown: st edward' |
Links: FOTW homepage | search | disclaimer and copyright | write us | mirrors

---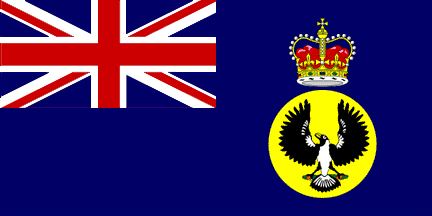 image by Martin Grieve, based on photograph from the Governor's office, 21 Jun 2006
---
See also:
---
Description of the flag
South Australia State Governor still used the defaced Union Flag. It changed to a defaced Blue Ensign in 1976. I don't know what the ensign defacements are.
David Prothero, 24 February 1997
The South Australian Governor was the first of the Australian State Governors to change their flag to a slight variation of the State Flag, with the addition of the St. Edward's Crown above the fly badge on 18 September 1975.
Ralph Bartlett, 4 August 2004
In 1975, the Governor's flag of South Australia was changed from the traditional-style Union Jack and Garland with badge to a defaced Blue Ensign which was charged with the State badge and ensigned with the British Royal crown. Clay Moss wrote to the Governor's office requesting a photograph of the flag, and they very kindly obliged. Our thanks to the Governor's office of South Australia for their kind assistance.
Martin Grieve, 21 June 2006
---
Historical Governor's flags
See also: Historical state flags
1870-1876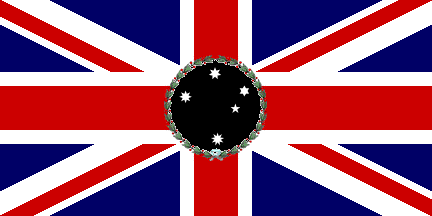 image by Martin Grieve, António Martins and Jaume Ollé, 9 Jun 2006
March 1870. Governor's submission:. "Constellation of the Southern Cross in stars of the proper magnitude, done in white upon the centre of the Union Jack as the distinguishing badge of the Flag to be flown by the Governor of this Colony. I beg to point out to your Lordships that it differs from that adopted by the Government of Victoria in the insertion of the two stars belonging to the Constellation, commonly called the Pointers, in the outer division of the Union Jack."
[Source: State Library of New South Wales Microfilm No.1778 - CO 13/125 South Australian Dispatches 1870. Via Ralph Kelly.]
Victoria had the pointers in the arm of the St George's cross. Ralph Kelly's suggestion is that the South Australia pointers were in the lower left arm of the St Patrick's saltire.
July 1870. Admiralty suggest Southern Cross in white on black escutcheon within garland as the Governor's flag.
Colonial Office proposed that the badge (as proposed for governor's flag) "should be borne on an escutcheon in the fly of the Blue Ensign".
Colonial Office also suggested that the badge proposed for the Blue Ensign should similarly be used in the Red Ensign carried by Merchant Vessels registered in South Australia.
David Prothero, 9 June 2006
David sent me another scanned document, a full colour sheet containing at the top, a square Union flag with Laurel Garland, within which a 5 star arrangement of the Southern Cross is depicted without the 2 pointer stars. There is a hand-written note, which appears beneath the flag and reads: "As the flag proposed for the Governor of S. Australia was (with enough) exactly like the one fixed for the Governor of Victoria - the Secretary of State suggests the above --" This would most probably be in the ratio of 1:2 as above.
Further to this, the Ausflag web-site provides the following information:
"The Governor of South Australia seemingly flew a slightly different flag - without the two pointers. However, historical details are sketchy as the drawings submitted to the British Admiralty have never been recovered. Only written descriptions of the designs have been found."
Martin Grieve, 9 June 2006

I had always assumed that an escutcheon was shield-shaped, yet in the illustration I note that the southern cross is placed upon a circular black background occupying the entire space within the garland.

What, therefore, is the precise meaning of "escutcheon"? Need an escutcheon necessarily be shield-shaped or does the term also refer to the entire circular defacement of gubernatorial Unions?
Peter Johnson, 9 June 2006

When badges were first introduced on Union Jacks and Blue Ensigns it was not uncommon for the disc to be referred to as a "shield" or as an "escutcheon".
David Prothero, 10 June 2006
1876-1904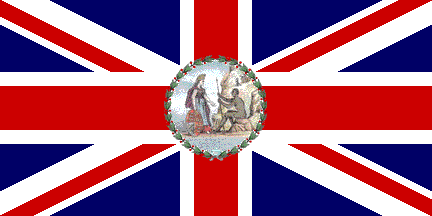 image by Martin Grieve, António Martins and Jaume Ollé, 14 Jun 2006
March 1876. South Australia Ministers decided that the badge was inconveniently similar to that of New Zealand and Victoria and replaced it with the seal of the colony; Britannia and aborigine.
David Prothero, 9 June 2006
1904-1975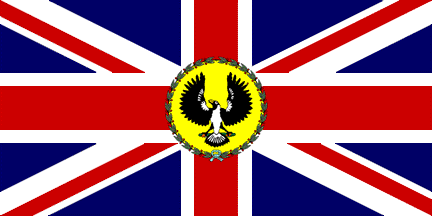 image by Martin Grieve, António Martins and Jaume Ollé, 15 Jun 2006
On 13th January 1904, South Australia abolished the Aborigine-Britannia badge and replaced this with the present-day Shrike badge.
Martin Grieve, 15 June 2006
---