This page is part of © FOTW Flags Of The World website
Construction, Forestry, Mining and Energy Union, Australia
Last modified: 2016-02-27 by ian macdonald
Keywords: cfmeu | australia |
Links: FOTW homepage | search | disclaimer and copyright | write us | mirrors

---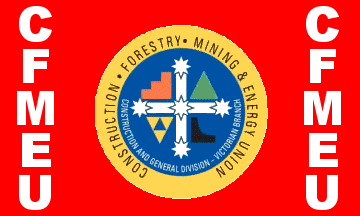 image by Randy Young, 10 January 2016
---
See also:
---
Description of the flag
This is a banner seen in some of photographs, showing the full color CFMEU seal centered on a red field, with the letters "CFMEU" displayed in-column in both the hoist and fly.
Randy Young, 10 January 2016
A Construction, Forestry, Mining and Energy Union page shows CFMEU flags and defaced Eureka flags. A variety of CFMEU flags, generally prominently showing the initials CFMEU in white, and also Eureka flags, are used at CFMEU protests and at work sites. The display of union flags at work sites can be a disputed issue (see http://www.couriermail.com.au). In 2007, the Australian Building and Construction Commission objected to material containing the Eureka flag image, calling it a "union symbol", with CFMEU Victorian Assistant Secretary Tommy Watson responding that it "is not a just symbol of trade unions, but a symbol of working-class struggle".
http://www.theage.com.au/news/national/eureka-flag-forces-workers-to-union-says-watchdog/2007/08/17/1186857774704.html,
https://www.greenleft.org.au/node/38653.
Some examples of flags used:
Black with white "CFMEU" in a serif typeface, red with white "CFMEU" in sans serif typeface: http://www.heraldsun.com.au/news/national/construction-workers-rally-in-melbourne-cbd/story-fndo3ewo-1226416399626
Black version, with text vertically compressed in the centre: http://www.abc.net.au/news/2014-11-20/cfmeu-generic/5905844, http://www.cfmeu.net.au/news/white-ribbon-day-statement-from-cfmeu-national-secretary-michael-oconnor.
This black version seems to include a circular union logo in the lower fly: http://www.smh.com.au/nsw/cfmeu-fined-545000-and-warned-it-risks-deregistration-20150621-ghtl0k.html.
A flag for the Victorian branch of the Construction and General Division: black with white serif CFMEU at top, smaller "VICTORIA" just below, and white round logo towards the fly. Note that this is one the CFMEU logos that incorporates the Eureka cross: http://www.heraldsun.com.au/news/victoria/victorian-government-will-not-pursue-cfmeu-for-1m-in-penalties/news-story/d8722947069a32c60409dd4377d74e52.
A flag for the Forestry and Furnishing Products Division: Green with white sans serif CFMEU at top, further text (and more?) below this: http://cfmeuffpd.org.au/multiattachments/2169.html.
Red with serif CFMEU and logo for Queensland/NT branch of the Construction Division in lower fly: http://www.theguardian.com/world/2014/sep/22/trade-union-conducted-racist-campaign-against-construction-firm-inquiry-told
As well as plain Eureka flags, the Eureka flag defaced with the CFMEU initials and the words "DARE TO STRUGGLE", "DARE TO WIN": http://www.abc.net.au/news/2014-11-20/cfmeu-generic/5905844, http://www.cfmeu.net.au/news/white-ribbon-day-statement-from-cfmeu-national-secretary-michael-oconnor, and a flag for the John Cummins Memorial Fun, with an image of John Cummins (former president of the Victorian Branch), over the fly end of the Eureka cross, with "John Cummins Memorial Fund" in white at the top: http://www.cfmeuvic.com.au/news/john-cummins-still-towering-over-the-industry.
Jonathan Dixon, 9 January 2016
---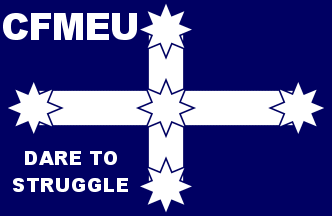 image by Randy Young, 10 January 2016
Eureka flag with "CFMEU" in white letters in canton and "DARE TO STRUGGLE" in white letters in third quarter.
Randy Young, 10 January 2016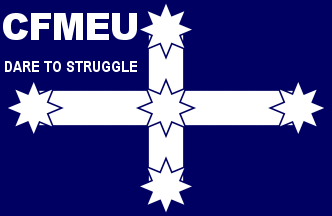 image by Randy Young, 10 January 2016
Eureka flag with "CFMEU" in large white letters above "DARE TO STRUGGLE" in smaller white letters, all in the canton.
Randy Young, 10 January 2016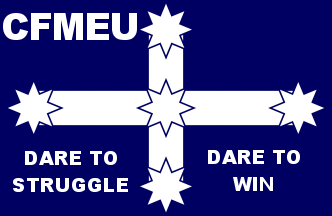 image by Randy Young, 10 January 2016
Eureka flag with "CFMEU" in canton, "DARE TO STRUGGLE" in the lower hoist, and "DARE TO WIN" in the lower fly.
Randy Young, 10 January 2016
---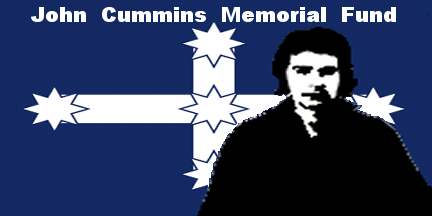 image by Randy Young, 10 January 2016
Eureka flag with black and white image of John Cummins in lower fly covering the majority of the lower arm and fly arm of the cross, and the words "JOHN CUMMINS MEMORIAL FUND" across the top in white capital letters.
Randy Young, 10 January 2016
---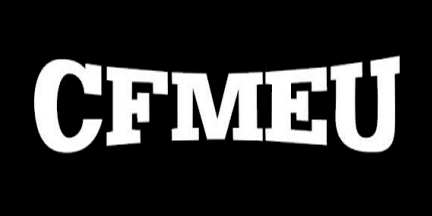 image by Randy Young, 10 January 2016
CFMEU in large white letters, compressed in the middle, centered on a black field; possibly related to the Construction division of CFMEU.
Randy Young, 10 January 2016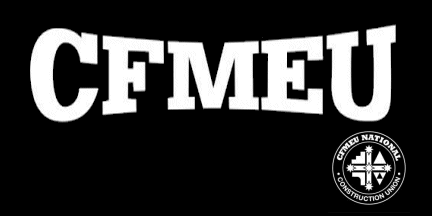 image by Randy Young, 10 January 2016
Same as above, but with the letters above the center-point of the flag, and with the logo of the CFMEU Construction Union in the lower fly in black and white.
Randy Young, 10 January 2016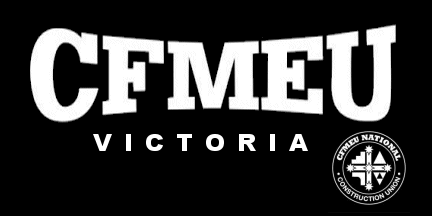 image by Randy Young, 10 January 2016
Same as, but with the word "VICTORIA" added in white, capital, sans serif letters beneath the "CFMEU".
Randy Young, 10 January 2016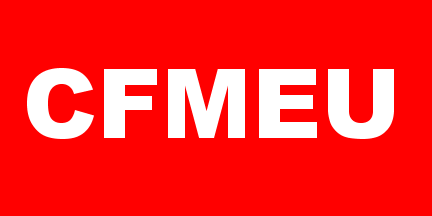 image by Randy Young, 10 January 2016
CFMEU in capital sans serif letters centered on a red field.
Randy Young, 10 January 2016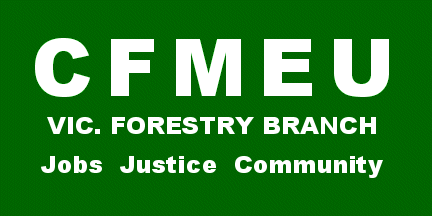 image by Randy Young, 10 January 2016
"CFMEU" in white capital letters on a green field, above the words "VIC. FORESTRY BRANCH" and "JOBS JUSTICE COMMUNITY" in smaller white letters.
Randy Young, 10 January 2016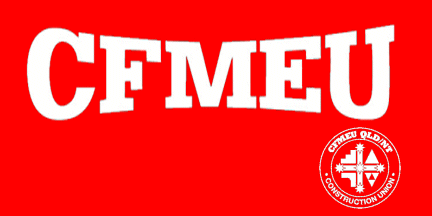 image by Randy Young, 10 January 2016
Same as black flag above, but with a red field and the logo in the lower fly changed to that of the Queensland Construction Union.
Randy Young, 10 January 2016