This page is part of © FOTW Flags Of The World website
New South Wales maritime authorities (Australia)
Last modified: 2016-02-27 by ian macdonald
Keywords: new south wales | blue ensign | maritime services board | stars: southern cross (gold) | ship (gold) | anchor | stars: 4 (white) | cross: red on blue |
Links: FOTW homepage | search | disclaimer and copyright | write us | mirrors

---
See also:
---
Sydney Harbour Trust/Maritime Services Board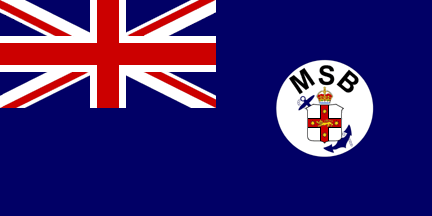 image by Clay Moss, 28 February 2008, 12 July 2014
This is my rendition of the old badge for the blue ensign of the Maritime Services Board (MSB) of New South Wales.
I was completely unaware of this particular blue ensign until I visited John Vaughan last month. According to John's records, the Sydney Harbour Trust/MSB utilized this basic style badge at least as far back as 1929. I am not sure when the MSB changed to their more recent ensign, but it seems that the Tudor crown was utilized in this old badge up to that time. It would also be interesting to know if some time back, "SHT" defaced the badge instead of "MSB"
Clay Moss, 28 February 2008
Various web-sites agree that,
1 November 1900. Sydney Harbour Trust established.
1 February 1936. MSB replaced Sydney Harbour Trust.
1 July 1995. Office of Marine Safety and Port Strategy replaced MSB.
According to Malcolm Farrow's 'Colours of the Fleet' there was a Sydney Harbour Trust Blue Ensign, dates unknown, and the Blue Ensign with the MSB badge was authorised April 1971. [ed: perhaps this is the later flag discussed below.]
David Prothero, 28 February 2008

The Sydney Harbour Trust was formed at Federation of the Australian Crown Colonies in 1901. The Maritime Services Board of New South Wales was constituted in 1936. The essence of the MSB Badge apparently evolved in 1901 and for the MSB it was streamlined by removing the background images and lettering (Sydney Harbour Trust, Pilot Ship & Light House). The remaining devices had the MSB initials added. I only have a hand drawing and a black and white miniature illustration of the full 1901 design, however the rope to the anchor appears to be heavy chain rather than the three stranded rope on Clay's artwork.
John Vaughan, 29 February 2008

Some, but not all, Police and Maritime (RMS) boats still fly the NSW flag from the mast. At least I assume the RMS boat ensigns are NSW flags, because in each case I've seen, they are little more than tattered blue remnants that could just as easily have been old MSB ensigns. I also believe that non-government NSW businesses, organisations and individuals may in theory fly the NSW flag from vessels in Australian waters under the Shipping Registration Act 1981 and NSW Government flag policies. Of course, why anyone would bother to fly a NSW flag from a private vessel is another matter entirely.
Jeff Thomson, 23 October 2012

Detail of the badge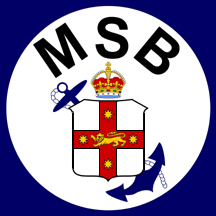 image by Clay Moss, 28 Feb 2008
I will get definitive information later, but I am of the opinion that this badge particular was perhaps used up until fairly recently. John was gracious enough to give me an unfinished 24" badge, and said badge is printed on modern spun polyester bunting.
The badge that I am submitting is drawn in accordance with specified art work that John has on hand. However, the badge that he gave me illustrated the stars and cross without any black outlining, as shown below.
Clay Moss, 28 February 2008
Detail of badge without black outlining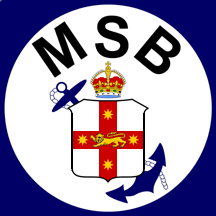 image by Clay Moss, 29 Feb 2008
Some of the detail in the actual badge is very rudimentary and poorly drawn, so I have taken a couple of liberties in cleaning it up. For example, in my actual badge, the lion looks like a stick drawing of a cat that any 5 year old child could draw. I also used my Tudor crown. Everything else about this badge is pretty much right on target.
Clay Moss, 29 February 2008
---
Later Maritime Services Board flag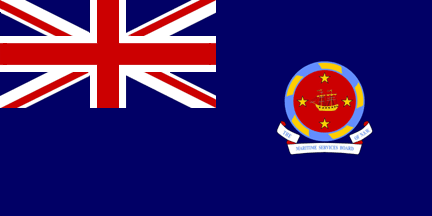 image by Clay Moss, 15 June 2005
[The flag is a British blue ensign defaced with the badge of the Maritime Services Board of NSW. The badge features a gold ship in the middle of a southern cross made up of four gold five-pointed stars, all on a red disc with a blue and gold border. Below the disc is a ribbon with the words "THE MARITIME SERVICES BOARD OF N.S.W".]
Detail of the badge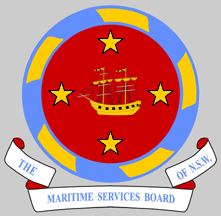 by Clay Moss, 15 June 2005
When my Vexillography class sent out letters requesting flags, we were sent an 18x36 MSB NSW sample.
The defacement is an exact copy of the badge on our flag with two exceptions. On the flag, the black holding lines around the stars were very thick, making the stars more black than gold. There was also a super wide and yet uneven holding line around the circle, and around the ribbon. These bled together making the space between the ribbon and circle entirely black. I took the liberty of assuming that the Maritime Services Board never intended this outcome for their badge. In fact, I wouldn't be surprised if there should be no holding lines save for the ship, (maybe the ribbon?), and thus the stars should be entirely gold. Can anyone help out?
Our ensign was manufactured by Corrective Service Industries, and as a general rule, their quality isn't that good. It's also noteworthy to mention that "technically" our ensign is double sided. CSI manufactured the defacements for this flag by printing the badge on very heavy canvas patch type material. Then they ironed a badge onto either side of the flag, no stitching involved! No lining up either.
Clay Moss, 15 June 2005
---
Waterways Authority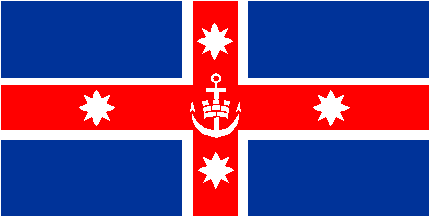 image by Jonathan Dixon
I saw this flag on a Waterways vessel - it was actually a water version of the street cleaner trucks. Anyway it's probably Sydney Waterways or something like that. The image is really dodgy and done in a hurry, but it gives you the idea. The proportions are probably more like 2:3, too.
Jonathan Dixon, 01 January 2000
I have checked the NSW Waterways website (www.waterways.nsw.gov.au), and one photo shows a pilot boat wearing one such flag, which in fact is triangular, red with blue cross, and white fimbriations, stars and anchor. Proportions seem to be 1:2.
Miles Li, 9 April 2003