This page is part of © FOTW Flags Of The World website
Taió, Santa Catarina (Brazil)
Last modified: 2021-12-11 by ian macdonald
Keywords: santa catarina | taió |
Links: FOTW homepage | search | disclaimer and copyright | write us | mirrors

---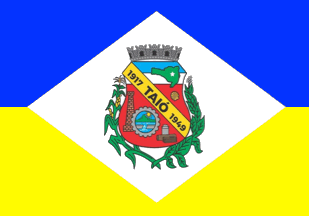 image by Educadora Radio, 17 November 2020
---
See also:
---
Municipality
The municipality of Taió (17,265 inhabitants in 2010; 69,303 ha) is located 270 km west of Florianópolis.

Taió, originally Tayó, is named for a Tupi-Guarani word meaning "a big stone" / "a big hill", refering to Funil Hill, which was mistaken by early explorers for the genuine Tayó Hill, actually located in Mirim Doce. Emil Odebrecht reached Taió in 1864 during the exploration of the upper valley of the Itajaí. In 1867, a second expedition initiated in Lages reached rivers Taió and West Itajaí. The first colonists settled in 1892, coming from Lages. The colonization was subsequently fostered by the Sindicato Blumenauense and the Companhia Salinger, which offered in 1917 plots to colonists of German origin. A third company, Colonizadora Bertoli, brought Italian colonists in 1920.
The district of Taió was established on 7 September 1929 within the municipality of Blumenau. The municipality of Taió was established by State Law No. 247, separating from Rio do Sul, and inaugurated on 12 February 1949.

https://www.taio.sc.gov.br/
Municipal website
Ivan Sache, 8 November 2021
---
Description of the Flag
A horizontal bicolour, blue over yellow, with the municipal arms in the centre on a white lozenge.
Official website at http://www.taio.sc.gov.br
Dirk Schönberger, 15 August 2012

The flag and arms of Taió are prescribed by Municipal Law No. 4,212 promulgated on 8 October 2020.

Article 2.
The municipal colors are yellow, blue and white.

Article 9.
The coat of arms of the municipality of Taió is composed of an Iberian shield in rounded-off, hybrid shape, featuring in the upper part (chief) two protrusions, left and right, surmounted by a five-towered mural crown, classifying a municipality represented with the gray color, each tower with a black gate.

Article 10.
The municipal coat of arms is composed of a shield with a map of Santa Catarina charged in the center with a star, the Heteropecten catharinae shell, a yellow stripe inscribed "1917 TAIÓ 1949", a log, three stacked planks, a chimney, a mural crown, a milk tank, a maize plant, a tobacco plant, a cogwheel filled with a blue sky and a sun, the Funil hill, and a barrage with downstream water.

Article 11.
The structures composing the coat of arms have the following meaning.
I - The star in the center of the map of Santa Catarina represents the location of the municipality of Taió.
II - The Heteropecten catharinae shell is a fossil, representing paleontological research in Taió.
III - The stripe inscribed "1917 TAIÓ 1949" recalls two significant dates for the municipality, "1917" for the colonization and "1949" for political emancipation.
IV - The log and the planks represent the abundance of timber in the beginning of the colonization, at the origin of the timber cycle and the building of several sawmills in the municipality.
V - The chimney is the municipality's historic and economic symbol, representing the era of ceramics industry.
VI - The mural crown has five visible towers classifying Taió as a town and the seat of a county.
VII - The milk tank representing milk production, in straight economic development.
VIII - The maize plant, supporting the shield's left side, represents one of the main productions in the beginning of the colonization and still a basic product for food industry.
IX - The tobacco plant, supporting the shield's right side, represents tobacco production, recalling that Taió was once among Santa Catarina's most important centers of production.
X - The wheel with 18 cogs represents the diversity of the industrial, agricultural and commercial production.
XI - The sun symbolizes vitality and the splendor of the municipality in its plenitude.
XII - Funil hill is the source of river Taió, also used as the municipality's name and historical part of the municipality of Taió.
XIII - The West Barrage built to protect the valley against flood turned into the municipality's tourism and cultural reference.

Article 12.
The colors of the coat of arms of the municipality are:
I - Yellow, representing wealth, life, light and the sun's shining rays.
II - Blue, a symbol of calm, serenity and harmony, representing the sky and watercourses flowing through the municipality.
III - White, a symbol of purity, representing peace, balance and equality.
IV - Ochre, as the color of art, representing the transformation of clay into bricks and tiles used in civil construction.
V - Gray, as the color of neutrality and innocence, is connected to maturity, immortality, responsibility and efficience.
VI - Orange is the color of fall and fruit picking, representing glee, enthusiasm and eagerness of people to work.
VII - Brown, the color of soil and timber, is connected with natural products that foster the municipality's development.
VIII - Black is a symbol of mourning and respect for the value and history of the ancestors.
IX - Green represents hope, vivid natural environment, liberty, health and vitality.
X - Red is the symbol of ardor and faith, representing patriotic love, dedication and audacity of the colonists who cleared Taió's territory.

Article 16.
The coat of arms in the center of the flag symbolizes the municipal government while the white lozenge charged with the coat of arms represents the town proper as seat of the municipality. The upper blue field represents the municipality's exuberant environment, while the yellow lower part is a symbol of wealth, life, light and the sun's shining rays.

https://leismunicipais.com.br/a/sc/t/taio/lei-ordinaria/2020/421/4212/lei-ordinaria-n-4212-2020-dispoe-sobre-a-forma-e-apresentacao-do-brasao-da-bandeira-e-do-hino-do-municipio-de-taio-e-da-outras-providencias
Leis Municipais database
Ivan Sache, 8 November 2021
---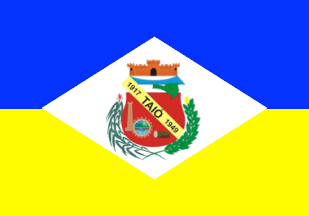 image by Educadora Radio, 17 November 2020
The symbols were originally prescribed in a quite elusive wording by Municipal Law No. 972 promulgated on 23 February 1979.

Article 2.
The coat of arms, with a red background, shall be inscribed on a white lozenge, with "1917 TAIÓ 1949" on a golden yellow background.
The circle [ellipse] that forms the lozenge's sides shall be 31 cm in width and 49 cm in length, being centered on the rectangle that forms the flag.

Article 3.
The flag is composed of two horizontal stripes of equal size, blue and yellow, respectively.

Article 4.
The official dimensions [of the flag] shall be 120 cm in length on 90 cm in width.

https://leismunicipais.com.br/a/sc/t/taio/lei-ordinaria/1979/98/972/lei-ordinaria-n-972-1979-dispoe-sobre-a-criacao-da-bandeira-e-o-brasao-do-municipio-de-taio
Leis Municipais database

The general design of the flag was kept but the coat of arms was slightly amended, changing a few details and adding new charges. The mural crown was increased from three red to five gray towers, the star was recolored in white, a shell was added in canton sinister and a milk tank was added behind the log and planks.

https://www.educadora.am.br/noticia/imagem-da-nova-bandeira-de-taio-e-divulgada/
Educadora Radio, 17 November 2020

As of August 2021, the flag with the old coat of arms was still in use, while the new flag did not appear to have been produced yet.

Photos
https://www.facebook.com/PrefeituradeTaioComunicacao/photos/539069134207548
https://redewebtv.net.br/equipe-de-atletismo-de-taio-e-destaque-na-16ᵃ-corrida-e-caminhada-cerene-2021-em-blumenau/
https://www.jatv.com.br/noticias/taio/taió-homenageia-blumenau-1.2164650
https://www.facebook.com/camarataio/photos/2404779449788025
https://www.facebook.com/camarataio/photos/1817406868525289

The Taió fossil record, composed mostly of bivalves (shells), brachiopods (lamp shells) and echinoderms (urchins), was discovered in 1928 by mining engineer and geologist Anibal Alves Bastos. Similarity with bivalves found in New South Wales (Australia) was soon noticed by paleontologists. Euzébio de Oliveira, Director of the Brazilian Geology and Mineralogy Service, offered in 1929 the fossils to Cowper Reed, a noted paleontologist in Cambridge. Reed identified in 1930 and 1935 several scallop species, including Aviculopecten (Deltopecten) catharinae. In 1951, Kegel & Costa assigned the fossil scallops to a new genus, Heteropecten, describing two new species and a variety (H. catharinae var. dyglipha). In 1964, A.C. Rocha Campos established that all the different Heteropecten species and varieties were morphological variants of the very same species, Heteropecten catharinae (Reed, 1930). Rocha Campos also established a high level of endemicity in the Taió fossil record, turning down the proposed connection with Australian records.

http://mw.eco.br/ig/posg/tesesBrasil.pdf
Banco de Dados sobre Teses - IG/UnB, pp. 14-15
Ivan Sache, 8 November 2021