This page is part of © FOTW Flags Of The World website
Cornwall, Ontario (Canada)
Last modified: 2018-07-10 by rob raeside
Keywords: cornwall | ontario | roundel: 15 |
Links: FOTW homepage | search | disclaimer and copyright | write us | mirrors

---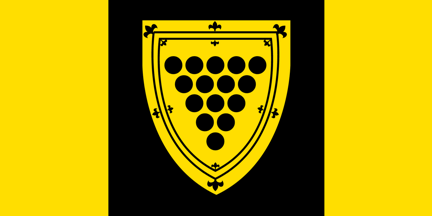 1:2 image by Eugene Ipavec
Source: Canadian City Flags, Raven 18
---
See also:
---
Cornwall
The City of Cornwall is steeped in a rich and diverse history. Originally named New Johnstown, the name was changed to Cornwall in honour of Prince George, the Duke of Cornwall. The City was later incorporated as a town in 1834 and became a city in 1945.
Cornwall was first settled in 1784 by United Empire Loyalists consisting of the officers and families of the First Battalion King's Royal Regiment of New York and a contingent of the 84th Royal Highland Emigrants. This group of disbanded soldiers and Loyalist refugees, led by Lieutenant-Colonel Sir John Johnson, came to the scenic and fertile site, intent on building a new life.
For years, these Loyalists had fought on behalf of Britain in Northern New York and Vermont during the American Revolutionary War. These people came to settle and prosper on the lands which the Crown had granted them in reward for their loyal service during the war.
Owing to its strategic location, Cornwall served as a garrison town, as well as a communications and supply post during the War of 1812. At nearby Crysler's farm, the Loyalists successfully repelled American troops in one of the most famous battles of the War.
Soon after its settlement, Cornwall evolved into an administrative centre for Eastern Ontario and made important contributions to the province's growth.
Under the influence of schoolmaster John Strachan, who would become the first Anglican Bishop of Upper Canada, Cornwall was transformed into a unique centre of learning and political influence that served as training ground for the 'Family Compact', Ontario's ruling class until the 1850's. One graduate was John Sandfield MacDonald, the first Premier of Ontario.
This early and colourful history makes Cornwall one of Ontario's oldest permanent settlements. In 1984, the city recognized its historical heritage through a year-long celebration. The Bicentennial was marked by various activities, including the publication of a 500-page book, entitled From Royal Township to Industrial City, that sketched in detail Cornwall's distinctive past.
An Industrial Centre
Significant chapters in Cornwall's history were written during the latter half of the 19th century as the town emerged as an important industrial centre in Eastern Ontario.
Construction of the Cornwall Canal between 1834-42 provided transportation and water power for the numerous mills and later textile plants which located along the waterfront.
Industrial sites were first laid out in the mid 1840's, and soon flour mills, tanneries, and woolen mills were in operation. Among the first major manufacturers to locate in Cornwall were the Stormont, Dundas Canada Cotton Mills.
The early growth in Cornwall's industrial sector can be attributed to many of the same factors that continue to attract manufacturers to modern-day Cornwall: unlimited waterpower awaited exploitation, a major market, Montreal, was in close proximity, and a labour force was at hand.
The industrial expansion that occurred on the waterfront from 1870 to 1880, at a time when the rest of the country was experiencing severe recession, resulted in a doubling of the town's population, from 2,033 in 1871 to 4,468 in 1881. A major industry which still provides a significant influence on the City's economy was built during this period, namely, the Toronto Paper Company, which now operates as a division of Domtar Specialty Fine Papers Inc.
Amidst this flurry of activity, a historic event took place in April 1883, when electric lighting was installed in the Canada Cotton mill.
Another period of staggering growth took place between 1921 and 1931, when Cornwall's population increased by fifty percent. A highlight from this era was the establishment of Courtaulds Canada Inc.'s rayon manufacturing mill. In addition, Canadian Industries Limited (C.I.L.), now I.C.I. Canada Inc., has operated a large plant in Cornwall since 1935.
Cornwall's steady growth was capped in the 1950's with the building of the St. Lawrence Seaway. Construction of the Seaway began on August 10, 1954 and was finalized on Dominion Day, July 1, 1958. Thousands of spectators watched as thirty tons of dynamite were detonated causing the last coffer dam to flood the riverbed and Lake St. Lawrence. This historic event marked the largest international hydro-electric power dam.
City of Cornwall
---
Text and image(s) from Canadian City Flags, Raven 18 (2011), courtesy of the North American Vexillological Association, which retains copyright. Image(s) by permission of Eugene Ipavec.

The flag of the Town of Cornwall is a Canadian pale design of yellow- black-yellow. In the centre, nearly the full height and width of the central panel, is a simple shield in yellow. It has a horizontal top and simply-curved sides forming a curved, pointed "V" shape. The inner edge of the shield is bordered with two narrow black lines, marked with six small fleurs-de-lis in black, one at each corner and mid-point of the shield's sides, all pointing outward, mirrored by six more in the interior, all pointing inward. Within the border and occupying most of the shield, 15 black discs form an inverted triangle, in staggered rows of 5-4-3-2-1.
Christopher Bedwell, Canadian City Flags, Raven 18, 2011

The flag uses elements from the arms of the town. The colours and discs are based on the arms of the Duchy and County of Cornwall, England. However, the colours are reversed, following a heraldic tradition when an Old World design is represented in the New World. The border is a "double tressure flory", a version of which appears in the royal arms of Scotland and honours the first Scottish settlers of the region. Its parallel bands recall the two-row wampum belts presented to the early settlers by the First Nations people and the fleurs-de-lis recognize the French heritage of the town.
Christopher Bedwell, Canadian City Flags, Raven 18, 2011

The town applied to the Canadian Heraldic Authority for a grant of a flag.
Christopher Bedwell, Canadian City Flags, Raven 18, 2011

Charles Maier, Athabaska Herald, Canadian Heraldic Authority.
Christopher Bedwell, Canadian City Flags, Raven 18, 2011
---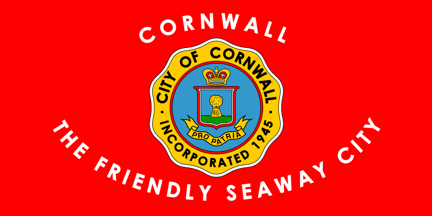 1:2 image by Eugene Ipavec
Source: Canadian City Flags, Raven 18

Cornwall previously used a flag in proportions of 1:2 with a red field. In its centre is a badge three-fourths of the height of the flag. It bears the city's former coat of arms on a central disc of light blue, ringed by a narrow band of red and a wide band of yellow. On the yellow band appears · CITY OF CORNWALL · above and INCORPORATED 1945 below, in black sans-serif letters. The outer edge of the badge is a narrow wavy white band, with ten undulations. Above the badge arches CORNWALL and below curves THE FRIENDLY SEAWAY CITY, all in white sans-serif letters. The arms have a simple shield with a flat top, pointed upper corners, vertical sides, and a pointed base. It is edged in white and red, and bears a wheat sheaf in yellow on a green base against a light blue sky. Above the shield is a stylized crown in yellow, red, and white; below is a ribbon in yellow edged in black, with forked ends, reading PRO PATRIA in black sans-serif letters. Cornwall is in the Seaway Valley and on the St. Lawrence Seaway; Pro patria is Latin for "For one's country".
Christopher Bedwell, Canadian City Flags, Raven 18, 2011