This page is part of © FOTW Flags Of The World website
Niagara Falls, Ontario (Canada)
Niagara Regional Municipality
Last modified: 2016-06-07 by rob raeside
Keywords: ontario | niagara falls |
Links: FOTW homepage | search | disclaimer and copyright | write us | mirrors

---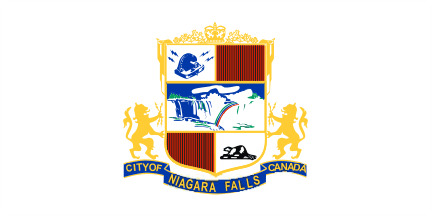 image by Peter Orenski, 20 November 2012


based on research and information provided by

James Croft

and

Kevin Harrington

See also:
---
"Niagara Falls is a Canadian city on the Niagara River in the Golden Horseshoe region of Southern Ontario. The municipality was incorporated on June 12, 1903. Across the Niagara River is Niagara Falls, New York. The city had a population of 82,184 in the Canada 2006 Census." - from Wikipedia: http://en.wikipedia.org/wiki/Niagara_Falls,_Ontario
Valentin Poposki, 9 July 2011
Niagara Falls appears to have more than one municipal emblem in use. At least two versions of the coat of arms have been located, one used on a white flag and the other recorded in the Public Register of Arms; a logo flag is also reported.
Rob Raeside, 7 June 2016
The flag is white with full coat of arms on it: http://www.niagarathisweek.com/print/656292
Official city website: http://www.niagarafalls.ca
Valentin Poposki, 9 July 2011
The coat of arms has three panels, the upper divided vertically white and red showing a generator on the white; the middle showing a scene of a rainbow over Niagara Falls; the bottom divided vertically red and white, with a beaver on the white.
Rob Raeside, 7 June 2016
The photograph of the Niagara Falls City Council Chambers at http://storage.niagarafallsreview.ca/v1 shows four flags arrayed behind the central chair. Those flags, from left to right, are:
* Canadian national flag
* Ontario provincial flag
* Niagara Regional Municipality flag
* Niagara Falls city flag (as shown here as Flag 1)
Video footage of a city council meeting from 10 December 2013 shows that the same four flags were still in-place, through their positions altered slightly in relation to each other (https://www.youtube.com/watch?v=_oJTzYxX5zs). A good look at some of the detail on the Niagara Falls city flag can be seen at 16:03 in the video. That is, unfortunately, the most recent city council meeting video uploaded to the city's YouTube channel.
The May 2011 official portrait of the mayor of Niagara Falls shows the city flag displayed as Flag 1 still in use behind him (http://www.nflibrary.ca/nfplindex/show.asp?id=405582&b=1). A November 2015 photograph of the same mayor shows a gold-fringed flag behind him with a white field, but no indication of the charges on that white field (http://www.610cktb.com/news/2015/11/18/niagara-falls-mayor-excited-about-chinese-investment).

Based on the photographic and video evidence available to us online, it would appear that the Niagara Falls city flag as displayed as Flag 1 was in use at least through December 2013, and that a flag with a white field – quite possibly the same flag – was in use in November 2015.
Randy Young, 20 May 2016
---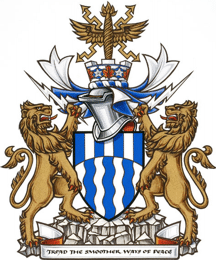 image from Public Register of Arms
Source: http://reg.gg.ca/heraldry/pub-reg
The coat of arms registered on 15 May 2006 in the Public Register of Arms, Flags, and Badges, Vol. V, p. 20. is different from the arms seen on the municipal flag.

Blazon
Arms
Argent three pallets wavy azure, on a chief enarched three pallets counterchanged;

Crest
Issuant from a mural crown argent masoned azure charged with maple leaves gules and hurts bearing mullets argent, a thunderbolt or;

Supporters
Two lions or each holding a lightning bolt argent and standing on a rocky mound proper;

Motto
TREAD THE SMOOTHER WAYS OF PEACE;

Symbolism
Arms
The design is a symbolic representation of the Canadian, or Horseshoe, Falls, the City's most famous feature and one of the natural wonders of the world. The top part indicates the flowing water of the Niagara River, the division line the shape of the Horseshoe Falls, and the lower part the tumbling water as it goes over the Falls.

Crest
The mural crown is a traditional symbol of municipal authority. The maple leaves and stars indicate Niagara Falls' status as a border city, across from the city of the same name in New York State. The thunderbolt is a symbol derived from classical mythology. It alludes to the name Niagara, thought to mean "thunder of water" in the aboriginal Neutral language. It also reinforces the idea of electrical power as expressed in the lightning bolts held by the supporters.

Supporters
The lions have been used by the City since 1939, and the lightning bolts refer to the importance of hydro-electric power generated by the Falls. As gold lions are found in the Royal Arms of the United Kingdom and of Canada, they also allude to the important role the Niagara region played in the defence of Canada during the War of 1812, such as at the Battle of Lundy's Lane in what is now Niagara Falls. The rocky ground on which the lions stand alludes to the Niagara Gorge.

Motto
This sentence is taken from Dr. Arthur William Fisher's poem "Niagara", published in 1924. As Niagara Falls is the most famous border city in Canada, this alludes to the peaceful relationship with the United States, valued particularly in a region that saw terrible battles in the War of 1812. This motto can serve as an exhortation to all citizens to advance the cause of peace.

Canada Gazette Information
The announcement of the Letters Patent was made on November 18, 2006, in Volume 140, page 3686 of the Canada Gazette.

Artist Information
Creator(s)
Original concept of Bruce Patterson, Saguenay Herald, assisted by the heralds of the Canadian Heraldic Authority
Painter
Eva Pilar-Cass
Calligrapher
Luc Saucier

http://archive.gg.ca/heraldry/pub-reg/project.asp?lang=e&ProjectID=1034 - Public Register of Arms, Flags, and Badges
Ivan Sache, 23 November 2012
---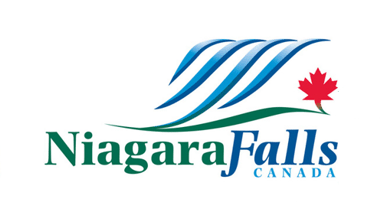 image by Rob Raeside, 7 June 2016
It is my understanding that actual flag of Niagara Flags is not the heraldic flag but rather the flag seen on the upper left hand corner of the City's web page. Unfortunately my limited searching has not found any history of the flag.
Andrew Lowry, 15 May 2016