This page is part of © FOTW Flags Of The World website
House flags of Canadian Shipping Companies (I-M) (Canada)
Last modified: 2019-04-08 by rob raeside
Keywords: canada | canada: shipping companies | canada: maritime house flags | maritime house flags: canada |
Links: FOTW homepage | search | disclaimer and copyright | write us | mirrors

---
See also:
Outside Links
---
Imperial Oil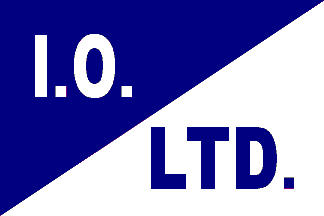 image by Jarig Bakker, 17 August 2004
From The National Maritime Museum:
The house flag of Imperial Oil Ltd, Toronto. A rectangular flag divided diagonally in blue and white, with the letters 'I. O. LTD.' in white and blue. The flag is made of a wool and synthetic fibre bunting. It has a cotton hoist and is machine sewn. A rope and two Inglefield clips is attached.
Brown (1951) has thinner letters, and small capitals TD
Jarig Bakker, 17 August 2004
See also:
---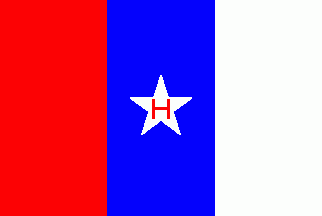 image by Klaus-Michael Schneider, 5 January 2014
Iron Ore Transport Company Ltd.
The company was located in Toronto. The flag was a red – blue – white vertical tricolour. In the middle of the blue stripe was a white 5-point star bearing a red initial "H".
Source: US Navy Hydrographic Office: "Merchant Marine House Flags and Stack Insignia", 1st edition 1961; p.3-9
Klaus-Michael Schneider, 5 January 2014
---
James Baird, Ltd.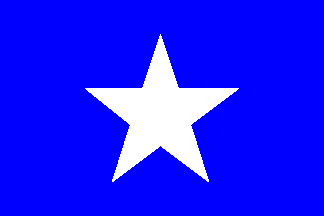 image by Ivan Sache, 30 April 2008
Source: Lloyd's Book of House Flags and Funnels (1912) llo12

Lloyd's Book of House Flags and Funnels (1912) llo12 shows the house flag of "James Baird, Ltd." (#345, p. 53), a company based in St John's (Newfoundland), as blue with a white star in the middle.

James Baird (1828-1915), born in Scotland, was a merchant and politician. Baird founded a company with his nephew James Gordon, involved in wholesale and retail trade of several kinds of goods and, to a lesser extent, in fish trade. After the destruction of most of St John's in a blaze in 1892 and the collapse of Newfoundland's banking system in 1894, Baird re-entered the fish trade, taking the assets of several of his ruined competitors. In 1901, Gordon became a full partner in the company, which was renamed accordingly Baird, Gordon & Co. In February 1908, the company was renamed James Baird, Ltd., following Gordon's death.

Baird strongly boosted the development of local industries, taking shares in several firms, and was also involved in sealing and whaling industry [probably owning a fleet].

A full biography of James Baird can be read in the Dictionary of Canadian Biography Online.
Ivan Sache, 30 April 2008
---
Job Brothers & Co., Ltd.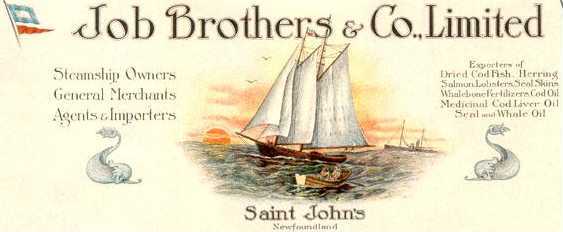 contributed by Jan Mertens, 26 October 2005
The Maritime History Archive (Memorial University) offers a number of interesting virtual exhibits. One of these concerns the Job Brothers shipping company of Saint John's.
Straight away we see a letterhead showing an unusual double house flag (image is clickable): a "Blue Peter"-like flag i.e. a blue-bordered white rectangle, above a longer, and narrow, red pennant.
Interestingly, some accompanying photos show a racing boat also called "Blue Peter" whereas a ship of the same name would be a pioneer in freezing and canning at sea.
The above site is my only source of information so I'll note a few highlights. What's in the Archive is listed on this page
Having its origin in Bulley, Job and Co. of Teignmouth, Devon (GB), and active in various maritime undertakings (shipping, trading, outfitting) under that name since 1789, this firm moved to Liverpool in 1809 and maintained the Newfoundland side of the business i.e. fishing during the spring. Divided in 1839 into one company retaining the name and another one, Job Brothers, at Liverpool. (Over the years to come, temporary names would reflect the influx of new partners.)
Sealing vessels plus oil and fertilizer manufacturing represented a wider business scope during the second half of the 19th and the first half of the 20th century. Additional interests were mining, timber, and canning.
An incorporation in 1909 led to the adoption of the name 'Job Brothers & Co. Ltd'; from 1927 to 1943, the famous Hudson's Bay Co. possessed a majority of shares, a role taken over two years later by Northatlantic Fisheries. which also controlled various industrial subsidiaries. Finally, in 1967, Job Brothers' remaining activities ceased. (Sometime during its existence there was a link with Blue Peter Steamships Ltd.)
A note on the Liverpool establishment: see the on-line 1912 Lloyds Flags & Funnels, No. 1260 "Job Bros., Liverpool".
Jan Mertens, 26 October 2005
---
Kerr Steamships/Kerr Norton Marine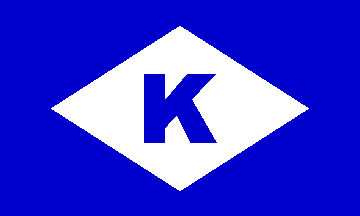 image by Jorge Candeias
---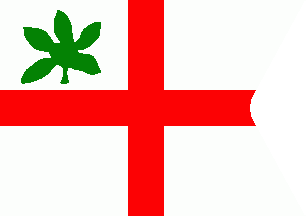 image by Klaus-Michael Schneider, 5 January 2014
Lake Pennask Shipping Company Ltd.
The company was located in Vancouver . The white swallowtail is bearing a red St George's cross and a green maple leaf in the upper hoist corner.
Source: US Navy Hydrographic Office: "Merchant Marine House Flags and Stack Insignia", 1st edition 1961; p.3-9
Klaus-Michael Schneider, 5 January 2014
---
image by Rob Raeside, 10 December 2013
Flag based on the Mystic Seaport museum Lloyds Book of Flags and Funnels search page: http://library.mysticseaport.org/initiative/ImPage.cfm?BibID=11061&ChapterId=8 (p. 74). Location: Newcastle, New Brunswick.
Eric Odense, 8 December 2013
---
Lock Tours

image by Peter Hans van den Muijzenberg, 22 October 2005
This company organises boat tours, dinner cruises, etc. on and around the Soo Locks, situated between Lake Huron and Lake Superior.
This part of the world yields many a fine flag - as I've found out to my delight - and the house flag in question is no exception. It is white with a red St George cross, a blue-bordered white rectangle situated in the centre. I cannot use the term 'voided rectangle' as in that case, the cross's centre would be visible, or even take up all the space!
Website of the firm, situated in Sault Ste. Marie, Ontario (right on the CA-US border) is at locktours.com
Therea are several flag pictures in the photo gallery.
Jan Mertens, 22 October 2005
---
Lower Lakes Towing, Ltd.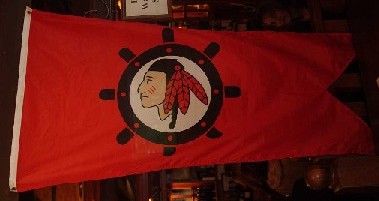 contributed by Jan Mertens, 19 December 2008
Source: Boatnerd
image rotated 90 degrees for clarity
Close up of logo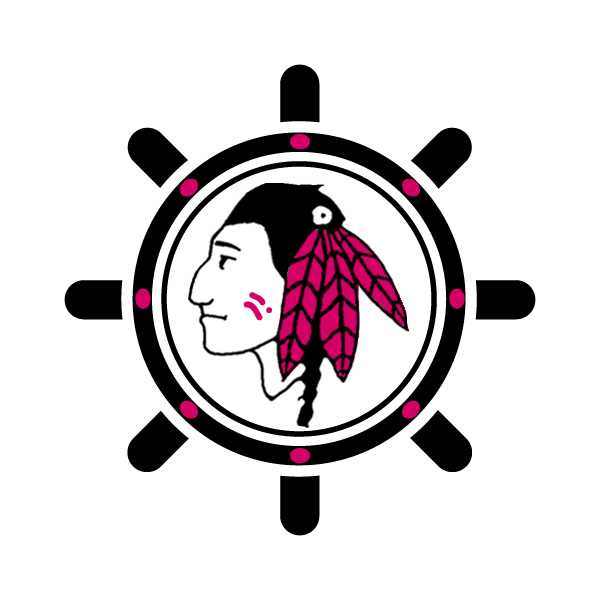 contributed by Jan Mertens, 7 September 2005
Source: Boatnerd
See also:
Caption: "Dont give up the ship (Lower Lakes Towing)", showing the blue flag with the famous quote (by Commodore Perry (U.S.) and a shy house flag.
Here it's a modern rendition, of course. See the photo from the huge Boatnerd site which shows the house flag more clearly: i.e. an Indian's head (apparently in natural colours) on a white disk inside a black steering wheel, on a red flag.
Logo and some information at the head of this pdf file (beginning of 2005):
Lower Lakes Towing is a hands-on, customer-oriented company on the Great Lakes specializing in the movement of dry bulk commodities by way of self-unloading, fresh water vessels. As one of the only growing companies on the Great lakes we have expanded from a small tug and barge operator to a fleet of four self-unloading bulk carriers within the space of 10 years.
Company seat: Port Dover, Ontario (CA). However the firm also has a US subsidiary, Lower Lakes Transportation, operating three ships according to rbccm.com (link no longer active) which also shows the logo quite clearly.
Jan Mertens, 7 September 2005
---
The flag is a swallowtail, and a tapering one at that. Also, the steering wheel has eight spokes; the Indian, who is facing the hoist, has a headdress: three red feathers, and wears war paint: three short parallel lines, also red.
Jan Mertens, 19 December 2008
---
McAsphalt Marine Transport Ltd
McAsphalt Marine Transport Ltd (CA): on the Colors of the Great Lakes & Seaway Flags & Smokestacks chart shown a swallowtailed flag horizontally divided black above red; in the centre is the company logo placed inside a white-rimmed lozenge. Boatnerd offers a good view of the logo: a large white initial "A", slanted and with a red stripe on top, is accompanied to the left of the stripe by initials, equally white but much smaller, "mc"., all on a black background. The rim of the lozenge is much broader here than the one shown on the chart.
According to Boatnerd, this firm - established at Scarborough, Ontario - is a joint venture between Upper Lakes GroupUpper Lakes Group (liquid bulks dept) and McAsphalt Industried Ltd. One tug and two large tank barges, one of which is above vessel, are operated.
From the McAsphalt home page, founded in 1970.
Besides asphalt production, the firm is also active in technology transfer i.e. designing and building asphalt plants; listed among its affiliates is McAsphalt Marine Transport.
Jan Mertens, 15 November 2006
---
McKeil Marine Ltd
Current logo as used on flag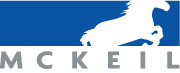 image contributed by Jan Mertens, 18 November 2006
Source: McKeil Marine
This firm based in Hamilton, Ontario is above all known as a tug and barge operator on the Great Lakes and the St Lawrence Seaway but is active in other maritime sectors as well. From the "Our Company" section (subsection "Background") of the company website:
McKeil Marine Limited is a family-owned company that has been involved in various sectors of the marine industry since 1956. Having begun as Evans McKeil Work Boats Limited, the company has grown and diversified its activities in the fields of marine transportation, towing, ship docking, icebreaking, salvage services, chartering, and marine construction.

With a fleet in excess of 45 vessels and 60 barges, McKeil Marine specializes in the transportation of dry and liquid bulk, oversized project cargoes, heavy equipment, and general cargo on the Great Lakes, St. Lawrence River, the eastern seaboard and in the Canadian Arctic. The acquisition of larger, ocean-going tugs and barges has also enabled us to expand into the international trade market.
More background in this electronic National Post article:
The company's beginnings were modest. Evans McKeil, from Pugwash, N.S., worked for an Ontario dredging company during the building of the St. Lawrence Seaway in the 1950s, when dredges were working 24 hours a day wherever there was marine construction work. Mr. McKeil decided to build a boat to run crews to and from the dredges. The company's first shuttle boat, the Micmac, was built by Evans McKeil and his father, a former wood mill owner, in Ancaster, Ont. Soon after, a fire destroyed the wooden boat, but the young entrepreneur built another and gradually began to acquire others, in its first steps toward building the marine service company that now employs 200 people.
The firm's logo, a running horse, appears nowadays on various parts of the ships' superstructure and of course on funnels - there used to be a simple set of initials "MK".

A blue flag with white running horse is, or was, not the only McKeil house flag it seems.
Indeed, the one I've encountered is much more like the firm's logo.
Jan Mertens, 10 November 2005
---
Even though the house flag may have been different in the past (bearing, perhaps, the MK monogram as shown on funnels in older photos), the Colors of the Great Lakes & Seaway Flags & Smokestacks chart gives a white flag bearing a blue rectangle, rather narrow, with the shape of a prancing horse cut out.
Not only this rectangle is shown at the company website, moreover the logo is briefly commented upon at McKeil Marine.
McKeil Marine Logo

In the early days of in-land waterway transportation, long before the advent of tug boats, heavy work horses hauled barges. Amazingly, it was not unusual for a single horse to pull a fully-laden barge weighing in excess of 100 metric tonnes, and do so at a good walking speed from its position on a tow path by the river.

Having begun as Evans McKeil Work Boats Limited, McKeil Marine respects the proud tradition of such challenging work and seeks to honour the fortitude and resolve of all those involved in the early days. (…)

From early days to future days, and whether skies are blue or grey, it's clear sailing with McKeil Marine and all this and more is reflected in our updated logo created by wishart.
(Wishart is an advertising and graphic design firm with offices in Toronto and Hamilton.)
Also shown on Boatnerd Although hardly visible, the name MCKEIL seems to accompany the horsey rectangle on the flag.
Jan Mertens, 18 November 2006