This page is part of © FOTW Flags Of The World website
Kingdom of Loango (Congo)
Traditional Kingdom
Last modified: 2019-08-06 by bruce berry
Keywords: congo | loango |
Links: FOTW homepage | search | disclaimer and copyright | write us | mirrors

---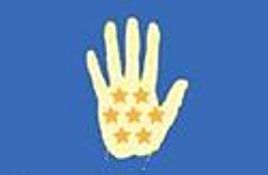 Image sent by Ivan Sache, 01 Nov 2009

See also:
Musikongo, state claimed by the Bakongo people
---
The Kingdom of Loango, also known as the Kingdom of Lw""gu, was a pre-colonial African state from approximately the 15th to the 19th Centuries in what is now the Republic of Congo. At its height in the seventeenth century the country stretched from Cape St Catherine in the north to almost the mouth of the Congo River. Its inhabitants were a branch of the Bakongo. Missionaries who visited the Loango coast at the end of the nineteenth century often called the people of Loango Bafiote, and their language Fiote. Their ethnic name today is usually given as Vili or Bavili.
The Provinces of Loango, Ngoyo and Kagongo seceded very early from the Kingdom of Kongo to form independent kingdoms. In the 11th century, the Bouvandji party, supported by warriors and blacksmiths, ruled a state called Loandjili (from "loa", the political power, and "ndjili", the squirrel as the symbol of power). The Bouvandji were eventually expelled and the Kingdom of Loango emerged in the 13th century. "Ngo" means "panther", Loango being therefore "the Royal power with the panther as its totem".

The Kingdom of Loango is now made of seven provinces, each of them being ran by a Prince-Governor ("fumu") representing the King's authority:

- Me MíPili; capital, Bwali; also the capital of the kingdom;
- Me Tchilunge; the biggest of the provinces, ruled by a governor called Matchilunge;
- Me Tchi Lwandjili (aka M'Banda); named after the ancient capital of the Bouvandji party;
- Nga Kanu;
- Me Yombi;
- Me NíKugni-MíBanza (aka Diangala or Grand Niari);
- Me NíGo Kwangu (aka Setekana).
Ivan Sache, 01 Nov 2009
---
The modern flag of the Kingdom of Loango has a light blue field in the centre of which is a open hand containing seven yellow stars in the palm.

The historical seven provinces are represented on the kingdom's coat of arms by a hand palm holding seven stars ("Li kande likoko li simbe mbote sambwali", the hand palm holds seven stars). The stars have also an esoteric meaning linked to the power: the Royal hand rules the seven provinces, each of them representing a vital organ of the sovereign:

- two stars represent the two eyes of the sovereign, who is constantly watching his people;
- two stars represent the two ears of the sovereign, who is paying attention to the requests of his councillors and of his people;
- two stars represent the two nostrils of the sovereign, who is very concerned by the problems of his people. Powered with a very subtle sixth sense, the sovereign is able to establish a link between the present and the future;
- a figure [I guess, a star] represents the mouth of the sovereign, used to educate the people and deliver an impartial justice.

Succession to the throne is quite complex in Loango because of succession wars involving different tribes. Elected on 29 August 1996, King Moe Taty I had his coronation delayed until 13 November 2000. He passed away on 11 August 2007 but the "main crown prince", his nephew MoŽ FranÁois Fouti-Loemba, has not yet been crowned.

Further detailed information on the Kingdom of Loango is available on its official website.
Ivan Sache, 01 Nov 2009
The Kingdom has a new king. Moe Makosso VI was invested on 29 August 2009 at Diosso as the 17th king of the Loango.
Chrystian Kretowicz, 01 Nov 2009
Flags of the Loango can be seen here and here.
Fabien Antoine, 16 April 2012
---