This page is part of © FOTW Flags Of The World website
Colour for Armed Forces Units (Germany)
truppenfahne der bundeswehr
Last modified: 2012-11-03 by pete loeser
Keywords: bundeswehr | truppenfahne | coat of arms: eagle (black) | coat of arms (germany) |
Links: FOTW homepage | search | disclaimer and copyright | write us | mirrors

---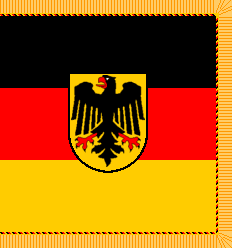 1:1 100×100cm Image by Marcus Schmöger
Flag adopted 18th September 1964
On this page:
See also:
---
Description
This is a square version of the state and war flag with [a black-red-gold lacework border and] a black-red-gold fringe. Adopted 1964. Used as flag for larger units of the Federal Army (Heer). It is used by the German armed forces in much the same way that the fringed US flag is used by our armed forces, i.e. as a color for parades, ceremonies, etc. I have seen this flag on the news during coverage of state visits to Germany by US presidents; it is carried by the honor guard of the Wachbataillon [Guard Battalion], the ceremonial unit of the Bundeswehr.
Norman Martin, February 1998
The German Truppenfahne is a square black-red-gold horizontal tricolor with the national shield overall in the center. The flag is surrounded by a black, red, and gold lacework border and edged on three sides by gold fringe. The finial is a gilt bronze openwork spearhead surrounding a black and silver Iron Cross. Below the finial, a streamer is attached with the unit badge at the top and its designation embroidered in gold at the end. These streamers are red for army (Heer) units, blue for the navy (Marine), and white for the air force (Luftwaffe). The streamer is the same length as the hoist of the flag.
Joseph McMillan, 30 August 1999
German local governments (states, municipalities) - perhaps also the Federal government - present streamers as signs of friendship and appreciation to military units which have rendered Dienst für Volk und Staat ["service to the people and state"]. After World War Two the Federal Republic of Germany bent over backwards to denazify, and they may have imitated United States streamers, at least in shape if not in concept. The concept of tying communities and military units in friendship was a major pendulum swing from Germany's past.
I am more familiar with the British Army experience in Germany. Cavalry and infantry are the only units to carry consecrated Colours/Guidons, and German streamers cannot be attached to these. But these units pass through their German stations too fast to earn them. Engineer and Signal units on the other hand carry informal flags and some units have been stationed in Germany for 50 years or more. When they leave a town, that municipality routinely presents a Fahnenband as a token of the bond that has grown over the years.
T. F. Mills, 29 August 1999
Description from German military on-line dictionary at the Bundeswehr website:
Truppenfahne: Staatliches Symbol, gestiftet vom Bundespräsidenten als äußeres Zeichen gemeinsamer Pflichterfüllung im Dienst für Volk und Staat. Sie wird an Bataillone und entsprechende Verbände sowie an Schulen der Streitkräfte verliehen. Die erste Verleihung erfolgte am 07.01.1965 an das Wachbataillon. Die Übergabe und Übernahme der [Truppenfahne] mit Fahnenband sowie die Verleihung zusätzlicher Fahnenbänder und das Mitführen der [Truppenfahne] bei besonderen feierlichen Anlässen sind Bestandteil militärischer Formen und Teile der Traditionspflege der Bundeswehr. Die [Truppenfahne] ist die Bundesdienstflagge im Format 100 x 100 cm aus schwerem Seidenstoff und gesticktem Bundesadler, eingefaßt mit schwarz-rot-goldener Kordel und goldenen Fransen. Der Metallring am Fahnenstock trägt die Bezeichnung des Truppenteils. Die Spitze des Fahnenstocks ist ausgebildet als ovaler Eichenlaubkranz mit einem Eisernen Kreuz in der Mitte. Am Fahnenstock ist ein Fahnenband mit der Bezeichnung des Truppenteils angebracht.
I believe the description would be translated as:
The troop flag is the federal service flag in 100 cm x 100 cm format made of strong silk with an embroidered federal eagle, surrounded with black-red-gold cord and golden fringe. The metal ring on the flagstaff carries the designation of the unit. The peak of the staff is topped with an oval wreath of oak leaves with an Iron Cross in the middle. On the flag staff is a streamer with the designation of the unit on it.
Joseph McMillan, 13 September 1999

This is the federal service flag in a square form (100 × 100 cm); the shield is in the centre of the flag. Around the free edges there is a black-red-gold cord and a fringe. This flag is the colour that every batallion or batallion-sized unit has. It was legally prescribed on 18th September 1964 in the Anordnung über die Stiftung der Truppenfahnen für die Bundeswehr (Instruction on the Donation of Colours for the Federal Armed Forces), published in the Bundesgesetzblatt I 1964, p. 817. Source: Schurdel 1985.
Marcus Schmöger, 14 March 2001

Issue 10 (5th March 2001) of the German weekly news magazine Der Spiegel, p. 52, showed this picture of the swearing-in of some of the new female Bundeswehr recruits with hands on the troop colour.
Marcus Schmöger, 19 March 2001
---
History
When the Bundeswehr was founded in 1955/56, the need for army colours was denied by the top officials for the first almost ten years. However, there were many occasions, when the units were in need of such a flag. Especially during parades together with the NATO allies this need was urgent: the other NATO forces paraded under their colours, but the Bundeswehr had none. The Bundeswehr was called "the only army in the world without an army colour" (Schurdel 1985). So they used home-made provisional colours for several occasions, as shown in Kühlmann 1963 and Kühlmann 1966.
For instance during the NATO parade at Mainz (4 April 1959) they used a federal service flag fixed to a carrying staff. The same occurred during an American-German parade in Munich (May 1960). Some units prepared their own colours, basically similar to the colours finally introduced in 1964. Thus they applied fringes to square versions of the federal service flag and attached the flag to a carrying staff. This happened for the first time in Fürstenfeldbruck (air force base) in 1957, followed for instance by the Panzeraufklärungsbataillon 2 in 1961 and the Gebirgs-Pionierbataillon 8 in 1962. The unauthorized home-made production of army colours was forbidden at the beginning of the 1960's, followed by the announcement, that the Federal President would present new army colours in a short time. This happened in 1964.
The relevant legal text is the Anordnung über die Stiftung der Truppenfahnen für die Bundeswehr vom 18. September 1964 (Ruling on the presentation of armed forces colours for the Federal Army of 18 September 1964).
The first colours after this instruction were given to the Wachbataillon (Guard Battalion) on 7 January 1965 by President Lübke, followed by the remaining colours on 23/24 April 1965. The units cannot be distinguished by the flag proper, but only by the cravat. The cravat (in the colour of the branch of service) shows the divisional badge, the name of the unit and the emblem of the service (army, navy or air force). The use of the army colour is regulated in the Zentrale Dienstvorschrift (ZDv) 10/7. For instance ZDv 10/7 regulates, how the standard-bearer has to handle the colour, how it has to be carried on a vehicle, how it is to be preserved. The Versorgungsnummer (supply number) of an army colour is 8345-12-139-0777.
Sources:

Marcus Schmöger, 25 November 2001
---