This page is part of © FOTW Flags Of The World website
SS Command and other Car Flags (NSDAP, Germany)
kommandostander, kraftwagen- und fahrradwimpeln
Last modified: 2018-06-09 by pete loeser
Keywords: nsdap |
Links: FOTW homepage | search | disclaimer and copyright | write us | mirrors

---
On this page:
See also:
---
Introduction: Command Flags of the Armed SS and Universal SS
Kommandostander der Waffen-SS und Allgemeinen SS
[Editorial Note: The Letters SS mean "Protection Guard (Squadron)" - thus Waffen-SS would translate as "Armed Protection Guard" and Allgemeinen SS as "Universal (Common or General) Protection Guard."]
A new publication in 2013 by Andreas Herzfeld, a member of the German Flag Society, is called Die Rimann'sche Sammlung deutscher Autoflaggen und Kfz-Stander (The Rimann-Collection of German car flags and vehicle standards). Volume 1 deals with standards used until 1945. Mr. Rimann died a few years ago. He had the most comprehensive collection of Vehicle standards that were used in Germany from the "beginning" to the present. He was said to possess a "complete" collection of images and official regulations as to the standards. Andreas Herzfeld, the author of the book, "inherited" the collection and published it this year.
In the book it says the most of command flags for the Amtschefs der Hauptämter der Allgemeinen SS (Chiefs of the Main Offices of the Universal Protection Squadron) were introduced on December, 1, 1936. (SS-DV Nr. 25 vom 15.09.1936). The structure of the SS at first included three Hauptämter (offices) in all.
The SS-Hauptamt - Protection Guard Main Office
The Hauptamt Sicherheitsdienst - Main Security Office
The Rasse- und Siedlungshauptamt - Race and Settlement Main Office
Each of these Hauptämter had a Chef des Hauptämtes (Chief of the Office) and a Amtschef des Hauptämtes (Assistant Chief of the Office). So there were six persons in all who were the leading "managers" of the Hauptämter (Main Offices). Later, in 1941, the number of the SS-Hauptämter was increased to twelve in all, so that there were more persons who had the right to use these special command flags for their vehicles.
Basically, the Universal-SS (Allgemeine-SS) began as groups of unpaid militia-like units, divided into division, brigade, regiment, battalion, company, and squad-like mustering formations. Most of these met either weekly or monthly. The Allgemeine-SS also used their own strange and unique names for their formations and ranks which were not like the standard German military terms used for similar formations.
It is also interesting to note, that all these vehicle command flags were banished by Reichsführer SS (National Leader of the Protection Guard) Heinrich Himmler on January, 1, 1945. As a reason he pointed out that vehicle flags were only useful in times of peace in order to "pave the way" for higher commanders. But in wartimes it was different and "agents of the enemy" tried to fake these command flags in order to have a completely free hand on German roads. So Himmler, himself, specifically prohibited the use of SS Command vehicle flags from January, 1, 1945 up to the end of the war.
Pete Loeser, 24 March 2013
---
Command Flag of the SS National Leader
Kommandostander der Reichsführer SS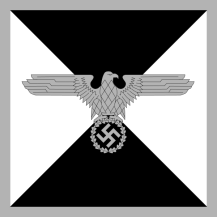 Image by Fornax

A square flag with the field diagonally divided into four fields, top and bottom black, left and right white. Superimposed at the center a silver party eagle (with wreath and swastika). The flag was reported to have a silver border.
Pete Loeser, 24 March 2013
Reichsführer SS flagge (parade or wall hanging)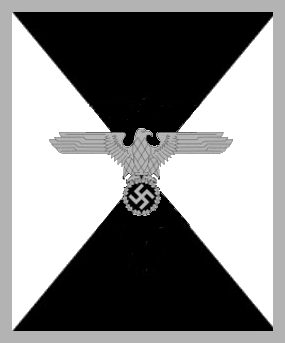 Image by Pete Loeser (based on original photo from Jody Williams), 18 May 2018
This apparent rectangular variant of the SS Command Flag of the National Leader is either a wall hanging or a parade standard. The reverse side is solid black and has looped black fabric at the top to form a closed cloth tunnel that extends the full width of the flag. This indicates it was designed to hang from a wooden cross bar hung from the top of a flag staff or pole; typical of parade standards carried in NSDAP party ceremonies.
Pete Loeser, 18 May 2018
Reichsführer SS flagge (questionable)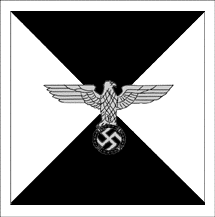 1:1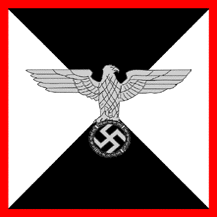 1:1 Images by Jaume Ollé

These interpretations of the Command Flag of the SS National Leader by Jaume Ollé show a narrow white or red border instead of silver. They are presently undocumented and questionable.
Pete Loeser, 24 March 2013
---
Chief of a SS Main Office
SS-Hauptamtschef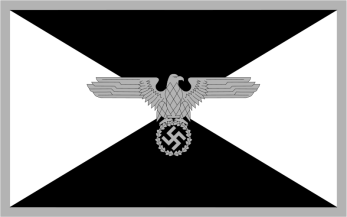 Image by Fornax
The Chef of a SS-Hauptamt used a 20x35 cm sized flag. It was black and white diagonally divided and surrounded by a silver colored stripe. In the center there was the SS-eagle in silver. It is reported to have a silver border.
Pete Loeser, 24 March 2013
SS-Hauptamt (variant version)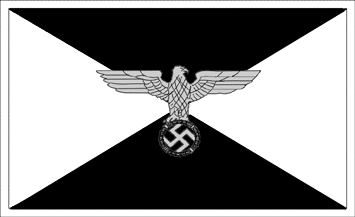 3:5 Image by Jaume Ollé
with reported white border
SS-Hauptamt (Photo)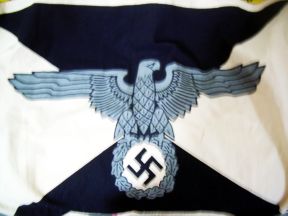 Image sent by Rachael Madden, 21 Jun 2009
I have a Nazi flag from World War Two which I do not know what it is. The eagle's feet are standing on top of a swastika which is embroidered inside of a circle of leaves. The colors are black with gray and the background color is like a tan fabric.
Rachael Madden, 21 Jun 2009
This may be useful for redrawing of it. In particular, the inside of the wreath appears to be white (not black as we show).
Rob Raeside, 22 Jun 2009
I am not 100% sure if the photography does show an original from the era. It's just a gut feeling, but the eagle does not look correct to me.
Marcus Schmöger, 22 Jun 2009
This flag is very strange. It appears to be a flag for a Chef eines SS-Hauptamtes, but there are some problems. The swastika on the white disk was indeed used, but not in connection with the SS-eagle that is shown here! The first flag of a Chef eines SS-Hauptamtes was introduced in June 1935. The eagle used is different, it was the old fashion one (already introduced in 1933). The actual flag was only used between June 1935 and December 1936, when the new regulations were instituted. The border of this original flag was silver, not white, and the eagle, as already mentioned, is obviously different. So I'm unsure what the flag in this photo represents. It appears to me to perhaps be a replica, rather than an original. I guess it could be "remotely" possible that this was a transition version, i.e. - new eagle, but old swastika-field and border of white, made perhaps because a flag manufacturer wasn't sure about the official regulations, but this is a bit of a stretch. All I can say is the flag shown in the photo is a version that was not officially recognized or documented in any reliable source to my knowledge.
Pete Loeser, 25 March 2013
SS-Hauptamt variant (questionable)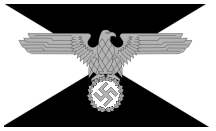 Speculative image drawn by Pete Loeser
with white background on swastika and white border added (based on photo above)
---
Assistant Chief of a SS Office
SS-Amtschef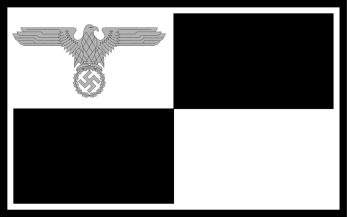 Image by Fornax
The title of Assistant or Department Chief (Amtschef) was held by countless SS officers and sub-department heads. These Amtschefs of the SS-Hauptamt (Assistant Chief of a SS Office) used a 20x35 cm sized flag. It was divided black and white into four rectangles. It was surrounded by a small outer black and inner white stripe. In the upper left corner of the flag there was the SS-eagle in silver.
Pete Loeser, 24 March 2013
SS-Amt (Alternate interpretation)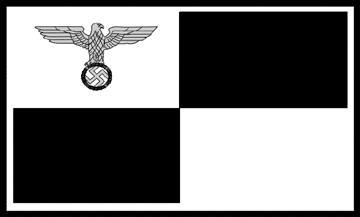 3:5 Image by Jaume Ollé
---
Inspector of the SS National Leader
Inspektor der Reichsführer-SS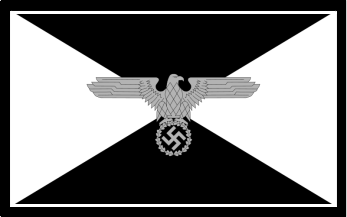 Image by Fornax and Pete Loeser
The Amtschefs were also inspectors on the personal staff of the Reichsführer SS (National Leader of the Protection Squadron). When acting as such they were allowed to use a different flag. (Regulation issued on July, 25 1937) It was 20x35 cm, and was almost the same as the flag for the Chef des Hauptamtes. But instead of a silver border the flag was surrounded by a black border. The black border was disconnected by a very small white border from the inner black triangle.
Pete Loeser, 24 March 2013
---
Commander of the Waffen-SS
(Commander-in-Chief of Armed SS)
Befehlshaber der Waffen-SS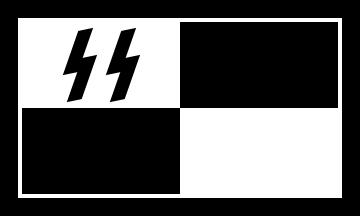 Image by Peter Hans van den Muijzenberg and Pete Loeser
There was only a single SS-vehicle flag that used black SS-runes in the corner and this was the flag for a Befehlshaber der Waffen-SS (Commander of the armed SS). This 20x35 cm sized flag was introduced in April or May 1942 as an addition of the SSDV Nr. 25 (VBl Waffen-SS 3. Jg. Nr. 12 vom 15.06.1942). In Die Rimann'sche Sammlung deutscher Autoflaggen und Kfz-Stander (The Rimann-Collection of German car flags and vehicle standards), Andreas Herzfeld does not mention any specific data as to the width of stripes or anything else in this kind (in other cases he gives these details), so it is likely that the original SS-regulation did not say anything about it, but only displays the image. So it might be understandable that in the course of the war there were variations as to details of the flag.
Pete Loeser, 24 March 2013
And that image shows an 336x202 image that has a wide black outer edge and a narrow white inner edge. Assuming that this is Andreas' image, I wonder about the different ratio; the image is close to 20:33, rather than the 20:35 that follows from the measurements the text gives. Is this a problem with the original regulation?
It's also not the same ratio as the apparently 2:3 of Jeff's photograph. Plus, it has a wide outer black border and a narrow white inner border, whereas the flag in the museum, that Jeff unfortunately doesn't name, has the inner white border wide, and the outer black narrow. The narrow white border is indeed a far more likely design, but so far all we have is the photograph of the actual flag, and that has a wide white border.
Even if we can get Andreas´ confirmation that the image and the measures are from the original regulation, and we could match that image correctly, and maybe the text as well, in my opinion, we'd still have to cover the design of the only specimen we currently know to actually exist. (I've asked Jeff if he recalls what museum holds it.)
Peter Hans van den Muijzenberg, 10 September 2013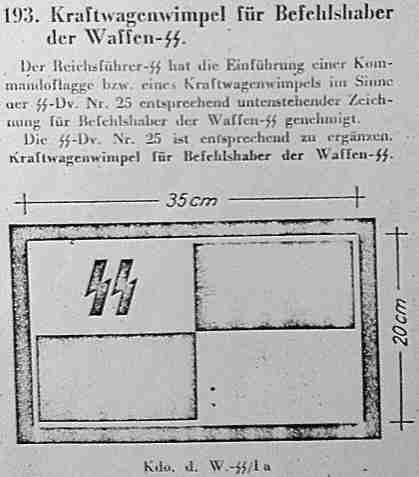 Attachment from Andreas Herzfeld, 22 September 2013
I cannot understand this never ending discussion. It is so easy to ask me. Every time I indicate my sources and every one can check the given information.
1. In the attached document you'll find the regulation for the flag for a Commander-in-Chief of Armed SS (this is the correct rank translation).
2. The given measures are correct.
3. The relation to SS-Dv. Nr. 25 as an amendment of it is correct (This was another discussion).
4. If a picture in a book has an incorrect ratio, this is not an problem, because there exists different printing, drawing and transformation mistakes, that you see only after publishing. The important thing is the ratio given in the text.
5. In the regulation is given only a picture, as you can see, and no date of introduction.
6. In reality, some real flags are different from the regulations, and those captured and stolen in Germany can be originals or fakes.
Andreas Herzfeld, 22 September 2013
---
SS District Flag (vehicle and command)
SS-Oberabschnitt
SS District South (SS-Oberabschnitt Süd)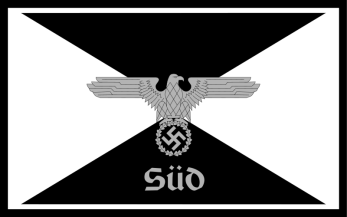 Image by Fornax
The SS-Abschnitt (Protection Guard District) were formed in the early 1930s to replace the SS-Brigades. The function and operation of the Abschnitt's was essentially the same as with the Oberabschnitts (Upper section), but the units were usually commanded by an SS-Brigadeführer (Brigade Leader) or Oberführer (Top Guide). Abschnitt's were given Roman numerals and names. These units generally performed Police duties during the war.
Pete Loeser, 26 March 2013
SS-Oberabschnitt (Alternate interpretation)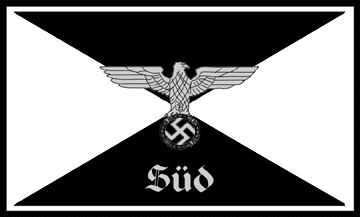 3:5 Image by Jaume Ollé
---
SS Section Flag (vehicle and command)
SS-Abschnitt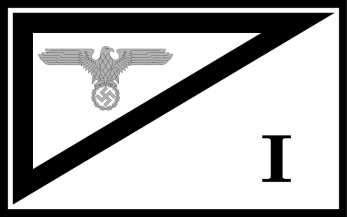 Image by Fornax
A SS leader placed in charge of a political section would use this car flag to indicate their presence in an official vehicle.
Pete Loeser, 26 March 2013
SS-Abschnitt (Alternate interpretation)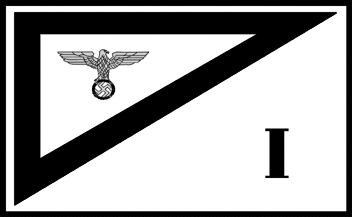 3:5 Image by Jaume Ollé
SS-Abschnitt (Variant)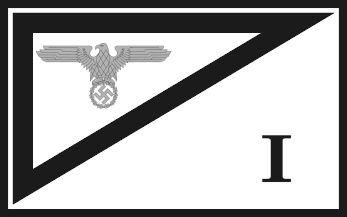 Image by Pete Loeser (based on original photo from Jody Williams), 18 May 2018
An apparent variant of the SS Section Command Flag (70cm x 40cm) was produced with the eagle facing the hoist on both sides.
Pete Loeser, 18 May 2018
---
SS Regiment Flag (vehicle and command)
SS-Standarte
SS Regiment 34 (34. SS-Standarte)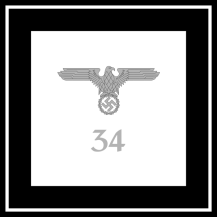 Image by Fornax
The SS-Standarte (Protection Guard Regiment) was the most important unit of the Allgemeinen SS (Universal Protection Guard). The Standarte name came from the term for a "Regimental Standard." Each Standarte had its own number, but also had names based on either a location, a popular nickname, or the name of a Nazi hero. The standard rank for the Standarte Leader was equivalent to an army Colonel and called a Standartenführer (Standard's guide).
Pete Loeser, 26 March 2013
SS-Standarte (Alternate interpretation)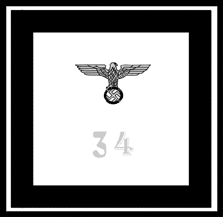 1:1 Image by Jaume Ollé
---
SS Company Flag (vehicle and command)
SS-Sturmbann
SS Company I of Regiment 1 (SS-Sturmbann I der 1. SS-Standarte)
A SS-Sturm (Protection Guard Company) was the lowest organizational level of the Allgemeinen SS (Universal Protection Guard) and the most common unit in which an average SS member would serve in. Company commanders usually rated a rank equivalent to an army Lieutenant (Untersturmführer) or an army Captain (Hauptsturmführer).
Pete Loeser, 26 March 2013
SS-Sturmbann (Alternate interpretation)
---
SS Cavalry Commands
SS-Allgemeinen Reiterabschnitt und Reiterstandarte
The Allgemeine-SS also had several cavalry commands intended to appeal to German aristocrats. These were basically equestrian riding clubs that basically ceased to exist after World War II began. There were nine SS-Cavalry Districts (SS-Reiterabschnitt) established and twenty-four cavalry regiments (SS-Reiterstandarte) formed in the Allgemeine-SS. These units had a special crossed lances insignia on their Unit Standards which also displayed their Standarten number.
Pete Loeser, 26 March 2013
---
Car and Bicycle Pennant
Kraftwagen- und Fahrradwimpel
General vehicle-pennant for the SS (Allgemeiner Fahrzeugwimpel der SS)
Allgemeiner Fahrzeugwimpel der SS (Alternate interpretation)
---
Car and Bicycle Pennant for Funding Members of the SS
Kraftwagen- und Fahrradwimpel für Fördernde Mitglieder der Schutzstaffel
The Fördernde Mitglieder (SS-FM) was an organisation for non-SS who supported the SS financially.
Marcus Wendel, 1999
Vehicle pennant for supporting members of the SS (Alternate interpretation)
Fahrzeugwimpel für Fördernde Mitglieder der SS
---