This page is part of © FOTW Flags Of The World website
Bernkastel-Wittlich County (Germany)
Landkreis Bernkastel-Wittlich, Rhineland-Palatinate
Last modified: 2011-02-25 by editor unassigned
Keywords: bernkastel-wittlich |
Links: FOTW homepage | search | disclaimer and copyright | write us | mirrors

---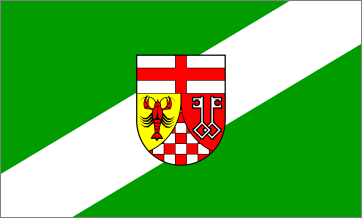 3:5 image by Jörg Majewski, 7 Oct 2009
adopted 19 Mar 1984
See also:
---
Bernkastel-Wittlich County
Bernkastel-Wittlich county
state Rhineland-Palatinate
flag adopted: 19th 03.1984
source: Debus/state archive Speyer in Klaus Günther: "Kommunalflaggen von Rheinland-Pfalz", CD.
Jörg Majewski, 7 Oct 2009
---

Cities and municipalities
Morbach municipality [MO]
Wittlich city [WL]
Verbandsgemeinde* Bernkastel-Kues [01]
Bernkastel-Kues city, Brauneberg, Burgen (Hunsrück), Erden, Gornhausen, Graach an der Mosel, Hochscheid municipality [HS], Kesten, Kleinich, Kommen, Lieser (Mosel), Longkamp, Lösnich, Maring-Noviand, Monzelfeld, Mülheim (Mosel), Ürzig, Veldenz, Wintrich, Zeltingen-Rachtig.
Verbandsgemeinde Kröv-Bausendorf [02] Verbandsgemeinde Manderscheid [03]
Bettenfeld, Dierfeld municipality [DI], Eckfeld, Eisenschmitt, Gipperath, Greimerath (Eifel), Großlittgen, Hasborn, Karl (Eifel), Laufeld, Manderscheid city, Meerfeld, Musweiler municipality [MU], Niederöfflingen, Niederscheidweiler, Oberöfflingen, Oberscheidweiler, Pantenburg, Schladt, Schwarzenborn municipality [SW], Wallscheid.
Verbandsgemeinde* Neumagen-Dhron [04] Verbandsgemeinde* Thalfang am Erbeskopf [05]
Berglicht, Breit, Büdlich municipality [BD], Burtscheid municipality [BS], Deuselbach municipality [DE], Dhronecken municipality [DH], Etgert municipality [ET], Gielert municipality [GT], Gräfendhron, Heidenburg, Hilscheid municipality [HI], Horath, Immert municipality [IM], Lückenburg municipality [LU], Malborn, Merschbach municipality [MR], Neunkirchen municipality [NK], Rorodt municipality [RO], Schönberg municipality [SG], Talling municipality [TA], Thalfang.
Verbandsgemeinde* Traben-Trarbach [06] Verbandsgemeinde* Wittlich-Land [07]
Altrich municipality [AL], Arenrath municipality [AR], Bergweiler, Binsfeld, Bruch, Dierscheid municipality [DS], Dodenburg municipality [DO], Dreis, Esch municipality [EH], Gladbach, Heckenmünster municipality [HM], Heidweiler municipality [HW], Hetzerath, Hupperath, Klausen, Landscheid, Minderlittgen, Niersbach municipality [NI], Osann-Monzel, Platten, Plein, Rivenich, Salmtal municipality [SA], Sehlem municipality [SE].
*A "Verbandsgemeinde" (VG) is a combination of several municipalities to an administration community in Rhineland-Palatinate.
---