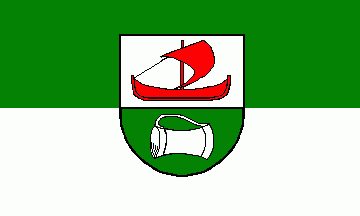 3:5 image by Klaus-Michael Schneider, 3 Jan 2009
See also:
---
Current Flag
Description of flag:
The ratio of the flag is 3:5. It is a green over white horizontal bicolour with the coat of arms in its centre.
Source: My image is based on the description of Ralswiek harbour-captain. I spotted an image of the coat of arms in front of the local administration building. It is confirmed by [szh11], p.396.
Klaus-Michael Schneider, 3 Jan 2009
Description of coat of arms:
The shield is divided per fess. The 1st field shows a red sailing ship with one sail in a silver (=white) field. The 2nd field shows an overthrown silver (=white) tankard in a green field.
Meaning:
The sailing ship is alluding to the Slavic rule, when Ralswiek had been the most important harbour and tradingpost of the entire island, before Rügen was conquered by Denmark in 1168 and became a district of the Bishopric of Roskilde. The tankard is symbolizing the annual festivals dedicated to the German pirate Klaus Störtebecker (Engl.: tilt beaker).
Source:
Klaus-Michael Schneider, 3 Jan 2009, 26 Jan 2012
Flag and coat of arms were approved by minister of interior of Mecklenburg-Westpomerania on 17 May 1999, published in the roll of arms of Mecklenburg-Westpomerania as no. 0183.
---