This page is part of © FOTW Flags Of The World website
House Flags of German Shipping Companies (b) - part 4
Deutsche Reedereiflaggen (b) - Teil 4
Last modified: 2019-08-26 by

klaus-michael schneider
Keywords: braack | bramsloew | braren | brasch rothenstein | breckwoldt | bremen suedamerika | bremer helgoland | bremer lloyd | breuer | brinckmann-albers | broehan | buechting | buck | bremer schlepp | brueckner-albers | bunnemann | burmest |
Links: FOTW homepage | search | disclaimer and copyright | write us | mirrors

---

3:5

image by António Martins-Tuválkin
German merchant ensign See also:
---
Schiffahrts Braack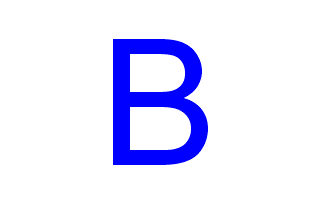 image by Jarig Bakker, 6 Oct 2005

Schiffahrts Braack K.G., Drochtersen - white flag, blue "B". (Drochtersen is a place northwest of Hamburg)
Image after Brown's Flags and Funnels Shipping Companies of the World, compiled by J.L. Loughran, Glasgow, 1995 [lgr95]
Jarig Bakker, 6 Oct 2005
---
F.C. Bramslöw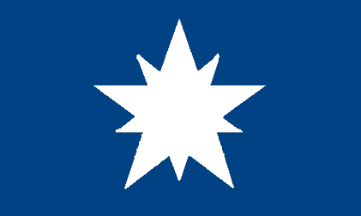 image by Klaus-Michael Schneider, 25 Mar 2007

F.C.Bramslöw - Friedrich Christian Bramslöw was born in Aabenraa and was like his father before seaman and captain. The latter was captain on a vessel of John R.Möller which he bought in 1856. But he lost ship and his life 1859 near Hongkong. His son was not discouraged and became seaman at the age of 15 and was captain with 25 years in 1881 on a ship of B.Wencke Söhne. He remained captain and became inspector from 1889 till 1893. He became member of the board of the OPDR and promoted an association to run a ship for learners (germ.:Schulschiff). Finally from 1891 to 1910 he was owner of his own fleet. The company ended in 1910. Bramslöw died in 1930.
The company used a dark blue flag with a white 5-point star in its centre superimposed by a smaller one pointing to the bottom.
Source: Jürgen Meyer: "Hamburger Segelschiffe von 1795-1945"; ISBN 3-89225-400-1; Hamburg 1999; p.155ff.
Klaus-Michael Schneider, 25 Mar 2007
---
Roerd Braren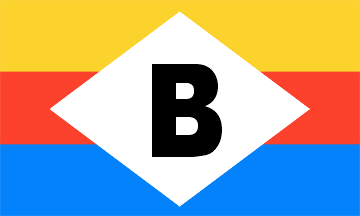 image by Klaus-Michael Schneider, 11 Aug 2008

The company is based in Kollmar, a small village on the northern bank of the river Elbe near Glückstadt.
Description of flag: It is a yellow over red over blue horizontal tricolour. The shade of the red stripe is slightly orange. In the centre of the flag is a white rhomb containing a black unserifed capital "B"'.
Source: I spotted this table-flag in a pub in Kollmar on 8 June 2007.
Klaus-Michael Schneider, 11 Aug 2008
---
Brasch & Rothenstein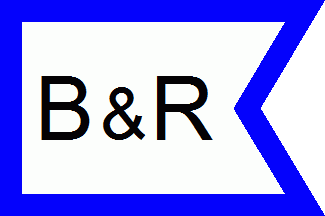 image by Klaus-Michael Schneider, 29 May 2012

It is a white swallow tail pennant with a blue bordure and a black inscription "B & R" in the centre.
Source: Gratis Beilage zu Deicken und Behrmann's Neuen Monatsheften Neue Ausgabe Sommer 1897
Klaus-Michael Schneider and Jörg M. Karaschewski, 29 May 2012
---
H.P. Breckwoldt Jr.
| | | | |
| --- | --- | --- | --- |
| 3:5 image by Klaus-Michael Schneider, 16 June 2012 | 3:5 image by Klaus-Michael Schneider, 11 July 2019 |   |   |
The company was located in Blankenese. The 1897 version (see left image above) was a blue flag divided by a white, centred cross. In the middle was a white rectangle having a red inscription "PB" (1st line) "& Co."(2nd line). The 1905 version (see right image above) was red, divided by a white saltire, each quarter charged with a white 5-point star.
Sources: Gratis Beilage zu Deicken und Behrmann's Neuen Monatsheften Neue Ausgabe Sommer 1897 and Flaggenbuch 1905, part V, p.13, image no.146
Klaus-Michael Schneider, 16 June 2012
---
Bremen Südamerika Linie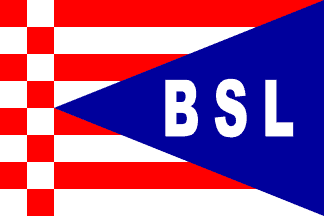 image by Jorge Candeias, 29 Apr 2002

Bremen Südamerika Linie GmbH & Co KG - a German company that links Europe and Brazil - particularly northwestern Brazil and the Amazon basin - and is represented in Portugal by Garland Navegão. Its logo consists of a flag that can be described as that of Bremen with a blue triangle based at the fly and with the third angle vertically centered at about 2/12ths of the length. The triangle is charged with the sigla BSL in white. There is always the possibility that the real flag is something different than this, but I am sending along what I suppose is the company flag.
Jorge Candeias, 29 Apr 2002
---
Bremer Bereederungsgesellschaft (BBG)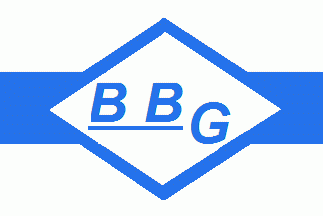 image by Klaus-Michael Schneider, 12 July 2012

The company is located in Bremen. In the centre of the white flag is a white lozenge fimbriated celestial blue. In the lozenge is an inscription in italics "BB" (underlined) "G" (slightly below).
For further information click: company homepage
Source: Verband Deutscher Reeder homepage
Klaus-Michael Schneider, 12 July 2012
---
Bremer Helgoland Dienst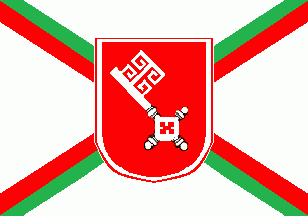 image by Klaus-Michael Schneider, 17 Apr 2009

Bremer Helgoland Dienst
The company was located in Bremen. It is a white flag divided by a saltire of green and red. Those three are the colours of Helgoland. In the centre was a red, cotized shield with a white key, a modification of the small arms of the city of Bremen.
Source: Arnold KLUDAS: Die Geschichte der deutschen Passagierschiffahrt (5 Bde.) Hamburg 1986; Reprint Laibach Slovenia-Buch Nr. 03617-8 Flagchart p.224.
Klaus-Michael Schneider, 17 Apr 2009
---
Bremer Lloyd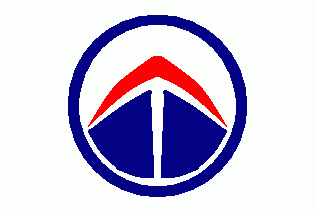 image by Klaus-Michael Schneider,18 Jul 2012

In the centre of the white flag is a dark blue circle. In the circle is a red and dark blue silhouette of a ship's prow.
Source: Josef Nüsse's webpage
Klaus-Michael Schneider,18 Jul 2012
---
Bremer Schleppschiff Gesellschaft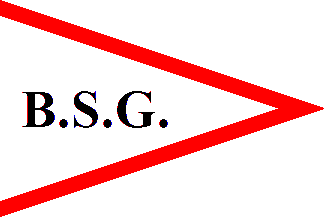 image by Klaus-Michael Schneider, 6 July 2019

The company was based in Bremen (name meaning Bremen tug boats). It had a white triangular pennant with thin red bordure at top and bottom edge and a black serifed inscription "B.S.G.".
Source: Flaggenbuch 1905, part V, p.12, image no.79
Klaus-Michael Schneider, 6 July 2019
---
Friedrich Bremer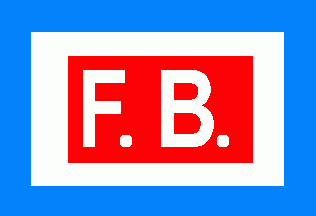 image by Klaus-Michael Schneider, 5 Aug 2019

The company was based in Rostock. The flag was blue with a bordure red and white, in centre a white inscription "F.B.".
Source: Massary 1928, series 1, image no.221
Klaus-Michael Schneider, 5 Aug 2019
---
Henry Breuer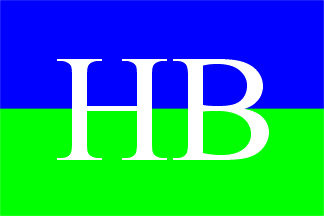 image by Jarig Bakker, 17 Feb 2006

The company was based in Stade - horizontal flag blue over green; white "HB".
Image after Brown's Flags and Funnels Shipping Companies of the World, compiled by J.L. Loughran, Glasgow, 1995 [lgr95]
Jarig Bakker, 17 Feb 2006
---
Jan Breuer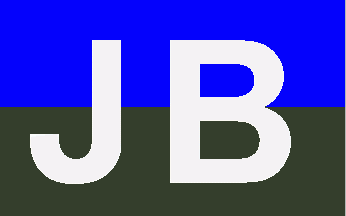 image by ,

The company is located in Hammah (Stade county). It is a blue over grey horizontal bicolour with white initials "JB" in the centre.
Source: Verband Deutscher Reeder homepage
Klaus-Michael Schneider, 12 Jul 2012
---
Brinckmann & Albers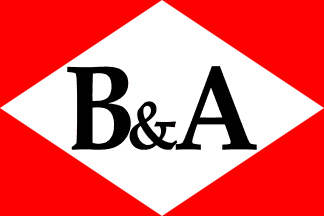 image by Jorge Candeias, 10 Jan 2005

The flag is red with a white lozenge touching the edges and black initials "B&A" in the center. And the caption seems to read "Brickmann & Albers".
Jorge Candeias, 29 Apr 2002
---
Franz Brinkmann

image by Klaus-Michael Schneider, 24 Aug 2019

Ewerführerei Franz Brinkmann KG, i.e tug skippers, a company based in Hamburg. The flag was a red-green-red horizontal triband.
Source: Schnall funnel chart 1997
Klaus-Michael Schneider, 24 Aug 2019
---
Richard Bröhan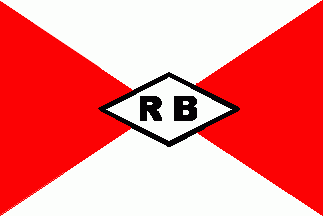 image by Klaus-Michael Schneider, 29 Mar 2009

The company was located in Hamburg. The flag is divided per saltire into red and white. In the centre is a white lozenge, fimbriated black, with a black inscription "RB".
Source: "Deutsche Reedereien und ihre Erkennungszeichen"; 2nd ed.; Hamburg 1956; p.13
Klaus-Michael Schneider, 29 Mar 2009
---
Brückner & Albers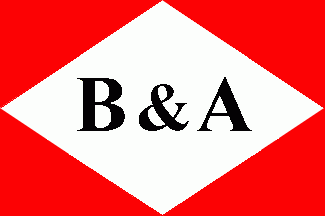 image by Klaus-Michael Schneider, 6 July 2019

The company was based in Hamburg. The flag was red with a black serifed inscription "B&A" in a throughout white lozenge.
Source: Flaggenbuch 1905, part V, p.12, image no.77
Klaus-Michael Schneider, 6 July 2019
---
Willi Brümmer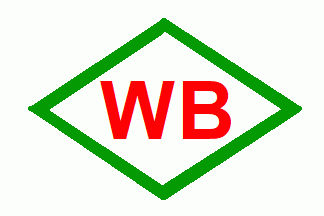 image by Klaus-Michael Schneider, 24 Aug 2019

Ewerführerei Willi Brümmer, i.e tug skippers, a company based in Hamburg. The flag was white with a white lozenge in centre with green fimbriation and red inscription "WB".
Source: Schnall funnel chart 1997
Klaus-Michael Schneider, 24 Aug 2019
---
Ulrich Büchting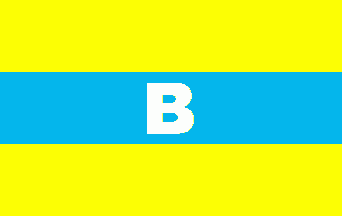 image by Klaus-Michael Schneider, based on image located by Jan Mertens, 7 Feb 2011

Lying in wait in 'Flaggen auf dem Rhein' (1952 ed.) but unnoticed by me for a long time, was a predecessor namesake established at Frankfurt: This one flew horizontal stripes yellow-blue-yellow with a white initial "B" (no serifs) in the centre of the blue stripe.
This page from a German inland navigation discussion site presents a 1966 advertisement (image clickable): here
Apparently 'Ulrich Büchting' operated two bunker vessels in the Frankfurt am Main/Würzburg area, cooperating with Esso.
The current Büchting was founded in 1966, possibly after the takeover of Ulrich Büchting, by HTAG - this must have influenced the new flag design. Url of English page (boats no longer shown) is here Clickable photo showing present-day Büchting house flag in the cloth:here
Jan Mertens, 7 Feb 2011
---
Büchting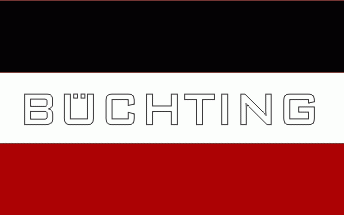 image by Jorge Candeias and Klaus-Michael Schneider, 3 May 2004

The German bunkering firm 'Bunkerbetriebe Büchting GmbH' is established at Duisburg on the Rhine. This page shows their boats, prosaically named 'Büchting 1' and 'Büchting 2': Briefly mentioned in the 15 Jun 2007 message 'HTAG formerly Harpen (DE)', the company - founded in 1966 - is owned by HTAG.
English language version of site:
A table flag still on offer on German eBay shows the HTAG colours: horizontally divided black, white, and red, defaced with the company name in a special voided font also seen on above website. This image was put up by 'bundeszentralregister' under item no. 150164078480, end of offer 2 Oct 2007, dimensions given as 15 x 25 cm.
As the item in this format was shown among many others in a house flag exhibition ('Flagge zeigen', Duisburg) I visited earlier this week I feel confident that it exists in life size as well.
Jan Mertens, 28 Sep 2007

The stripes of the house flag of "Bunkerbetriebe Büchting", as I am convinced, should be black-white-red.
Jan Mertens, 7 Feb 2011
---
Wilfried Buck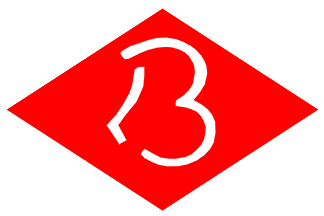 image by Jarig Bakker, 19 Oct 2005

Wilfried Buck, Duisburg - white flag, red diamond, white handmade "B".
Image after Brown's Flags and Funnels Shipping Companies of the World, compiled by J.L. Loughran, Glasgow, 1995 [lgr95]
Jarig Bakker, 19 Oct 2005
---
Gerd Ernst deBuhr KG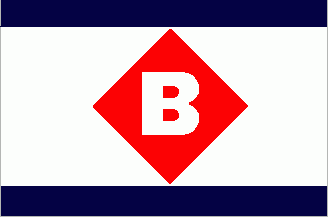 image by Klaus-Michael Schneider, 8 Apr 2009

The company was located in Oldenburg. It is a white flag with dark blue stripes (FIAV-code B++) at the top and bottom edge. In its centre is a red diamond with a white capital "B".
Source: Title: "Flaggen, Schornsteine, Reedereien- Flaggen und Schornsteine der deutschen Reedereien und ihre Schiffe über 300 BRT"; Hamburg 1957.
Klaus-Michael Schneider, 8 Apr 2009
---
Hans Günther Bülow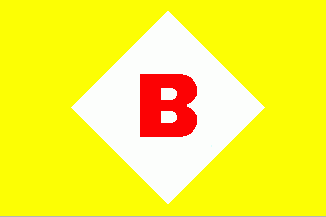 image by Klaus-Michael Schneider, 8 Apr 2009

Hans Günther Bülow
The company was located in Kollmar (Steinburg county) next to Glückstadt at the northern banks of river Elbe. It is a yellow flag. In its centre is a white diamond with a red capital "B".
Source: Title: "Flaggen, Schornsteine, Reedereien- Flaggen und Schornsteine der deutschen Reedereien und ihre Schiffe über 300 BRT"; Hamburg 1957; p.F4.
Klaus-Michael Schneider, 8 Apr 2009
---
Ernst Buhrs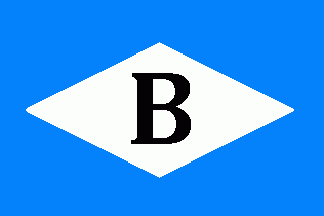 image by Klaus-Michael Schneider, 24 Aug 2019

Bugsierberieb Ernst Buhrs, a towage company based in Hamburg. The flag was blue with a white lozenge in centre, charged with a black, serifed initial "B".
Source: Schnall funnel chart 1997
Klaus-Michael Schneider, 24 Aug 2019
---
G. August Bunnemann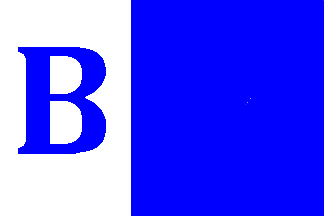 image by Klaus-Michael Schneider, 14 July 2019

The company was based in Bremen. The flag was a white-blue vertical bicolour, the hoist side was charged with a blue serifed initial "B".
Source: Flaggenbuch 1905, part V, p.15, image no.212
Klaus-Michael Schneider, 14 July 2019
---
Burmester
| | | | |
| --- | --- | --- | --- |
| image by Klaus-Michael Schneider, 19 Mar 2007 | 3:5 image by , |   |   |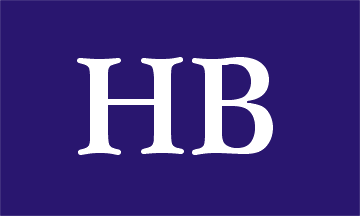 image by

Burmester established his company in 1885 in Oporto. Nevertheless the home of his ships was Hamburg. The name was changed to Hermann O. Burmester in 1891; and to "H.Burmester &Co." in 1906. In 1908 however J.W.Gerhard Burmester was the only owner of the company. The last ship was sold in 1911 and the company was dissolved three years later in 1914. The blue flag was dispalyed with white initials "HB" in the centre, either serifed (see left image above) or in 1905 unserifed (see right image above).
Sources: Jürgen Meyer: "Hamburger Segelschiffe von 1795-1945"; ISBN 3-89225-400-1; Hamburg 1999; p.132ff. and <Flaggenbuch 1905, part V, p.21, image no.565
Klaus-Michael Schneider, 19 Mar 2007
---
back to B-companies part 3 click here
back to B-companies main page click here