This page is part of © FOTW Flags Of The World website
Schmidt firms (German Shipping Companies)
Last modified: 2012-07-11 by klaus-michael schneider
Keywords: schmidt(detlef) | schmidt(heinrich) | schmidt(theodor) | schmidt(wilhelm e.f.) |
Links: FOTW homepage | search | disclaimer and copyright | write us | mirrors

---
See also:
---
Detlef Schmidt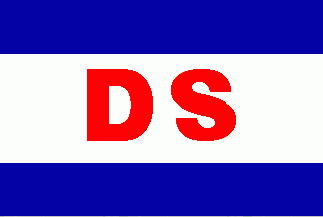 image by Klaus-Michael Schneider, 14 Apr 2009

The company was located in Rendsburg. It is a dark blue over white over dark blue horizontal triband with ratio approx 1:3:1. In the white stripe are red capitals "DS".
Source: "Flaggen, Schornsteine, Reedereien- Flaggen und Schornsteine der deutschen Reedereien und ihre Schiffe über 300 BRT"; Hamburg 1957; p.F26
Klaus-Michael Schneider, 14 Apr 2009

---
Heinrich Schmidt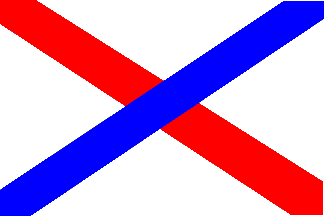 image by Jarig Bakker, 17 Feb 2005

Heinrich Schmidt, Flensburg - white flag, blue over red stripes in saltire.
Image after Brown's Flags and Funnels of British and Foreign Steamship Companies, compiled by F.J.N. Wedge, Glasgow, 1926 [wed26]
Jarig Bakker, 17 Feb 2005

I just received the message below, together with 2 large .jpg files
about a picture of a clipper. If someone wants to have a look at the
images: please contact me off-list.

I have been searching to find the information on the house flag in the pictures. I learned about the signal flags and the north german flag. I'm trying to identify the ship.
Here is a description of the flags:
In top of the mainmast: white flag, a red and a blue stripe in saltire.
On the mast in front (dunno the name, sorry):
1. white penant, red disk (1)
2. swallowtail red hoist, blue fly (possibly discolored, A?)
3. blueflag bordered white (S)
4. red swallowtail (B)
5. tapering blue, yellow, red penant (North Germany?).
In front a black. white, red flag (Germany, old)
Michelle, 26 Jun 2008

Sounds like a ship making her number using Marryat's Code: Ist distinguishing pennant / 0 / 1 / 5 / 6
The list I have to hand gives 0156 as a vessel called 'Lorelei'. The use of the zero flag as the first one in the hoist was introduced about 1869. Marryat's code went out of use c.1880, so that would fit with the German ensign.
The house flag could be that of Heinrich Schmidt, out of Flensburg.
A book like Lloyd's Register of Shipping would confirm if Schmidt actually owned a vessel of that name.
Ian Sumner, 26 Jun 2008

---
Theodor Schmidt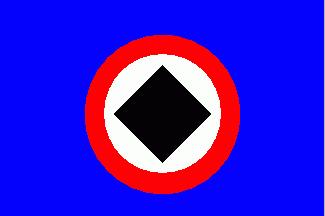 image by Klaus-Michael Schneider, 11 Jul 2012

According to source Hamburg shipowners register provides evidence of the company's existence at least in 1891. It is a blue flag with a white disc in the centre. The disc has a broad red edge and contains a black diamond in the centre.
Source: Otto Mathies: "Hamburgs Reederei 1814 - 1914", Hamburg 1924, p.141
Klaus-Michael Schneider, 11 Jul 2012
---
Wilhelm E. F. Schmidt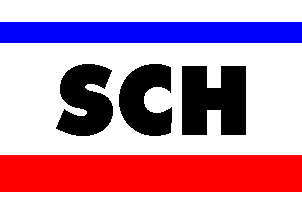 image by Jorge Candeias, 22 Mar 1999

Wilhelm E. F. Schmidt GmbH - White with a blue horizontal stripe near the top and a red horizontal stripe near the bottom. In the center, the letters 'SCH' in black. The original image was too small to be sure, but it looks like the red stripe is about twice as wide as the blue one.
Jorge Candeias, 22 Mar 1999
---
(German proper name "Schmidt" is very common; thus all these companies probably have nothing to do with one another;editorial note kms)
---
back to House Flags of German Shipping Companies (sch) main page click here.
---