This page is part of © FOTW Flags Of The World website
Danish Shipping Companies (A)
Last modified: 2014-05-29 by zoltán horváth
Keywords: denmark |
Links: FOTW homepage | search | disclaimer and copyright | write us | mirrors

---
See also:
---
image by Ivan Sache, based on Joseph Nüsse website
Blue flag with a white disc charged with a triangle made of alternating blue and white lines.
Ivan Sache, 15 September 2002
This logo is probably best known from Aalborg Portland's main product: cement, as it is printed on the paper bags that the cement is sold in.
Ole Andersen, 15 September 2002
image by Jarig Bakker, 21 October 2005
Source: Loughran (1995)
A/S Aalborg Portland Cement Fabrik, Aalborg - white a blue cement bag-label.
Jarig Bakker, 21 October 2005
---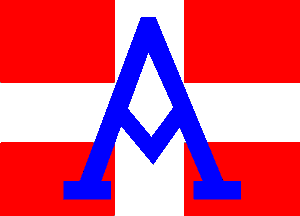 image by Jarig Bakker
A red flag, white cross, aver all stylized blue "A". Same type of "A" was used by the Danish Asiatic Company after 1802.
Source: Brown's Flags and Funnels (Wedge 1926)
Jarig Bakker, 19 December 2004
---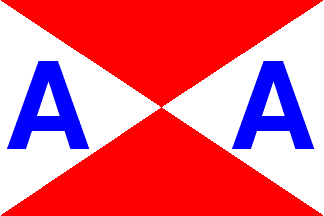 image by Ivan Sache, 29 November 2003
Adolph Andersens (Randers, Denmark) - quarter per saltire white-red with A on each white quarter.
http://www.adolph-andersen.dk/
Dov Gutterman, 26 October 2003
The company was founded in Randers in 1851 by Adolph Andersen Sr., who took over and renamed the "Chr. Hennings" company, which had been founded in 1802. The flag is divided per saltire white-red-red-white with a blue A in the white quarters.
Ivan Sache, 29 November 2003
---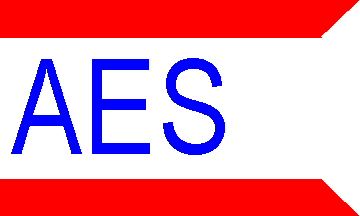 image by Phil Nelson, 24 June 2000
based on Stewart and Styring's Flags, Funnels and Hull Colours, 1963
---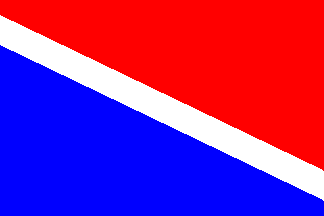 image by Ivan Sache, 2 November 2003
A.N Petersen A/S (Holte, Denmark) - diagonal red-white-blue
http://www.anpetersen.dk/
Dov Gutterman, 26 October 2003
The company was founded in 1920 by Captain A.N. Petersen, who died in 1941.
Ivan Sache, 2 November 2003
---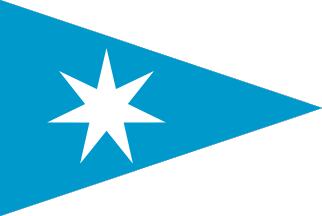 image by Jorge Candeias, 1 June 2005
based on Stewart and Styring's Flags, Funnels and Hull Colours, 1963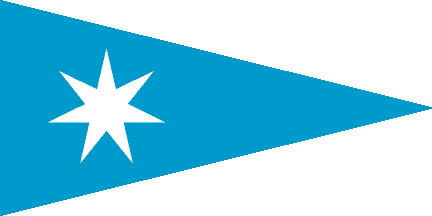 image by Peter Hans van den Muijzenberg, 18 December 2013
A longer, 1:2 variant based on image at http://www.seanews.com.tr/article/SHIPBUILDING/106011/
A.P. Møller, Copenhagen: blue pennant with white seven-pointed star near the hoist. Also known as Maersk. The Maersk livery colour, sky blue, is well-known.
Jan Mertens, 11 December 2003
A.P. Möller (Maersk Line). The blue is a light shade and the star points are long and narrow. The company website www.apmoller.com in 2000 gives the background of the logo as "History of the logo: The following narrative is found in the book about A.P. Møller "With Constant Care..", by Ove Hornby: "When Captain P.M. Møller took command of his first steamer the S.S. "Laura" in 1886, her black funnel was ringed with a blue band with a white seven-pointed star on each side. While accompanying her husband on a voyage years earlier, his wife Anna Møller had suffered a serious illness, which left a lasting impression on the deeply religious captain, who felt himself to be responsible. In a letter to his wife in October 1886, he explained the background for the company's new emblem: "The little star on the funnel is a reminder of the evening I prayed for you so dejectedly and anxiously, asking for the sign that I might see in the grey, overcast sky, a reminder that the Lord hears our prayers"..
According to Loughran (1979) a flag with reversed colours was used by certain vessels under Liberian registry. See also Dampskibselsskabet af 1912 a/s.
Neale Rosanoski, 27 April 2004
A.P. Møller acquired part interest of Safmarine, including the houseflag and name for the ex-South African part of their shipping.
Andre Burgers, 15 November 2004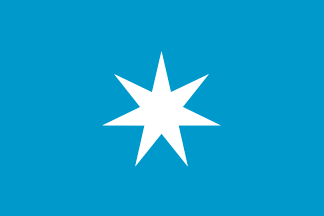 image by António Martins-Tuválkin, 27 February 2007
I have observed that the containers of Maersk-Sealand, which is the container division of the Maersk multinational (although Danish-based) transport and logistics conglomerate, have the basic design of this emblem expanded to a rectangular shape. This emblem can either be found on the rear doors of the containers or sometimes along the sides. I do not know if Maersk-Sealand operates its own vessels separately from the rest of the Maersk fleet, but if they do their ships may possibly be distinguished by this flag in place of the emblem shown.
Ron Lahav, 2 June 2005
When asked "Why a seven pointed star?", an employee answered "Because we work seven days a week".
Hugh Watkins, 7 March 2007
See also: Röda Bolaget (Sweden)
This photo shows a Maersk pennant (from http://www.maritimedanmark.dk - image no longer available there) somewhat longer than the one shown above. Admittedly flag books occasionally shorten pennants such as this one.
Jan Mertens, 15 September 2009
Regarding the rectangle flag of António based on comments of Ron Lahav, there is no such flag as far as I am aware. Maersk-Sealand was the name change of Sealand-Service Inc. taken over in 1999 and changed to Maersk Line in 2006 and is just another of the many subsidiaries comprising the group. The logo of the star on a blue square [I have never noticed it on a rectangle] appears on all of their containers as well as their website. Unfortunately logo formats do not always equate to flags.
Neale Rosanoski, 30 August 2013
We also have a branch of Maersk Line here in Hamburg, and I am fairly sure, they are using, though having the same pattern, rectangular flags (probably 3:5) and Pennants (Wimpel) of different ratio. But
1) it is alsways the same pattern and shade
2) I don't know, whether it is used for the German Branch with a different legal form.
Please also note, that other companies, like Delmas and Hamburg-Süd are using patterns on their containers, which probably do not appear on any flag.
Klaus-Michael Schneider, 30 August 2013
The comments of Klaus-Michael raise a possibility that I had not considered i.e. that a rectangular flag is used by the Group ashore with the triangular version used at sea. Checking further into the Group I find that like most large conglomerates they do have other business areas and a photo of their Head Office with a poor flap could be a rectangle and another which at first glance could be taken as a rectangle but the more I look the less sure I become as the star is towards the hoist [again suggesting a taper] .and it begins to look as though it tapers. Others and this picture look a definite triangle. This page shows a good photo of a triangle though whether ashore or afloat is not clear. Ships flying the flag seem to be rare these days.
Neale Rosanoski, 31 August 2013
The headquarters of Maersk France, located in Boulogne-Billancourt near Paris, fly an elongated triangular flag. The flag is hoisted on the top of a high tower; I hypothesize that the flag has elongated proportions (1:2 or even more) to allow / increase visibility from the street.
Ivan Sache, 07 September 2013
Discovery Channel here in The Netherlands is broadcasting a series about the largest (container) ship built so far. (Those who were at Rotterdam 2013 will recall a huge container ship we passed twice during the harbour cruise. That was not the ship from the series; she did visit the port of Rotterdam one week later, though, and appears to be even larger.)
The series didn't progress yet to the ceremony where she's baptised "Mærsk Mc-Kinney Møller". But when the ship was formally handed over to the new owner, a flag with the Maersk white seven-pointed star was hoisted. This was a triangular flag, in a very light blue similar to the hull of the ship. From the one quick shot I'd say it was in the 1:2 range.
A photograph showing the flag at that ceremony, but at an awkward angle, can be seen at http://www.seanews.com.tr/article/SHIPBUILDING/106011/.
I hope we can agree that this flag is indeed longer than we show in the image derived from Stewart and Styring's Flags, Funnels and Hull Colours, 1963. Based on that image I've created a longer, 1:2 version.
I'm also not sure about the blue, but I don't want to introduce a shade that differs from the one we already identify as Maersk livery colour (unless we can change it for all the flags).
Peter Hans van den Muijzenberg, 18 December 2013
---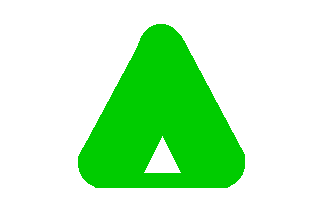 image by Ivan Sache, based on Joseph Nüsse website
White flag with a big curvilinear green triangle including a small white triangle.
Ivan Sache, 15 September 2002
---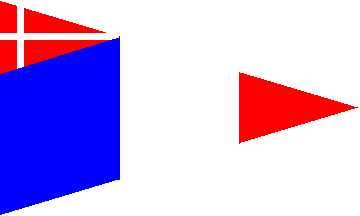 image by Phil Nelson, 24 June 2000
based on Stewart and Styring's Flags, Funnels and Hull Colours, 1963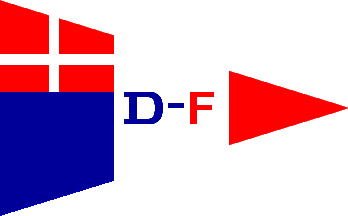 image by Michael Wilson
A/S Dansk-Franke D/S. The white band should bear "D-F" with the "D" and the dash being blue and the "F" red. The company was formed in 1902 and declared bankrupt in 1979. According to Talbot-Booth up until 1938 it was operated by A.N. Petersen (and he shows it under this name), being joined in 1938 by E. Hahn-Petersen. Post WW2 only the latter is shown by Lloyds as being the operator and some flag sources also show this name with Lloyds deleting the reference at the beginning of the 1970s. Flag sources prior to WW2 show a different version with the red canton being normal style with sources varying as to whether the white cross fesse point was centred or placed nearer the hoist in Scandinavian style.
Neale Rosanoski, 27 April 2004
---
Continued as Danish Shipping Companies (B)
---