This page is part of © FOTW Flags Of The World website
National Police (Dominican Republic)
Policía Nacional (República Dominicana)
Last modified: 2019-01-11 by randy young
Keywords: dominican republic | national police | policía nacional | police | tricolor: horizontal (blue-white-green) | stars: 5 (white) | stars | canton (dominican republic) | dominican republic | escuela de grado academia para |
Links: FOTW homepage | search | disclaimer and copyright | write us | mirrors

---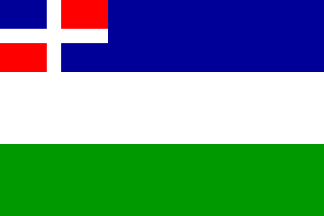 image by Zachary Harden, 14 November 2018

---
See also:
---
On FOTW, there is a discussion of the variants of the police flag and the current flag does not have the coat of arms in the national flag canton and no stars in the top blue portion of the flag. Željko Heimer, on 19 June 2001, cited [lup93] (which relied on private communication) to talk about the current flag. I was able to find evidence at http://www.policianacional.gob.do/sobre-nosotros/simbolos/ and http://www.informaciondigital.com.do/policia-nacional-inaugura-dos-nuevos-destacamentos that this private communication is now policy. When it became policy, I am not certain, yet I found flag specifications as of tonight.

According to https://www.policianacional.gob.do/wp-content/uploads/2018/04/PLIEGO-DE-CONDICIONES-BANDERAS-CP-2018-0018.pdf (a 2018 tender notice) confirms the above two sources (and [lup93]) of the current pattern. What we got right (and Wikipedia got wrong until about ten minutes ago) was that the blue shade of the national flag is the same shade used for both the canton and the top blue portion of the flag. Unfortunately, there were no dimensions given for the size of the national flag when used in this manner. Yet, from what I was able to deduce and see from photos (such as http://ocoa.diariodom.com/articulos/2015-04-29/137077-gobierno-inaugura-destacamento-en-el-comedero-cotui.php), the national flag does not extend longer towards the fly. In this document, it calls for the national flag to be 4x6 feet in size and that scaled down size was used for the police flag, by default (even though we know at do.html#ratio that a ratio is unknown officially). The green section of the flag was defined as Pantone 354 C. The blue/white/green sections are equal in size.
Zachary Harden, 14 November 2018

---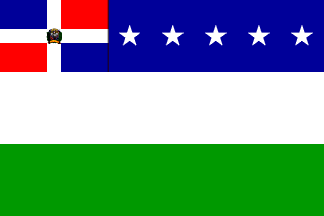 image by Željko Heimer, 19 June 2001 (source:[kan56])

The Police flag is prescribed in Articles 13 and 14 of Law No. 360 of 13 August 1943 (Law on the national flag), published on 21 August 1943 in the Official Gazette, No. 5,960.

Article 13.
The flag of the National Police shall match the following description. A quadrilateral of dimensions equal to those of the national flag, divided into three horizontal stripes each covering one third of the flag. The upper stripe is vertically divided into two unequal parts, the one at hoist, covering one third of the stripe and being charged with the national flag, and the other, ultramarine blue with an horizontal row of five stars. The middle stripe is white. The lower stripe is emerald green.

Article 14.
The flag of the National Police shall be hoisted daily, together with the national flag, on all headquarters of the institution; all the units having a flag shall hoist it, too, together with the flag of the Republic.

Ivan Sache, 8 December 2014

Coat of arms and stars
In his work on police flags [lup93], Lupant gives two slightly different versions of that flag, on pp. 57-58, fig. 86 police flag (without arms citing Kannik [kan58]) and fig. 87 police flag without arms and without stars (citing private communication).
Željko Heimer, 19 June 2001

No coat of arms and stars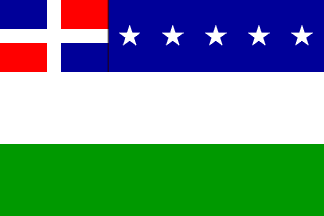 image by Željko Heimer, 19 June 2001 (source: [lup93], from [kan58])

No coat of arms and no stars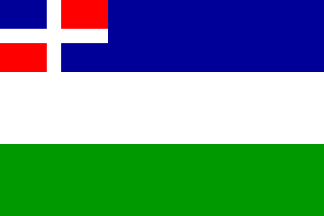 image by Zachary Harden, 14 November 2018

The flag in current use has no stars and no coat of arms, as seen in a photograph online.
Ivan Sache, 8 December 2015

---
Academy flag

image by Randy Young, 14 March 2016

Academy seal


image downloaded by Randy Young, 14 March 2016

The Escuela de Grado, Academia para Cadetes is the cadet academy of the Dominican Republic's National Police. The school was established in the city of San Cristobal by General Order No. 014-2004. Known as the "2 March" Academy in honor of the founding of the National Police on 2 March 1880, the school's motto is "Dignidad, Disciplina, Conocimiento" (Dignity, Discipline, Knowledge).
Source: Wikipedia article (in Spanish)

The Academy's flag can be seen in photographs online, particularly here and the video here. The flag is a horizontal tricolor of red, white, and blue equal bars, with the school's coat of arms centered on the white bar. The coat of arms shows an open book with rays on sunlight shooting upward, and the date "2 DE MARZO" arched in black letters in the rays. The book is flanked by a green wreath. Below the book is a blank blue banner separating the book from the dark blue initials "R.D." for "República Dominicana." Arching downward to the left from the rays are three bands of blue, white, and green, representing the design of the National Police flag, while similar bands of red, white, and blue arch toward to the right, mimicking the design of the Academy's flag. The name of the school is in white letters on a blue banner above the seal, while the words "POLICIA NACIONAL" are in black below the seal with the school's motto on a blue banner below it all to mirror the name above.
Randy Young, 14 March 2016

---