This page is part of © FOTW Flags Of The World website
Confederación Sudamericana de Fútbol
South-American Football Confederation / CONMEBOL / CSF
Last modified: 2022-07-16 by zachary harden
Keywords: confederación sudamericana de fútbol | south-american football confederation | conmebol | csf | fifa | football | international sports organization | sport | soccer | ball | copa américa |
Links: FOTW homepage | search | disclaimer and copyright | write us | mirrors

---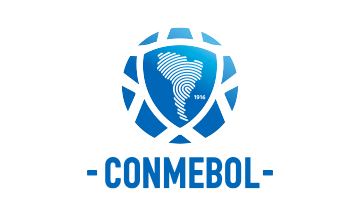 image by Zachary Harden, 03 July 2022
---
See also:
Other site:
---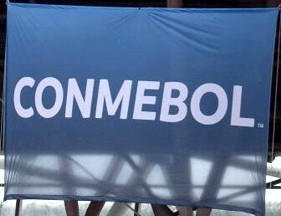 logo flag used at "Finalissima 2022" match between Italy and Argentina; image located by Esteban Rivera, 03 June 2022
After the organization 's centennial a new logo was in the making. This new logo was unveiled on May 17, 2017. According to the organization 's President, Alejandro Domínguez, "la nueva imagen corporativa quiere reconstruir el significado de la CONMEBOL en la vida de los sudamericanos y así alcanzar el mundo. Que continúe el juego y se mantenga viva la llama de los fanáticos" (English: The new corporate image wants to reconstruct the meaning of CONMEBOL in the lives of South Americans and thus reach the world. Let the game continue and keep the flame of the fans alive). Furthermore, the official explanation of the new logo is as follows: "La silueta de la pelota con la insignia en el interior refleja la audacia y la pasión representada por todos los equipos implicados en las Competiciones de la CONMEBOL. La huella digital, que es única, y que agrega la Identidad y la expresión del Mapa de América del Sur, que unifica y da poder a todo el continente en el mundo del fútbol. Dentro del logo aparece la fecha de fundación de la CONMEBOL que es la más antigua Confederación del fútbol del mundo. Y por último, el nombre en mayúscula sugiere la formalidad, sobriedad, rectitud, resaltando la presencia fuerte de la marca. Es el momento para romper las barreras de los sudamericanos; es hora de #CreeEnGrande."The silhouette of the ball with the insignia inside reflects the audacity and passion represented by all the teams involved in CONMEBOL Competitions. The fingerprint, which is unique, and which adds the Identity and expression of the Map of South America, which unifies and empowers the entire continent in the world of football. Inside the logo appears the founding date of CONMEBOL, which is the oldest soccer Confederation in the world. And finally, the name in capital letters suggests formality, sobriety, rectitude, highlighting the strong presence of the brand. It is time to break the barriers of the South Americans; It's time to #CreeEnGrande (Believe big time)".
Esteban Rivera, 03 June 2022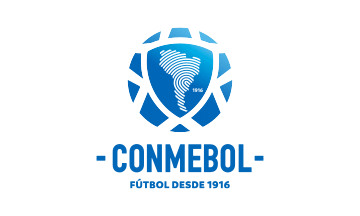 image by Zachary Harden, 03 July 2022
In 2019, there was a draw that took place in Paraguay for the Copa Libertadores de Beach Soccer. Behind the bowls with the clubs in balls, there was the flags for CONMEBOL, the Association of Paraguay Football and FIFA; it is of note that the flag of CONMEBOL also had the tagline of "Football since 1916" (in Spanish) below the main logo.
Zachary Harden, 03 July 2022
---
Former CONMEBOL flag and emblem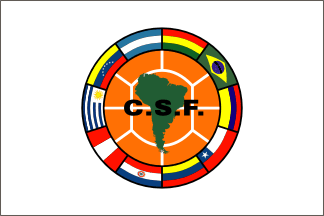 image by Juan Manuel Gabino Villascán, November 21, 2004.
Emblem by Bülent Bekir Kurhan, from High Quality Football Logos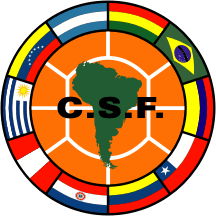 by Bülent Bekir Kurhan, from High Quality Football Logos.
November 2004.
---

image by Esteban Rivera, 4 October 2016
Yesterday during a visit by current FIFA President to Colombia, in a forum at the Universidad Sergio Arboleda the centennial flag of Conmebol was displayed. It features the centennial logo (https://pbs.twimg.com/profile_images/679360321082015744/RlxuC5y-.png) over a white horizontal flag, as seen here: http://www.conmebol.com (source: http://www.conmebol.com).
Esteban Rivera 4 October 2016
---
CONMEBOL national football associations
---


Codes from FIFA 

                                                        FIFA
Football Association (Country)                  CODE MEMBERSHIP FOUNDED
-------------------------------------------------------------------------
ARGENTINA                                       ARG	1912	1893
BOLIVIA                                         BOL	1926	1925
BRAZIL                                          BRA	1923	1914
CHILE                                           CHI	1912	1895
COLOMBIA                                        COL	1936	1924
ECUADOR                                         ECU	1926	1925
PARAGUAY                                        PAR	1921	1906
PERU                                            PER	1924	1922
URUGUAY                                         URU	1923	1900
VENEZUELA                                       VEN	1952	1926

---
---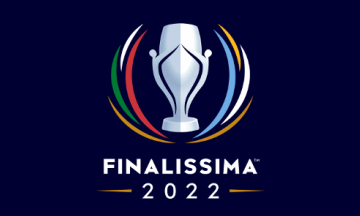 image by Zachary Harden, 03 July 2022
The CONMEBOL–UEFA Cup of Champions, previously known officially as the European/South American Nations Cup and commonly as the Artemio Franchi Cup has its predecessor in the Copa Artemio Franchi (English: Artemio Franchi Trophy), as the two preceding matches were called. For its current edition, the competition, dubbed "Finalissima 2022" (lit. 'Grand Final') for marketing reasons is the third edition of the CONMEBOL–UEFA Cup of Champions, a football match between the winners of the previous South American and European championships. The match will feature Italy, winners of UEFA Euro 2020 (held in 2021), and Argentina, winners of the 2021 Copa América. It was played at Wembley Stadium in London, England, on 1 June 2022. The match, a revival of the Artemio Franchi Cup last played 29 years prior, is being organised by UEFA and CONMEBOL as part of a renewed partnership between the two confederations. The flag is the logo over a blue horizontal background: "The Finalissima logo is inspired by the laurel wreath, a symbol of achievement and victory, of protection and growth. It consists of ribbons in the colors of the competing nations - Italy's Tricolore and Argentina's Albiceleste - clustered around the distinctive trophy. The (golden) ribbons are symbolic of the strong bond between CONMEBOL and UEFA and their commitment to developing football beyond their geographical borders. The brand also underlines the importance of a match between the best teams from the two continents, who have provided every world champion to date. Among the bands that meander across the deep blue background are several made of platinum and gold, the world's most precious metals." It was unveiled on March 24, 2022.
Esteban Rivera, 03 June 2022