This page is part of © FOTW Flags Of The World website
United Kingdom: Military Colours Flags
Last modified: 2013-07-20 by rob raeside
Keywords: royal navy | white ensign | colours |
Links: FOTW homepage | search | disclaimer and copyright | write us | mirrors

---
See also:
---
Royal Navy colour
image by T.F. Mills
This is a drawing of the Royal Navy King's Colour from the reign of George VI. I adapted this from a black and white line drawing in T.J. Edwards, Standards, Guidons and Colours of the Commonwealth Forces, (1953). I assume the circlet is blue because it is the Garter. The motto Honi Soit Qui Mal Y Pense is partially concealed by the crown.
T.F. Mills, 24 January 1999
More details at Royal Navy colour.
---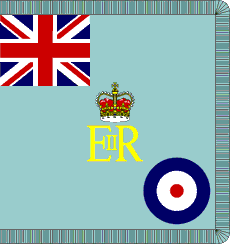 image by Martin Grieve, 25 June 2006
Christopher Southworth prepared a construction sheet based on the illustration by Graham Bartram in BR20. If the flag was introduced in 1947 as we are informed, then the Colour would have contained the Royal Cypher of George VI, ensigned with a Tudor crown of course. This would have changed in 1953, when Her Majesty, Queen Elizabeth II took the throne.
Martin Grieve, 25 June 2006
More details at Queen's colours of the RAF Regiment.
---
I was recently surprised to discover that there were actually three patterns of Union Flag used on military colours, since I naturally assumed that the RN would use the Admiralty pattern on theirs. Wrong again, that would be far too logical for a British flag. The QC's of the RAF and Royal Marines are the only two sets which use the standard 'Admiralty pattern' of Union Flag, whereas those of the Royal Navy and Army each have their own unique variation. The Army use the Great Union of 1900 which has a counterchanged saltire of even width with a narrow fimbriation added, and a fimbriation to the St George of the same width as the saltire. The pattern used on the RN colour also has a saltire of even widths and added fimbriation, but the fimbriation to the St George is approx 1/4 the cross, whilst (as per the recent post) the colours of the RAF and RM carry the Admiralty pattern.
Christopher Southworth, 25 June 2006
---
Paragraph 55.4 of the Ceremonial manual of 1912 says:
'In line the Colours, each carried by an officer (as directed by the KRs), will be placed between the two centre companies; the King's Colour on the right, the Regimental Colour on the left, with a serjeant between them and two non-commissioned officers or selected privates, covering them in line with the rear rank. The officer carrying the King's Colour will command the party.

'If ranks are changed the Colour party will change flank on the orders of the senior officer of the Colour party, if the line is ordered to retire the Colour party will turn about, and the centre serjeant, stepping forward two paces, will align himself with the rear rank.'
The accompanying diagrams (Plate V 'A battalion in line' and Plate VI 'A battalion in column by the left') seem to show the serjeant placed between, and in line with, the two colours, with the two 'selected NCOs' directly behind the colour bearers, and presumably, two paces behind, if that is the distance the centre sergeant has to move to align himself with the rear rank.

I've a few photos (including one of the 1st East Anglians in 1963) which definitely show the 'centre sergeant' in line with the two colour bearers; the distance to the rear rank is often harder to judge because of the angle of the picture, but it could be two paces.

Ian Sumner, 16 March 2007
---
On last Saturday's BBC TV broadcast of "Trooping the Colour" there was an extract showing a type of flag that I had never heard of before, i.e. a Practice Colour. It appears that when practicing for the ceremony the colour-bearer does not use the actual battalion colour (in this case of the Welsh Guards) but a special practice colour with a different and simpler design. In this instance it was a red flag, of the same proportions as the main colour, with a gold dragon passant; this being the principal emblem on the actual colour which adds several other emblems. I would suppose that the other Guards battalions have practice colours as well but this was not mentioned.
Kenneth Fraser, 19 June 2013