This page is part of © FOTW Flags Of The World website
United Kingdom: Civil Air Ensign
Last modified: 2020-12-05 by rob raeside
Keywords: civil air ensign | united kingdom | cross |
Links: FOTW homepage | search | disclaimer and copyright | write us | mirrors

---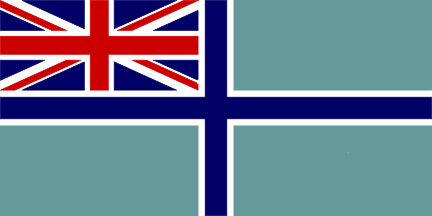 image by Martin Grieve
---
See also:
---
Description and use of the flag
One British ensign less often seen is the Civil Air Ensign. This was intended to be flown at airports and from landed British aircraft as an equivalent of the Red Ensign for merchant ships. Its field is light blue (strictly the shade known in the UK as 'air force blue' as it is used in the ensign of the Royal Air Force) with a dark blue cross, fimbriated white, overall. The Union Flag is in the canton. I believe both Australia and New Zealand have variations with their southern crosses on it (the Australian one had the southern cross at quite an unusual angle). Could any of our Antipodean members comment on whether theirs are still used much?
Roy Stilling, 15 December 1995
The Civil Air Ensign was introduced at the request of Imperial Airways, and was established on 11 August 1931 "to be flown at airports, from an airship in flight and from a stationary aircraft on foreign soil". Prior to 1931 a flying boat of Imperial Airways would have flown the Union Jack
Christopher Southworth, David Prothero,15 March 2005
The Civil Air Ensign Order 1931, was revoked by Civil Air Ensign Order 1937, which allowed wider use of the flag. The 1931 Order restricted use of the flag to airfields, sea-plane bases and aircraft, and the 1937 Order allowed its use at other civil aviation related sites such as offices in London.
David Prothero, 16 March 2005
I can report that the UK Civil Air Ensign is indeed still in use. It can be seen flying everyday outside Manchester Airport's Fire Section. I'll keep my I open for other places I spot it.
Steve Dooley, 22 June 2000
The flag was seen flying outside the headquarters of British Airways at half mast after the Concorde crash in Paris. British Airways flies this flag as well as the Union flag on a mast outside Waterside, the HQ every day.
Jonathan Marriott, 15 July 2001
It is also flown at London's Heathrow Airport at the entrance to the BA engineering base and at the British Airways Headquarters - Waterside - in Harmondsworth (near Heathrow).
Ian D Chick, 13 June 2002
The Civil Air Ensign now flies over Airport House, Purley Way, Croydon. Airport House is the former terminal building of Croydon Airport, London's major Airport from 1920 -1939.
Frank Anderson, 19 May 2003
From a newspaper clipping:
15 Sep 1931: "The first Civil Air ensign to be flown in London was hoisted yesterday by the Hon Mrs Victor Bruce, the well-known airwoman. The new flag, the design of which has been approved by the King, has a pale blue background with a deep blue cross edged with white in the center, a Union Jack figures in the top left corner. She holds the view that women are becoming increasingly interested in aviation."
Nancy Wilson, 14 October 2003
In Oxford, United Kingdom yesterday evening, a hot air balloon was observed trailing not from the basket, but somewhere around about the ring, what looked as if it was probably a wire with a weight on the end with two flags flying from it: a very large United Kingdom Civil Air ensign and, immediately below it, a much smaller Cross of St George. Balloons are a common occurrence in Oxford, but this was an unusual occurrence in that it was the first time I have seen a flag flying from a balloon, and I have never seen this flag flying on an actual object moving through the air before.
Colin Dobson, 7 August 2004
Is flying the UK Civil Air Ensign from a balloon is actually legal? After all, the Order in Council of 1931 stipulated that it may be flown at airports, "from an airship in flight" and from a stationary aircraft on the ground, however, a hot-air balloon is not (unless one is stretching the law to breaking point) 'an airship' as meant by the Order?
Christopher Southworth, 7 August 2004
In Britain a number of balloons have been registered as civil aircraft (with five-letter codes starting with the letter G), and I believe such registered balloons have every right to fly the Civil Air Ensign.
Miles Li, 7 August 2004
Civil Aviation Ensign Order 1931 was amended so that the Civil Aviation Ensign could be flown in London on Gwydyr House used by the Department of Civil Aviation, and Adastral House of the Air Ministry, which were not "buildings used by Air Transport undertakings for the purpose of Air Transport" as was specified in the Order. The amendment also gave the Secretary of State powers to regulate use of the ensign.

Air Navigation (Amendment) (No.2) (Provisional) Order 1937, amended Air Navigation Act 1936 (26 Geo.5.& 1 Edw.8.c.44), which had amended Air Navigation Act 1920 (10 & 11 Geo.5.c.80)

Insert after Article 21 of Principal Order :
21 A
(1) Subject as hereinafter provided, the Civil Aviation Ensign, established by Civil Aviation Ensign Order 1937, shall not be flown on any aircraft or on any ship or boat or on any building or elsewhere in the UK.
(2) Civil Aviation Ensign may be flown :
(a) by any aircraft registered in the United Kingdom.
(b) at any aerodrome in the United Kingdom licenced under Air Navigation Acts 1920 and 1936.
(c) by a person operating an Air Transport operation owning aircraft registered in the United Kingdom upon or in proximity to any building occupied by him as his principal office or place of business.
(d) by any person to whom permission is granted by the Secretary of State at such places and subject to such conditions as may be specified in such permission, provided that it shall not be hoisted on any ship or boat belonging to a British subject without warrant from His Majesty or Admiralty.

Established 18th March 1937 to come into operation forthwith.
[National Archives (PRO) AIR 2/3370]
David Prothero, 2 April 2005
As a (very minor) footnote to this, the Ensign was also worn on the uniforms of an organisation called the Civil Air Guard. This was formed in July 1938, as a way of increasing the number of people holding a pilot's license. Members received government sponsorship towards tuition fees, in return for an 'honourable undertaking' to join the RAF Reserves in times of emergency. The uniform, such as it was, consisted of dark blue overalls, with the Civil Air Ensign on the sleeve (the right sleeve, I think, but that needs confirming).
Source: Hobart, Malcolm G., 'Badges and uniforms of the Royal Air Force' (Barnsley, Leo Cooper, 2000), pp.101-2
Presumably, this could be authorised under Section d of the 1937 Order.
Ian Sumner, 3 April 2004
One request made just two months before the Order came into force got a snooty reply. It was made by an author who asked if he might include a drawing of the Civil Air Ensign on the cover of his book about civil aviation, and put small stickers of the ensign on correspondence. The reply was; "Department of Civil Aviation has no power to authorise or licence use of the Civil Air Ensign for the purpose mentioned. Hope that you will not ask the Department to agree to a use which was not intended, and indeed is, in our view, inappropriate."
David Prothero, 4 April 2005
Both the Australian and New Zealand civil air ensigns are flown by the government civil aviation authorities at many of their facilities. So in effect they are departmental flags with little or no use by the private aviation communities of both nations. On the Australian variant the Southern Cross is placed diagonally so that the four larger stars do not foul the overall cross and the Epsilon Star sits wholly within the blue cross arm. In both nations the civil air ensigns are legislatively constituted in their civil aviation laws and their permitted uses and users are strictly controlled.
Jeff Thomson, 1 December 2020
---
Dimensions of the flag
The dimensions given in Das Grosse Flaggenbuch (1939) for the Civil Air Ensign:

Flag 180 by 360 units.
Dark blue cross 18 units.
White fimbriation: 6 units.
Height of the light blue parts: 75 units.
Length of the Union Jack: 165 units
St. George cross: 15 units.
White fimbriation around St. George cross: 5 units.
St. Andrews cross (incl. St. Patrick cross): 15 units.
St. Patricks cross: not given [but when compared with the Union Jacks in other flags: 5 units for the visible red part, 2.5 units for the fimbriation at one side].
Mark Sensen, 17 June 2000

The dimensions given here match the dimensions of a 10 breadth flag (7 ft 6 in x 15ft), expressed in units of half an inch.
David Prothero, 24 June 2000
---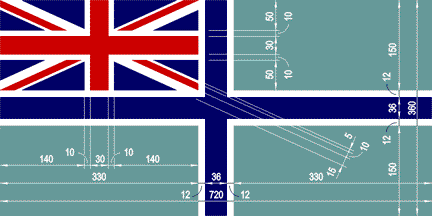 by Martin Grieve
The colour of the field is the same as that of the RAF Ensign which is officially described as "Air Force Blue". However, the Ministry of Defence (in BR20) illustrates both the this and the Air Force Ensign in light blue with a definite turquoise bias - which is most definitely not 'Air Force Blue' as I know it?
Christopher Southworth, 24 November 2003
I used the colour to PMS 549c, then after exporting the gif, opened it in Photoshop. The closest web-safe blue is RGB 102-153-153. This translates as "ocean green" in Corel - not that really means anything.
Martin Grieve, 8 December 2003
---
Initial Proposals
In 1929 Imperial Airways' flying-boats, when moored, flew the Union Jack (see note), a House Flag, and the Royal Mail Pennant. After being told that only warships were allowed to fly the Union Jack on water, Imperial Airways approached the Air Ministry for a flag that could be used instead of the Union Jack. Designs with a Union Jack canton that were considered:
A dark blue St Andrews cross 1/10th wide, fimbriated white 1/50th on a sky blue field.
A dark blue St George's cross 1/5th wide, fimbriated red 1/25th on sky blue.
Same not fimbriated.
Standard width (4/30ths) dark blue St George's cross on sky blue.
Selected design. 1/10th cross with 1/30th fimbriation.
Standard width red St George's cross on sky blue.
Standard width St George's cross split red and white on sky blue. White next to the canton and lower fly, red next to the upper fly and lower hoist.
A few more suggestions were made when the paper-work was passed around various offices; a Union Jack with a sky-blue border; an ensign quartered red and blue; an ensign with red 2nd quarter, blue 3rd quarter and white 4th quarter, Design No 1 with the lower hoist arm removed and the other two arms coming to a point at the corner of the canton; Design No 5 with wings in the lower fly.

The flag was instituted by an Order in Council on 11th August 1931. "An ensign called the Civil Air Ensign is the proper national colour to be flown by aircraft and air transport undertakings and at aerodromes." It was promulgated by a Notice to Airmen issued in September.

At the time there were two Royal Air Force regulations about flags on aircraft.
K.R. para.156(3). The ensign will be flown at the stern of all His Majesty's Airships when in the air.
156(7). The ensign will not be flown by flying-boats except when at moorings in foreign waters.
From AIR 2/3370, Civil Aviation Flag, in the Public Record Office.

In 1940/41 British Overseas Airways, ran a flying-boat service from Poole in the South of England to Lagos in Nigeria. One of the stops was on neutral territory in Portugal, and an application was made to fly the Civil Air Ensign from the stern of their launches that attended the flying-boats on the River Tagus. This was refused by the Admiralty who said that they should fly the Red Ensign at the stern but could fly the Civil Air Ensign at the bow or from the yard arm.
ADM 1/19970.
David Prothero, 24 June 2000

Christopher Southworth asked if the use of the Union Jack on a flying boat would have contravened the 1894 Merchant Shipping Act, and was this ever brought up?

It was:
7th October 1929. Air Ministry Minute: Is a flying boat a ship or vessel (or boat) within the meaning of the Order in Council of 9th July 1864, or section 73 of the Merchant Shipping Act 1894? It was suggested that sea planes should fly a Red Ensign, land planes the Union Jack and amphibians one or the other as appropriate.

On the 1919 Baltic Cruise the flying boats of Major Galpin had flown the Union Jack from the rear strut of the centre section. It was hoisted on arrival and hauled down at sun set. On land planes, leaving flags attached after take-off was tried. They were worn out after two hundred miles. On Sir S.Hoare's 1928 Baltic Cruise and Group-Captain Cave-Browne-Cave's Australian Cruise the flying-boats flew the RAF Ensign. [National Archives (PRO) AVIA 2/1084]
David Prothero, 2 April 2005