This page is part of © FOTW Flags Of The World website
Suffolk (England)
Last modified: 2022-06-25 by rob raeside
Keywords: suffolk | saint edmund |
Links: FOTW homepage | search | disclaimer and copyright | write us | mirrors

---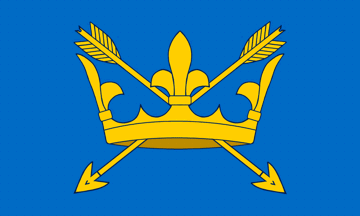 image by Jason Saber, 9 October 2017
---
See also:
---
Suffolk's flag was acknowledged by the Flag Institute in September 2017 and added to the registry on October 9th. The flag is a banner of the arms attributed to Saint Edmund, bearing a golden crown "pierced" by two golden arrows against a blue background. Described heraldically as "Azure two Arrows in saltire, points downwards, enfiled with an ancient Crown Or."
Registration of this acknowledged county emblem was formally requested by twenty-one county organisations, following its display by Suffolk County Council on the inaugural "Suffolk Day" June 21st 2017
Edmund, the last King of East Anglia, was reportedly murdered by the Danes in the year 870, who scourged him and shot him with arrows when, at a meeting with the invaders, he refused to share his kingdom with their chief. Edmund's arms accordingly reflect his kingship and the manner of his death. They appear in "Saints, Signs and Symbols" by W. Ellwood Post, 1964.
More details posted at https://britishcountyflags.wordpress.com/2017/09/11/suffolk-flag/
Jason Saber, 9 October 2017
Flag Type: County Flag
Flag Date: C9th
Flag Designer: Traditional
Adoption Route: Traditional
UK Design Code: UNKG7459
Aspect Ratio: 3:5
Pantone® Colours: Blue 300, Yellow 116, Gold 125
Source: https://www.flaginstitute.org
Valentin Poposki, 1 July 2020
---

located by Ivan Sache, 22 November 2006
Source: http://www.bbc.co.uk/suffolk/
The page at http://www.eadt.co.uk/ shows the flag used by the County Council of Suffolk (the official flag of the County authority, as explained by Michael Faul in the "Have Your Say" section of the article), which is yellow with a red shield charged with a sun rising over waves and surmounted by two crown-and-arrows.
Ivan Sache, 22 November 2006
---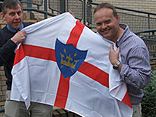 located by Ivan Sache, 22 November 2006
Source: http://www.bbc.co.uk/suffolk/
In "EADT 24" [East Anglia Daily Times on-line], 21 November 2006, Will Graham Clarke reports that "a petition calling for St Edmund's reinstatement as the nation's patron saint was delivered to 10 Downing Street with aplomb" on 20 November 2006 [the Saint's Day]. The petition was delivered by "St. Edmund champion", Marc Murphy, from BBC Radio Suffolk, and MP David Ruffley. The rationale for the proposed change in the national saint is: "He is a uniquely English saint who unlike St George is part of a long and unbroken history and tradition in East Anglia." Moreover, the proposed new national saint already has a flag: "Framlingham trader Bill Bulstrode has created a St Edmund flag which the ardent campaigners could fly. There was even a small version of the flag put into the stack of signatures presented to the Prime Minister and maybe it will adorn his office." Since EADT is an "ardent campaigner" for the flag, I am not able to guess how popular the petition is out of Suffolk and East Anglia. The saint's champion said: "And if nothing else comes of our petition then we will have at least raised the profile of Suffolk and St Edmund."
Source: http://www.eadt.co.uk/

The Catholic Encyclopedia tells us that St. Edmund the Martyr (840 AD) was crowned King of East Anglia in 855. He was a model ruler who retired for a year to a tower to learn the whole Psalter by heart. In 870, he repelled a first attack by the Danish warlords Hinguar and Hubba. They came back with a lot of soldiers so that Edmund disbanded his troops and retired to Framlingham in order to avert a massacre. The King was captured and martyred on 20 November 870 at Hoxne, Suffolk. His relics were later transferred to the St. Edmundsbury abbey. The saint is represented in Christian art with sword and arrow, alluding to his martyrdom.

The flag designed by Bill Bulstrode is presented on the BBC Suffolk website. It is white with the Saint George cross with a blue shield charged with St. Edmund's crown and arrows. The same page shows the flag used by the County Council of Suffolk (the official flag of the County authority, as explained by Michael Faul in the "Have Your Say" section of the article), which is yellow with a red shield charged with a sun rising over waves and surmounted by two crown-and-arrows. In the "Have Your Say" section of the article, there are several comments on St. Edmund-related flags: "There is already a banner of Saint Edmund which was carried by Roger Bigod at the battle of Fornham in 1173. It is reproduced in John Gage Rokewodes' 1840 Chronica Jocelini de Brakelond : de rebus gestis Samsonis abbatis monasterii Sancti Edmundi." (by "KOSE") "St Edmund already has a flag (three gold crowns on a blue field). Anyone visiting The Shrine of Our Lady of Walsingham (Norfolk) in August would have seen the Banner of St. Edmund proudly flying as our pilgrimage processed from the Slipper Chapel to the Abbey ruins. (by "David")
"Bill Bulstrode's flag is similar to the design for an East Anglian flag made by the East Anglian Society in 1904 - except that flag simply had the three crowns or on a field azure of the Kingdom of East Anglia. It has recently appeared again on certain local produce being sold in supermarkets." (by Francis Young)
http://www.bbc.co.uk/suffolk/content/articles/2006/10/26/st_edmunds_flag_feature.shtml.
Ivan Sache, 22 November 2006