This page is part of © FOTW Flags Of The World website
British shipping companies (Q, R)
Last modified: 2021-05-29 by rob raeside
Keywords: shipping lines |
Links: FOTW homepage | search | disclaimer and copyright | write us | mirrors

---
See also:
---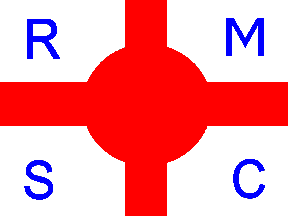 image by Jarig Bakker
Source: Brown's Flags and Funnels [Wedge 1926]
Rhondda Merthyr Steamship Company, Cardiff - white flag, red cross, in the center red disk; "RMSC" in blue in all quarters.
Jarig Bakker, 15 January 2005
---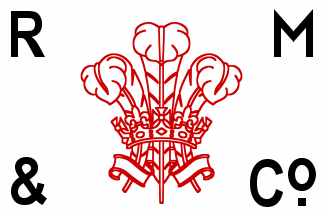 image by Eugene Ipavec, 19 April 2008
The tenth photo on this page, showing details of plates and other things recovered from shipwrecks (and showing a flag): http://www.users.globalnet.co.uk/~indigo/flags.htm. The house flag's colours are not shown. The firm's initials are put in the corners (R, M, &, C with raised 'o' arranged in the usual fashion) and in the centre are the Prince of Wales's feathers and coronet.
I haven't been able to find out much about this firm, other than that they were managing the Dominion Line of Liverpool (in other places called 'Mississippi & Dominion Line'), the British & North Atlantic Steam Navigation Co. Ltd. and the Welsh Castle Line. Traces found date from the 1890'ies. On this page (Aberystwyth Castle, first ship's file) it is said that the firm had a "reputation for closeness". I like more the sound of 'Welsh Castle Line' which at least has the merit of suggesting the feathers and coronet. But that too, proved a dead end.
Jan Mertens, 26 November 2005
Found the house flag illustrated on the Liverpool Journal of Commerce chart for 1885. It is white, the letters are black, and the Prince of Wales's feathers (depicted on the chart as an ornate fleur-de-lis) are red.
Ian Sumner, 9 December 2005
Griffin's 'Flags national and mercantile' (1891), no. 161 (plate 12, steam vessels). As a matter of interest, the same flag – smaller feathers, however: different drawing – is shown in Griffin as no. 625 (plate 23, sailing vessels) representing the same firm.
Jan Mertens, 16 April 2008
---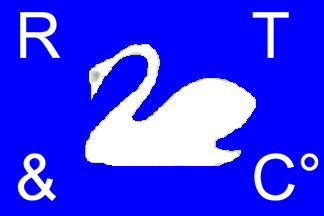 image by Ivan Sache, 23 April 2021
Lloyd's Book of House Flags and Funnels (1912) shows the house flag of T.P.R. Richards, Turpin & Co. (#385, p. 55), a Swansea-based company, as blue with a white swan cantonned by the white letters "R", "T", "&", and "C".
https://research.mysticseaport.org/item/l011061/l011061-c008/#20
Ivan Sache, 23 April 2021
---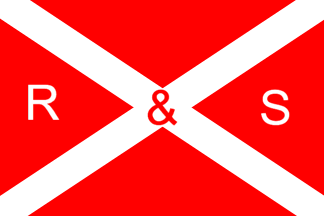 image by Ivan Sache, 27 April 2021
Matthew Rickinson was the principal owner and manager of a small fleet of sailing vessels from about 1857. Other shareholders included his brothers, Valentine and William, George R. Ellison, Benjamin Gales, M. & James Gray. Eventually the sailing ships gave way to steam and, in conjunction with his son John, he established a fleet of steamers in about 1880. Matthew also had a successful wine and spirit business and small brewery which were merged with J.W. Cameron & Co. in about 1894.

The shipping company was founded in 1883 as M. Rickinson & Son, soon becoming Rickinson, Sons & Co. The company owned seventeen ships, twelve of which were built in West Hartlepool, all their names beginning with the letter 'A'.
The company reached its peak in 1902, when it owned a dozen ships, but steadily declined after that. Between 1904 and 1907, four ships were sold and not replaced, followed by a further two before the outbreak of the First World War.
Three ships were sold in 1915, and two were lost to enemy action in 1918, leaving just one in the fleet, the "Astraea". She was sold in 1920, bringing to an end Rickinson's shipowning venture.

https://www.hhtandn.org/venues/3780/rickinsons
Hartlepool History Then and Now

Lloyd's Book of House Flags and Funnels (1912) shows the house flag of Rickinson, Sons & Co. (#747, p. 72) as red with a white saltire and the white letters "R" (left) and "S" (right) and a red "&" in the center.
https://research.mysticseaport.org/item/l011061/l011061-c008/37/
Ivan Sache, 27 April 2021
---

image by Ivan Sache, 3 April 2008
Lloyds Book of House Flags and Funnels (1912) shows the house flag of "J.N.O. Ridley, Son & Tully" (#166, p. 44), a company based in Newcastle-on-Tyne, as horizontally divided white-black-white.

SS "Newton Beech", built in 1925 in Sunderland, operated the Tyneside Line for "John Ridley, Son & Tully" when she unfortunately met the German "Admiral Graf Spee" on 5 October 1939, south-east of Ascension Island. On 7 October, SS "Ashlea" was captured and the crew placed on the "Newton Beech". After the combined crews were again transferred to the "Graf Spee", "Newton Beech" was sunk by "Graf Spee" on 8 October off the coast of Angola.
http://freepages.family.rootsweb.ancestry.com/~treevecwll/spees.htm
Ivan Sache, 3 April 2008
In 1916, J.N.O. Ridley, Son & Tully was managed by James Emery Tully, William Dixon and Albert Edward Robson, "merchants, shipowners, shipbrokers, and ship managers". Dixon withdrew from the company, "by mutual consent", on 31 August 2016.

https://www.thegazette.co.uk/London/issue/29759/supplement/9236/data.pdf
The London Gazette
Ivan Sache, 21 April 2021
---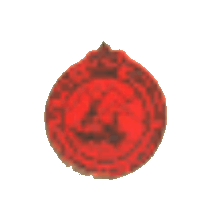 image by Ivan Sache, 3 May 2021
The Rio Tinto Co. was founded in 1873 in London to re-open ancient copper mines beside Rio Tinto in southern Spain. Already known by the Phoenicians, the mines were sold on 17 February 1873 by the Spanish Government; the Rio Tinto public company was registered on 17 February 1873. From 1877 to 1891, the Rio Tinto mine was the world's leading producer of copper. Sir Auckland Campbell-Geddes, chairman of the company from 1924 to 1947, stirred the development of new technologies and diversification outside Spain, investing in copper mines in Rhodesia. Due to the too low profitability of the Rio Tinto mine, the company sold in 1954 2/3 of its Spanish business (and the rest in the next years), founding exploration companies in Africa, Australia and Canada. Major mines producing copper, uranium and other metals, were discovered. Following the discovery of a big bauxite deposit in Australia, Rio Tinto entered in 1956 the aluminium market, addressed today by Rio Tinto Alcan. In the 1960s, Rio Tinto entered the iron ore and borate market. The company sold off in 1988 all its non mining branches, concentrating on mining. The acquisition in 1989 of BP Minerals "secured the successful development of the company well into the 21st century". After different mergers and name's change, the group was simply renamed Rio Tinto Group in 1997.

http://www.riotinto.com/
Corporate website

Our Marine team uses its expertise, precision scheduling systems and global communication network to orchestrate and operate a fleet of more than 230 ships that transport millions of tonnes of product across multiple continents, making Rio Tinto one of the largest dry bulk shippers in the world. For example, we ship more than 300 million tonnes of iron ore every year from our ports in Western Australia to steel mills in Asia, a journey that can take up to 12 days.
We contract most of the ships we use, but own a fleet of 17, which are managed and crewed by Anglo Eastern Limited and ASP Ship Management Limited.

https://www.riotinto.com/operations/marine
Corporate website

Lloyd's Book of House Flags and Funnels (1912) shows the house flag of Rio Tinto Co. (#1649, p. 115), as square, white, charged in the center with the company's badge of the time.
https://research.mysticseaport.org/item/l011061/l011061-c008/#80
Ivan Sache, 3 May 2021
---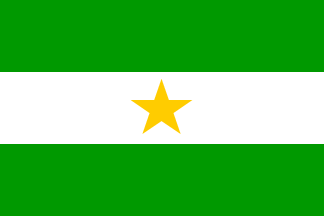 image by Eugene Ipavec, 6 March 2009
River Bulk Shipping Ltd. is a British firm established at Rochester (Kent) on the River Medway, operating two small self load & discharging vessels able to transport all kinds of commodities including projects or special loads. RiverBulk (Truro) Ltd is a subsidiary engaged in warehousing whereas Coastal Bulk Shipping – same address – is an associated company. In addition to that, a specialized barge is mentioned "suitable for the storage of up to 1400 tonnes of water sensitive and other high grade cargoes".

The photo gallery offers clickable pictures often showing the attractive livery of a yellow star – on vessels' bows and cranes – on a green background. The house flag proper appears as a drawing and is also visible in the cloth, on the starting page. Horizontally divided green-white-green, a yellow five-pointed star in the centre of the white stripe (no high visibility I am afraid): see attachments.
Jan Mertens, 5 March 2009
---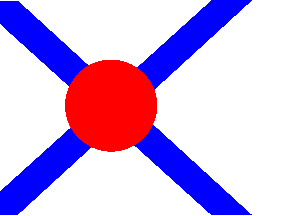 image by Jarig Bakker, based on the website of the National Maritime Museum.

From the website of the National Maritime Museum, the house flag of Rivers Steam Navigation Co. Ltd., London. A white, swallow-tailed burgee with a blue saltire. A red disc is placed in the centre. The flag is made of a wool and synthetic fibre bunting. It has a cotton hoist and is machine sewn."

It is similar to the flag of the Anglo Saxon Petroleum Co., London, with white field, blue saltire with red disk, according to Loughran (1979).
Jarig Bakker, 26 August 2004
---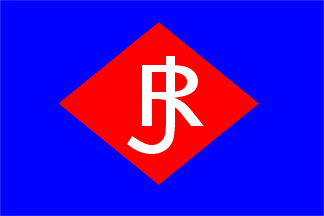 image by Jarig Bakker, 10 November 2005
J.R. Rix & Sons, Ltd., Hull - blue flag, red diamond, intertwined white "JR".
Source: Loughran (1995)
Jarig Bakker, 10 November 2005
---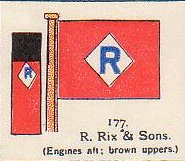 image located by David Prothero, 9 February 2008
House flag of R.Rix & Sons in Ships and the Sea by Talbot-Booth (1937)
David Prothero, 9 February 2008
---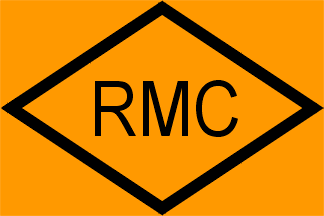 image by Jarig Bakker, 9 September 2005
RMC Group, p.l.c., Feltham - orange flag, black outlined diamond, black "RMC".
Source: Loughran (1995)
Jarig Bakker, 9 September 2005
---
British Shipping lines: continued