This page is part of © FOTW Flags Of The World website
British Kiel Yacht Club (United Kingdom)
Last modified: 2019-04-17 by rob raeside
Keywords: british kiel yacht club | britannia |
Links: FOTW homepage | search | disclaimer and copyright | write us | mirrors

---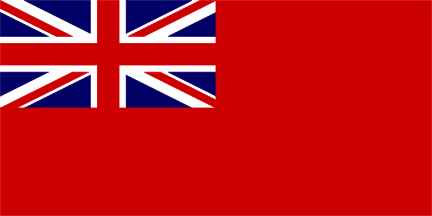 image by Martin Grieve
---
See also:
---
British Kiel Yacht Club came into existence on 11 June 1945. Col. W.G. Fryer, confiscated some yachts of the "Kieler Yacht Club" and re-opened its club house, where BKYC was established. The Club was formally registered by the Sailing Committee in the Lloyd's register of Yacht Clubs at the beginning of 1946. The General Committee and the members were conscious of the responsibility that they had assumed in taking over the assets of the "Kieler Yacht Club" formerly being the premiere yacht club in Germany as "Kaiserlicher Yacht Club". In 1946 also the first Club 'cruising race' was held. From the beginning, the "Royal Engineer Yacht Club (Germany)" made its base at Kiel and shared all the facilities of the BKYC, later, in 1946, the British Air Forces of Occupation did the same. Until the end of the 1950 season the BKYC was an officer's club – due to the traditions which had prevailed in the Services before the War. The "Victory Sailing Club" was established in Kiel in July 1945 to provide sailing for all ranks although, as there was a separate officers-only club in the BKYC, other ranks had some degree of preferential treatment. After BKYC had to operate as a conventional yacht club, it came under financial pressure. Having no formal governmental support, the club moved to Stickenhorn in 1951 and returned the club house to the former owner, the "Kieler Yacht Club". The move to Stickenhorn caused a significant change to the membership structure. The BKYC became an all ranks club. Nevertheless there had been officer's and other rank's ends in the clubhouse until 1956, when Stan Townsend became sailing secretary and abolished that structure.
Further details are available at: http://www.bkyc.de/html/bkyc_1945_-_1992.html

The club is a British Yacht Club. It is owner of numerous boats and is using the facilities of Kiel Training Centre, where members of the Royal Navy, and probably also of German Bundesmarine (the KTC logo shows a lion with half a British and half a German flag), are trained in sailing.
Small images of ensign, burgee and badge can be seen at this website: http://www.bkyc.de/html/club_bitts.html. There is also a club's own flag chart showing all the burgees and also describing the flag etiquette. The ratio of all burgees according to the flag chart is 1:2, I chose this ratio for all my drawings. But according to my own photos it differs between 5:7; 5:8 and 5:9 (all approx.).
Klaus-Michael Schneider, 1 August 2009
The British Kiel Yacht Club is officially closed. The staff and boats left for Gosport, UK, on 5 October 2016 and are now located at the Joint Services Adventurous Sail Training Centre (JSASTC).
Stickland, Katy "End of an era: British Kiel Yacht Club boats are transferred." Yachting and Boating Magazine, online. 10 October 2016. Peter Edwards, 1 October 2017
In 2016 the Ministry of efence's Sailing Training Centre at Kiel was closed, and so was the BKYC associated with it. Its current fleet has been sailed back to England.
https://www.ybw.com/news-from-yachting-boating-world/british-kiel-yacht-club-germany-closed-boats-transferred-43047 and https://www.yachtingmonthly.com/news/british-kiel-yacht-club-closed-71-years-52838.
Peter Hans van den Muijzenberg, 26 February 2019
---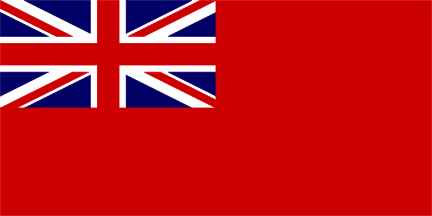 image by Martin Grieve
The ensign is the red ensign.
Klaus-Michael Schneider, 1 August 2009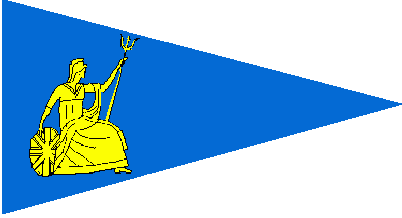 image by Klaus-Michael Schneider, 1 August 2009
On an electric blue field a golden (= yellow, added by contributor) device representing Britannia. The Britannia in these images is based on my photos, my blue shade is RGB (0-105-210). It is a triangular pennant. In the blue field is a yellow Britannia shifted to the hoist.
Klaus-Michael Schneider, 1 August 2009
The burgee was designed by Col Fryer, who had started the club, but the same month it came into existence he was transferred.
http://www.bkyc.de/html/bkyc_1945_-_1992.html. That burgee can be seen at http://www.bkyc.de/html/club_bitts.html. It is different from our image mostly in one aspect: Britannica in our image holds her shield beside her and behind her. In the image on the site she holds the shield beside her and before her. This matches the club badge, on the same page, where the shield is coloured as a Union Jack, with only the extreme edges of the shield obscured by cloth.

A different burgee, namely one looking more like the badge, was apparently used in 1981. Here, the shield is coloured as a Union Jack (well, an octocross) and is completely visible. Also, the trident is black. This version can be seen (and bought) on Ebay: https://www.ebay.co.uk/itm/123496765429 (image archived here). Now, you might lean towards dismissing that one for being made in Hong Kong, but the Island Sailing Club Burgee collection contains a burgee with that same design; it just looks to be slightly better quality.

Finally, Lloyd's Register of Yachts' flag supplement of 1961 shows an images that is too small for intricate detail, but where the charge is completely gold-coloured, and the shield is entirely beside and before Britannica.
Peter Hans van den Muijzenberg, 26 February 2019
---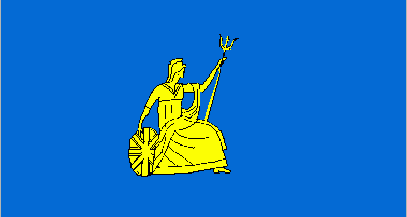 image by Klaus-Michael Schneider, 1 August 2009
It is a rectangular burgee. In the blue field is a yellow Britannia slightly shifted to the hoist.
Klaus-Michael Schneider, 1 August 2009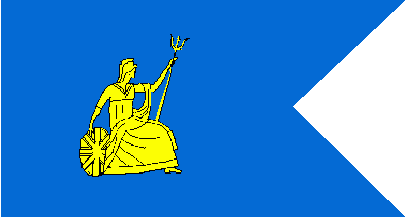 image by Klaus-Michael Schneider, 1 August 2009
It is a swallow tail pennant. In the blue field is a yellow Britannia shifted to the hoist.
Klaus-Michael Schneider, 1 August 2009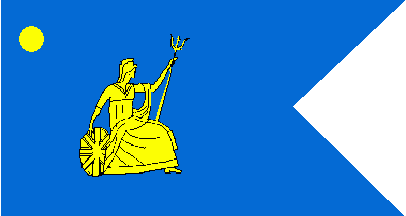 image by Klaus-Michael Schneider, 1 August 2009
It is a swallow tail pennant. In the blue field is a yellow Britannia shifted to the hoist. In the upper hoist is one yellow disc.
Klaus-Michael Schneider, 1 August 2009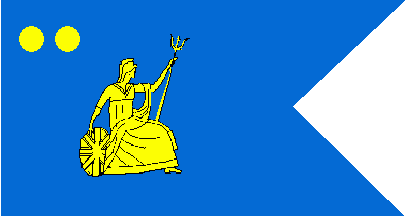 image by Klaus-Michael Schneider, 1 August 2009
It is a swallow tail pennant. In the blue field is a yellow Britannia shifted to the hoist. In the upper hoist are two yellow discs ordered horizontally.
Klaus-Michael Schneider, 1 August 2009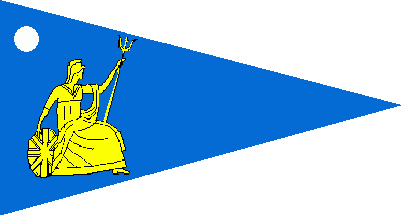 image by Klaus-Michael Schneider, 1 August 2009
It is a triangular pennant. In the blue field is a yellow Britannia shifted to the hoist. In the upper hoist is one white disc.
Klaus-Michael Schneider, 1 August 2009