This page is part of © FOTW Flags Of The World website
Royal Hong Kong Yacht Club
Last modified: 2020-07-31 by ian macdonald
Keywords: royal hong kong yacht club | dragon | crown | blue ensign |
Links: FOTW homepage | search | disclaimer and copyright | write us | mirrors

---
Royal Hong Kong Yacht Club

image by Clay Moss, 17 April 2009
Source: photos of the club ensign
Royal Hong Kong Yacht Club variant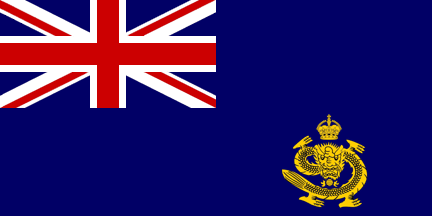 image by Clay Moss, 17 April 2009
Source: flag as manufactured
Burgee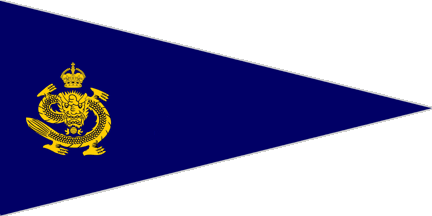 image by Clay Moss, 18 April 2009
---
See also:
External links:
---
Royal Hong Kong Yacht Club
The image of the variant looks nothing like any illustration that I have ever seen. However, I traced this image directly off a Royal Hong Kong Yacht Club ensign that came directly from the club. I have seen photos of the badge displayed mid fly and lower fly quarter.
Clay Moss, 17 April 2009
About the emblem shown on the RHKYC: Was it used in the ensign/burgee previously - the design shown must be of a later more modern design. Beside the dragon, that older badge includes a ribbon with RHKYC name inscribed and five hills.
Željko Heimer, 18 April 2009
I think the emblem at the website is/was used only for other purposes. I think that it once graced the entrance of the club and it has certainly been used on letterheads, websites etc.
With that said, I'm under the impression that the image that I have submitted was the ensign/burgee badge for some time. However, I do not know that for certain.
This arrangement though would not be unique among British yacht clubs. I have seen maybe 3 or 4 other instances where a club's ensign badge and its badge used for other purposes were a bit different.
I'm still researching the 2 flags in the old picture. I think the one on the viewers right is simply an undefaced British.
Clay Moss, 18 April 2009
Estb: 1889 as the Hong Kong Corinthian Sailing Club. "At the General Meeting of the [club] held in October 1893 a resolution was passed that application should be made to the Admiralty for permission to call the club 'The Royal Hong Kong Yacht Club' and fly the blue ensign with a distinctive mark on the flag. A warrant was granted by the Lords of the Admiralty on 15th. May 1894."
Sources: Quote: http://www.rhkyc.org.hk/History.aspx
Image: Lloyd's Register of Yachts 1885.
---
Images from Lloyds Yacht Register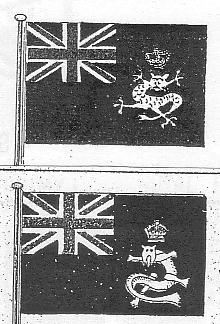 image contributed by David Prothero, 18 April 2009
Source: Top image - Lloyds Yacht Register, 1897
Bottom image - Lloyds Yacht Register, 1928
---
Royal Hong Kong Yacht Club Commodore
Swallow Tail 7:10 and 7:9 to crotch (photo image). Blue field superimposed by the Club's burgee image (white dragon) in centre.

Past Commodore
Swallow Tail circa 3:12 and 3:10 to crotch (photo image). Blue field superimposed by three 1 unit diameter red disks (2 and 1) next to hoist and the Club's burgee image (white dragon) centred 5 units from hoist.
Source: "Changing Guard." Ahoy! July/August 2018: 15.
Peter Edwards, 16 July 2018
---
Chinese trade for westerners was limited to Canton. A side-effect of this was the appearance of recreational boating in Canton waters. This took on such forms that the new regulations of 1832 sought to mostly stop it. Still, in 1837 the Canton Regatta Club was founded. The club disappeared in the First Opium War, but after the war, in 1844, former members recreated it, apparently as the Canton Rowing Club.

As merchants from Canton migrated to the treaty ports, in 1849 in Victoria Town, Hong Kong, former members of the Canton Regatta Club founded the Victoria Regatta Club. Though known for rowing, the club sporadically organised also other water-based sports.
Peter Hans van den Muijzenberg, 2 May 2019
image by Peter Hans van den Muijzenberg, 2 May 2019

As the Victoria Recreation Club, the VRC exists to this day: http://victoriarecreationclub.com.hk. The site shows a logo with a white flag with a red cross bearing the letters VRC in white. It also includes a photograph of the 1930 water polo team with the club flag behind them: Almost square, white, a dark cross and "V.R.C" in white.
http://victoriarecreationclub.com.hk/wp-content/uploads/2016/09/1930_VRC_Waterpoloteam_01.jpg (from http://victoriarecreationclub.com.hk/about-us/history). The flag may have been shortened by the way it's hoisted, though.
Peter Hans van den Muijzenberg, 2 May 2019
image by Peter Hans van den Muijzenberg, 2 May 2019
A more recent photograph, from 2017, is shown by the Paddle Section: 2:3 as white, a red cross of St. George and "V.R.C." in white on the red stripe.
http://victoriarecreationclub.com.hk/wp-content/uploads/2016/09/VRCPS2017_Title.jpg from (http://victoriarecreationclub.com.hk/sport-sections/vrcpaddlesection).

The history of sports clubs during the rest of the 19th century involves stories about some eight different clubs with similar names. I reduced the number here to two more clubs, under the assumption that the others are just names for different versions of the same clubs.

In 1869, a yacht club branches off from the VRC under the name of Hong Kong Boat Club. The design of the flag of this new club was the reverse of that of its parent, VRC. Obviously, either the VRC didn't bear lettering on its flag at the time or the design wasn't its exact reverse.
Peter Hans van den Muijzenberg, 2 May 2019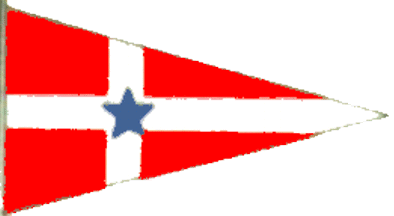 image by Peter Hans van den Muijzenberg, 2 May 2019
In 1889, racing occurred in a Mersey Canoes, organised among the racers themselves as Corinthian Sailing Club. In reaction to this, the Boat Club reorganised as an independent club, the Hong Kong Yacht Club, and applied for a warrant to use a defaced blue ensign and permission to call itself the "Royal Hong Kong Yacht Club". Permission was granted on 15 May 1894. Apparently the back and forth made it too late for the club to appear with its new honour and flags in the yacht register of Lloyd's Register of Shipping 1895. The flag there is most likely the flag with reversed colours that it adopted in 1869.

By 1897, the RHKYC is indeed listed with a defaced blue ensign. Here, I include the listing of 1902, showing both the ensign and the burgee.

In 1904, the Corinthians formally organised as the Hong Kong Corinthian Yacht Club (https://gwulo.com/Hong-Kong-Corinthian-Yacht-Club) In 1920, it merged into the RHKYC. No information on a burgee, so far.

The RHKYC kept using the Blue Ensign and burgee, though it may well have restyled the complex defacement from time to time. In 1976 it absorbed the Shelter Cove Yacht Club. No information on a burgee, so far. The club changed to a new burgee when Hong Kong reverted to China.
Peter Hans van den Muijzenberg, 2 May 2019