This page is part of © FOTW Flags Of The World website
Tel Aviv-Yafo (Israel)
Iriyat Tel Aviv-Yafo, Municipality of Tel aviv-Jaffa
Last modified: 2015-06-29 by andrew weeks
Keywords: tel aviv-jaffa | tel aviv-yafo | iriyat tel aviv-yafo | tel-aviv | jaffa | yafo | crown: mural (white) | coat of arms (stars: red) | coat of arms (stars: 6) |
Links: FOTW homepage | search | disclaimer and copyright | write us | mirrors

---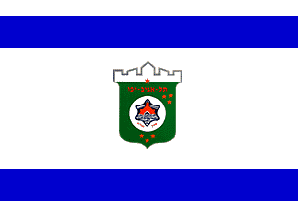 8:11



image by Dov Gutterman and Željko Heimer
Coat-of-arms adopted 13th November 1958
---
---
See also:
---
The city emblem instead of the Magen David on the Israeli national flag make the municipal flag. There is also a vertical variant.
The Tel Aviv website says (my translation):
When Tel Aviv celebrated its 25th anniversary, the heads of the city decided that the first Hebrew city also needed its own symbol. The municipality published a contest, and some propasals were submitted. The one who won and was chosen to design the symbol was the painter Nahum Guttman, whose father, the writer S. Ben-Zion was one of the settlers in Akhuzat Bait later to become Tel-Aviv. On the emblem there are some motives symbolizing Tel Aviv and B.Z. Herzel who was kind of spiritual forefather of the city. Beside the name Tel-Aviv, there are seven stars symbolizing Herzl's vision of seven daily hours work, as it was costumary at the past in the town hall. In the center, Guttman painted a lighthouse to symbolize Tel-Aviv port [closed many years ago], then a safe refuge to tenths of thousands of new immigrants. The name Tel Aviv is taken from the bible (Ezequiah) and in the bottom Guttman added a phrase from Jeremiah 31,3 I will build you and you have been built.
Dov Gutterman, 13-14 April 2000
The municipal emblem was published in the official gazette (Rashumot), YP 631, 13 November 1958.
Dov Gutterman, 4 September 2001
Tel Aviv (Spring Mound) was initiated in 1906 by organizing an association for establishing an "Hebrew urban center" near Jaffa. Land was bought in 1908 and on 11 April 1909 there was a lottery of the parcels between the member of the association and the establishment of A'huzat Bayit (Home Estate) was officially declared. This date is considered as the day of the establishment of the city.
In 1910, by suggestion of Menahem Sheinkin, it was renamed to Tel-Aviv following the Hebrew title of a translation by Nahum Sokolov of Herzl book Altneueland (Old New Land).
Tel Aviv was developed rapidly and the community that was initiated as suburb of Jaffa became a local council in 1921 and a municipality in 1934, and therefore considered as the "first Hebrew city". In 1935 it became the biggest city in Palestine (Israel-land). The declaration of Independence was held in Tel Aviv on 14th May 1948.
In 1950 Jaffa (Yafo) was annexed to Tel Aviv and it officialy renamed Tel Aviv-Yafo. Even thou it is not the biggest city of Israel (Jerusalem is bigger) it is the commercial and cultural center. Pop. 363,000 (2003)
Jaffa (Yafo) is one of the most ancient communities in Israel and first mentioned in the 15th century B.C. and probably always was a port town.
It was ruined and rebuilt numerous times. In the 19th century it became the major port of the country and the second largest city.
The building on nearby Tel Aviv and the riots of 1921 and 1929 brought to the mass abandonment of its Jewish population.
The construction of Hebrew communities around it made it isolated from other Arab strongholds and as hostilities started in the area (April 1948), most of its Arab population evacuated it and it was taken over by the IDF on 13 May 1948.
Sources: municipal website, <www.mapa.co.il>. Information in English at <www.tel-aviv.gov.il> and <www.white-city.co.il>.
Emblem appear on a stamp issued on 15 December 1965.
Dov Gutterman, 8 May 2005
---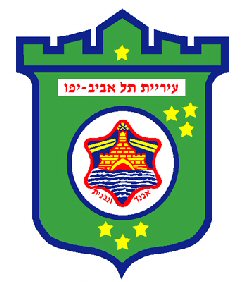 image from municipal website
---
State of Tel Aviv (or State of Dan Block) - This idea was initiated by Eli Zevuluni, Dudu Geva (comics writer) and Rinat Nerkowitz (editor of Archisex fanzin) with left wing agenda and as protest against the size of the defense budget.
Similar idea was suggested by Uri Fink at Zbeng comics. After 1996 election, few left wing activists founded this "state" in a shelter situated in Tel-Aviv center where it "existed" for few weeks. No flag reported.
Dov Gutterman, 27 July 2007
---