This page is part of © FOTW Flags Of The World website
Koch Kingdom (India)
Last modified: 2009-06-06 by ian macdonald
Keywords: koch kingdom | rajbongshi | kamtapur |
Links: FOTW homepage | search | disclaimer and copyright | write us | mirrors

---

image by Chrystian Kretowicz, 17 April 2009
---
See also:
---
Koch Rajbongshi is an ancient tribe originally from the ancient Koch Kingdom. The Rajbongshi Tribe is referred to as Koch Rajbongshi/Rajbanshi/Rajvanshi. The word Rajbongshi means literally "Royal community". They have a rich cultural heritage and their own language. The homelands of this ancient tribe include West Bengal, Assam, Arunachal Pradesh, Meghalaya and various North Eastern parts of India. Because of migration this community can be found in various parts of India and in other parts of the world. The Rajbongshi/Rajbanshi language is spoken by 2,982,280 people according to a 1991 census report for Jalpaiguri, Cooch Behar, Darjeeling, Malda, Murshidabad; Assam, Goalpara District; Bihar and Purnia District, in India. The language is also spoken in Bangladesh and Nepal. Other names of the language are Kamtapuri, Rajbangsi, Rajbansi, Rajbongshi and Tajpuri. The Rajbanshi language has a complete grammar.
http://en.wikipedia.org/wiki/Rajbongshi

The Kamatapur is the ancient name of the Koch dynasty which includes the present divided Kamatapur kingdom which includes the entire North-Bengal of the West Bengal, most of the parts of present Assam and adjoining parts of Bihar, Nepal, Bhutan and the present parts of the ancient Rongpur of Bangladesh. It is a state demanded by the Rajvanshi/Rajbongshi/Koch-Rajbongshi people. People in West Bengal have claimed discrimination by the West Bengal government that has led to the poor state of affairs in the region. Among the demands include recognition of their vernacular Kamtapuri, establishing a separate university, development of education and the setting up of a separate state. There are legal, above ground political parties (Kamtapur People's Party, Kamtapur Progressive Party) which are trying to advance the issue of Kamtapur statehood by the electoral means, civil disobedience and strikes.
James B. Minahan (Encyclopedia of the Stateless Nations - Ethnic and National Croups Around the World - volume III) presents:
"The Rajbangsi national flag, the traditional flag of the nation, is a horizontal bicolor of blue over green.
Chrystian Kretowicz, 17 April 2009
---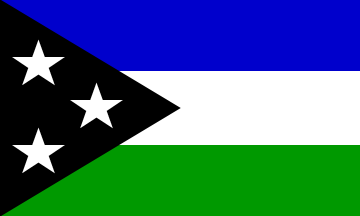 image by Chrystian Kretowicz, 17 April 2009
The violent struggle for the statehood is led by the Kamtapur Liberation Organization:
"The origin of the Kamtapur Liberation Organisation (KLO) can be traced to the attempts of certain members of the Rajbongshi community belonging to the all Kamtapur Students' Union (AKSU) to organise an armed struggle for a separate Kamtapur State. For this purpose, they approached the United Liberation Front of Asom (ULFA). ULFA reportedly agreed to train them in order to gain foothold outside Assam, in the other geographically contiguous Indian States, to use them as transit routes. ULFA's line of thinking was that, it would not only facilitate the movement of its cadres to their base camps in Bhutan but also provide a safe haven for the injured or sick cadres. The KLO came into existence on December 28, 1995. At the time of its formation, its cadre strength was an estimated 60. However, subsequently, it is said to be operating with approximately 300 'active cadres'.

The objective of the KLO is to carve out a separate Kamtapur State comprising six districts–– Cooch Behar, Darjeeling, Jalpaiguri, North and South Dinajpur and Malda––of West Bengal and four contiguous districts of Assam––Kokrajhar, Bongaigaon, Dhubri and Goalpara. At its inception, the KLO was an above-ground organisation and was formed to address problems such as large-scale unemployment, land alienation, perceived neglect of Kamtapuri language and identity, and grievances of economic deprivation. Soon, its strategy transformed into waging armed struggle.

The KLO is alleged to be the armed underground wing of Kamtapur People's Party (KPP). Available evidence suggests that it maintains close linkages with the ULFA. Soon after its formation, its members were imparted arms training during 1996-97 in Samdrup Jhankar in Bhutan, and also subsequently at Gelengphu and Kalaikhola. The KLO's headquarters is situated near that of ULFA's at Samdrup Jhankar. Reports even suggest that the KLO is the brainchild of Raju Baruah, ULFA's 'deputy commander'.

There was another militant organization (now, more or less, defunct) - Koch-Rajbongshi Liberation Organization - KRLO, formed by ULFA in 1995. Like the Kamtapur Liberation Organization (KLO), its reported goal is to establish a separate State, comprising Koch-Rajbongshi-inhabited areas of northern Assam.
More at: http://www.satp.org/satporgtp/countries/india/states/assam/terrorist_outfits/klo.htm
James B. Minahan (Encyclopedia of the Stateless Nations - Ethnic and National Croups Around the World - volume III) presents:
The flag of the Kamtapur Liberation Organization is a tricolor of blue, white and green, with a large black triangle at the hoist charged with three white stars.
Chrystian Kretowicz, 17 April 2009
---

image by Jaume Ollé, 17 April 2009
The flag of Koch-Rajbongshi Liberation Organization - KRLO - is a green over yellow horizontal bicolor.
Chrystian Kretowicz, 17 April 2009