This page is part of © FOTW Flags Of The World website
Flags for the Deaf
Last modified: 2023-06-10 by

zachary harden
Keywords: deaf | multi-national flags |
Links: FOTW homepage | search | disclaimer and copyright | write us | mirrors

---
See also:
---
World Federation of the Deaf (WFD)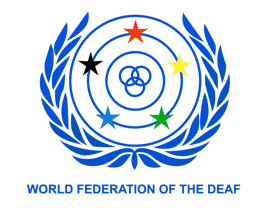 logo located by Andrew Niklaus, 15 July 2018
The flag of the organisation is white with the WFD symbol at its centre. On the upper left corner are the letters FMS and at the lower right corner WFD (initials in French and English, respectively). The logo consists of three (3) small blue interlaced circles on a white background, surrounded by three (3) large blue concentric circles and five (5) pentacles (red, yellow, green, blue, and black) evenly spaced arranged on the second large concentric circle. Two blue laurels surround the symbol.
Source: www.wfdeaf.org; Flag http://wfdeaf.org/news/article-5-aims/
Andrew Niklaus, 15 July 2018
---
Deaflympics, organised by CISS / ICSD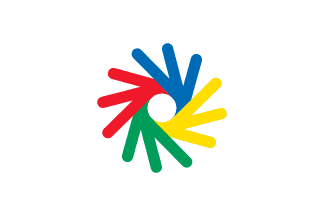 image by Zachary Harden, 21 February 2021

The logo, designed in 2003 by graphic design artist Ralph Fernandez, is a positive and powerful symbol of the international deaf sports community. It ties together strong elements: Sign language, deaf and international cultures, unity and continuity.

The hand shapes, "ok", "good", and "great" that overlap each other in a circle, represent the original sign for "deaflympics". Together, the hand shapes represent the sign for "united".

The center of the logo represents the iris of the eye, which defines deaf people as visual people; they must use their eyes to communicate. The logo incorporates the four colors of the national flags of the world. The red, blue, yellow and green represent the four regional confederations – the Asia Pacific Deaf Sports Confederation, the European Deaf Sports Organization, the Pan American Deaf Sports Organization and the Confederation of African Deaf Sports.

Sources: https://www.deaflympics.com/icsd and https://www.ciss.org/
Their flag logo https://www.deaflympics.com/icsd/logo
Andrew Niklaus, 15 July 2018

The flag used at the Deaflympics is their logo on a white background. The color code for the logo is as follows: Blue: PMS 293 / CMYK 100 56 0 0 / RGB 0 107 182 Yellow: PMS 108 / CMYK 2 11 100 0 / RGB 254 217 0 Green: PMS 355 / CMYK 100 0 91 6 / RGB 0 157 87 Red: PMS 485 7 CMYK 0 100 91 0 / RGB 237 28 46. The typography of the logo is Myriad Pro.
Esteban Rivera, 22 January 2021
Former flags
image located by Esteban Rivera, 22 January 2021
The International Committee of Sports for the Deaf (ICSD) was established in 1924 as the CISS (Comité International des Sports des Sourds) and it is the main governing body responsible for the organization of Deaflympics and other World Deaf Championships. They host the Summer and Winter Deaflympics (formerly known as First International Silent Games, or First International Games for the Deaf). Recently, the CISS was renamed Le Comité International des Sports des Sourds (The International Committee of Sports for the Deaf), the ICSD. The organization used to have a former logo and a former flag (different from one another). "The design submitted by Mr. Chante (France) at CISS congress in August 1935, First hoist[ed] at the opening ceremony of the 6th International Silent Games in Stockholm, 24th August 1937.
Esteban Rivera, 22 January 2021
---
World Association of Sign Language Interpreters (WASLI)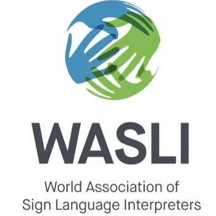 logo located by Andrew Niklaus, 15 July 2018
http://www.wasli.org/
Logo at their Facebook profile photo:
https://www.facebook.com/wasli.official/
Andrew Niklaus, 15 July 2018
---
European Union of Deaf / EUD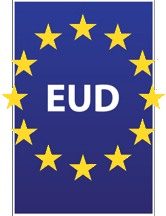 logo located by Andrew Niklaus, 15 July 2018
Flag logo at https://www.eud.eu/faq/#10-use-of-eud-logo
---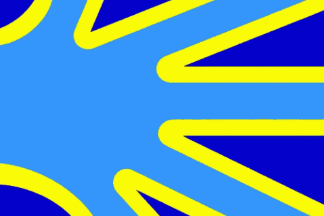 image by Olivier Touzeau, 7 April 2020
"Flag to symbolize the deaf community - idea launched in Durban August 3, 2011 at 5:36pm
At the XVIII WFD General Assembly the Swedish Association of the Deaf (SDR) made a motion to launch a flag which would represent and unite the whole deaf community. The WFD Board will finalise its position by the end of the year as to whether it will support the usage of a blue and turquoise flag as a symbol of the deaf community. Thus the concept of creating "a Deaf Flag" has been accepted with joy by the majority of the WFD Ordinary Members but its design will be discussed in the next Board meeting in Norway in November."
Source: https://www.facebook.com/note.php?note_id=175265835875625&_fb_noscript=1
Justin Anthony Knapp, 10 October 2014
I alerted you to a possible deaf flag. The source references a Facebook post from 2011. It seems like they chose a winner and have it on this page: http://wfdeaf.org/
Justin Anthony Knapp, 30 October 2014
We refer you to https://www.facebook.com/DeafAustraliaInc/posts/2008139409469092 and
http://deafaustralia.org.au/call-for-applications-to-join-the-committee-of-graphic-designers-responsible-for-evaluating-deaf-flag-designs/
FYI: Deaf Australia is one of many "ordinary members" (national organisations) of WFD

Our flag, Sign Union Flag, is among one or more flag designs being submitted this year for a vote in July 2019. Flag designed by Arnaud Balard in March 2013.
Sign Union Flag was approved on 25 May 2014 by FNSF (Fédération Nationale des Sourds de France), one of WFD ordinary members. You can see a recent video at https://www.facebook.com/FNSF.federation/posts/1902053439828646
The May 2014 date can be verified viahttp://library.rit.edu/findingaids/html/RITDSA.0092.html#ref2, also
https://www.facebook.com/Surdism/photos/a.10150617735210445.684599.345665875444/10155846776560445

This flag has been flown in six continents. See https://www.facebook.com/groups/signunionflag and
https://www.facebook.com/signunionflag/

In addition, many regional and national deaf organisations (including sporting, artistic and providers) have their flags / logos.
Andrew Niklaus, Sign Union Flag, 15 July 2018
Video of Arnaud Balard introducing and explaining his Sign Union flag: http://www.dailymotion.com/video/xyfaos_deaf-flag-arnaud-balard-surdist-artist_creation

Concerning the Sign Union Flag colors (source: https://handeyes.wordpress.com/tag/deaf-union-flag/):
Turquoise represents how the Deaf community cherishes Sign Language
Gold symbolizes light, hope, knowledge, and enlightenment
Dark Blue indicates Deafhood, an individual and collective journey to combat audism and embrace Deaf gain. The concept of Deafhood was introduced by Dr. Paddy Ladd who also establied the Blue Ribbon ceremony to commemorate the experiences of Deaf people around the globe. Dark blue is also the color used by the World Federation of the Deaf.
Olivier Touzeau, 7 April 2020