This page is part of © FOTW Flags Of The World website
Sea Shepherd Conservation Society
Last modified: 2023-06-03 by

zachary harden
Keywords: sea shepherd conservation society |
Links: FOTW homepage | search | disclaimer and copyright | write us | mirrors

---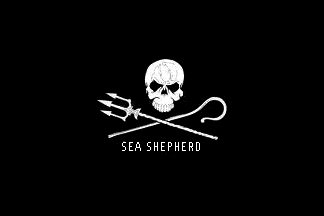 image by Miles Li, 19 February 2007
---
See also:
---
Description of the flag
Here is the flag of Sea Shepherd Conservation Society, a militant environmentalist group which has lately made much news headlines for its anti-whaling activities in the Southern Ocean. Its background can be found on http://en.wikipedia.org/wiki/Sea_Shepherd.
The image of the flag was made with a badge from http://www.phantomdonut.com/seashep.html (now defunct). Note that the version currently in use has the name "Sea Shepherd International" in a different font.
Miles Li, 19 February 2007
SSCS operates a small fleet - known as "Neptune's Navy" - of both research vessels and vessels intended to interdict and obstruct Japanese whaling operations and perform other marine life protection efforts. It is aboard these vessels that the group's various flags are typically seen.

The ensign of registry is flown from the vessels' stern, of course. Sea Shepherd's current fleet has vessels registered in the United States, Netherlands, Australia, and the UK. The larger vessels in the fleet fly courtesy flags when in ports other than their country of registration. Interestingly, when SSCS vessels are in Australian ports, they fly the Australian national flag, always flown in conjunction with the Aboriginal flag. This can be seen in the photograph of the former Canadian-flagged RV Farley Mowat in Melbourne (https://upload.wikimedia.org/wikipedia/commons/7/73/Farley_Mowat_at_Docklands%2C_Melbourne%2C_Australia.jpg).

Nearly every photograph of SSCS vessels, both at sea and in port, show them also flying the flag of the Iroquois Confederacy, though I'm unclear why.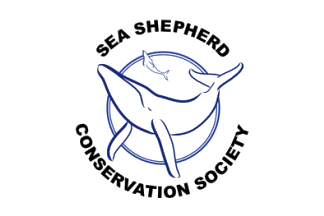 image by Randy Young, 1 August 2017

There are a couple photographs that appear to show a white flag with the official Sea Shepherd Conservation Society logo centered. This flag is always shown being flown from one of the masts, leading me to believe that this may actually be the official SSCS flag, while the black one is used more as a battle flag. The photograph at https://upload.wikimedia.org/wikipedia/commons/d/d1/MY_Steve_Irwin-Sea_Shepherd_Conservation_Society-bow.JPG shows both the Iroquois and white Sea Shepherd flag being flown from the SSCS vessel MV Steve Irwin, with another view at https://upload.wikimedia.org/wikipedia/commons/f/fd/MY_Steve_Irwin-Sea_Shepherd_Conservation_Society.jpg.

The more familiar black flag of Sea Shepherd, reminiscent of the pirate skull and crossbones and currently highlighted at the top of this page, tends to be flown from the bow of most SSCS vessels, both in port as a jack and at sea as a battle flag. There are also a number of variations of the flag, captured in numerous photos online.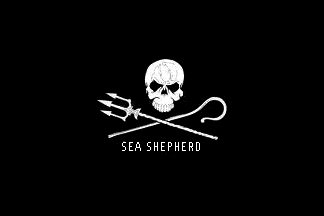 image by Miles Li, 19 February 2007

1) On a black field, a small Sea Shepherd logo, consisting of a white skull above a crossed white trident and white shepherd's crook. Below the logo are the words "SEA SHEPHERD" in small, white, capital letters.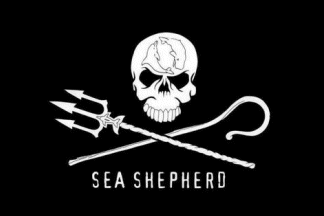 image by Randy Young, 1 August 2017

2) The same as above, but with a larger logo that takes up nearly the entire fiels. You can see this flag clearly in the photograph online at http://www.seashepherd.org/images/news/2015/news-150909-1-1-150202-JW-SS-flags-and-kunlun-1176-1000w.jpg.

3) On a black field, a small Sea Shepherd logo as above, but with the words "SEA SHEPHERD INTERNATIONAL" beneath, as mentioned in Miles Li's 19 February 2007 contribution. A photograph of this flag can be seen online at https://upload.wikimedia.org/wikipedia/commons/thumb/a/a3/Seashepherd_small_pt.jpg/220px-Seashepherd_small_pt.jpg. So far, I haven't been able to find the right font to be able to create a gif for this flag.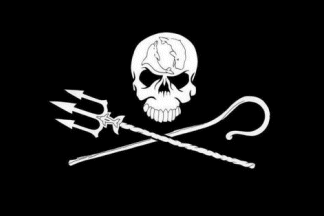 image by Randy Young, 1 August 2017

4) On a black field, a large Sea Shepherd skull-and-crossbones logo, but with no inscription. This flag can be seen flying from the bow of MV Steve Irwin in the photograph at http://picardiepopulaire.net/wp-content/uploads/2015/12/Paul-Watson.jpg.
Randy Young, 1 August 2017
In 2007, after the Marley Fowat was deregistered by the Canadian government, the Mohawk Nation at Kahnawake presented Captain Paul Watson with their flag, and registration of two Sea Shepherd ships. The organisation has flown this emblem of support for their mission since then.
Watson also suggests (http://www.onegreenplanet.org/animalsandnature/saving-marine-species-without-apology-why-we-dont-mind-being-called-pirates/) that the Australian Aboriginal flag and the Maori flag (the Tino Rangatiratanga flag) have also been given to the organisation in recognition of their work.
Jonathan Dixon, 1 August 2017
---
Operation Icefish 2014-15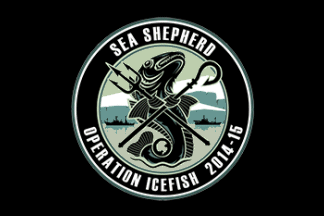 image by Randy Young, 16 August 2017
Operation Icefish ran from December 2014 to April 2015, and consisted largely of two SSCS vessels - MY Bob Barker and MV Sam Simon - intercepting and harassing trawlers in the Antarctic waters illegally fishing for Patagonian toothfish. The harassment led to the poaching trawler FV Thunder being scuttled in São Tomé and Príncipe, and the capture of several other poaching trawlers by various national governments, including Indonesia, which used one of the captured trawlers as a target vessel in 2016. (Source: https://en.wikipedia.org/wiki/Sea_Shepherd_Conservation_Society_operations#Operation_Icefish_.282014-2016.29) The flag of Operation Icefish can be seen in photographs online, particularly at https://www.seashepherd.org.au/images/news/2015/news-150410-1-1-GG-matze-flag-line-pile-9S1A9133-1000w.jpg. The flag features the circular operation logo centered on a black field.
Randy Young, 16 August 2019
Operation Relentless (2013-2014)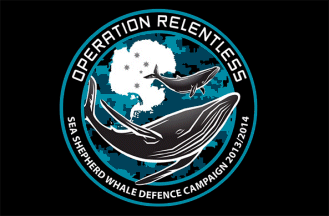 image by Randy Young, 16 August 2017
Operation Relentless was the tenth Sea Shepherd mission to protect whales in the Southern Ocean from Japanese whaling operations, during the 2013-2014 whaling season. The operation involved the Sea Shepherd vessels MY Bob Barker and MV Steve Irwin attempting to interfere with the Japanese whaling fleet, including the whaling vessels Nisshin Maru, Yushin Maru No. 3, and Shonan Maru 2. The operation was only partially successful and was ended in the early Spring of 2014. (Source: https://en.wikipedia.org/wiki/Sea_Shepherd_Conservation_Society_operations#Operation_Relentless_.282013-2014.29). The flag of Operation Relentless can be seen in photographs online, particularly at http://www.seashepherd.org.au/relentless/images/captains-blog/140220-Peter-Captains-Serious-With-Flag-0954102-800w.jpg. The flag again features the circular operation logo centered on a black field.
Randy Young, 16 August 2019
Whale Defense Campaign 2012-13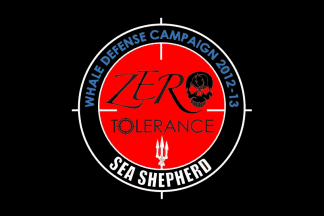 image by Randy Young, 16 August 2017
Operation Zero Tolerance ran from November 2012 to March 2013, and was the ninth Sea Shepherd campaign targeting Japanese whaling operations in the Southern Ocean. Operation Zero Tolerance involved the SSCS vessels MV Brigitte Bardot and MV Steve Irwin, and was rife with legal trouble that resulted in the US Court of Appeals for the Ninth Circuit declaring Sea Shepherd "pirates" for their militant actions against Japanese whaling vessels. (Source: https://en.wikipedia.org/wiki/Sea_Shepherd_Conservation_Society_operations#Operation_Zero_Tolerance_.282012.E2.80.932013.29) The flag for Operation Zero Tolerance can be seen in photographs online, including the one at https://s-media-cache-ak0.pinimg.com/736x/e5/75/a4/e575a460e03eddb2161055e0434bd845.jpg. The flag, like the other SSCS operations flags, features the circular operation logo centered on a black field.
Randy Young, 16 August 2019