This page is part of © FOTW Flags Of The World website
South-American Games Organization
Organización Deportiva Suramericana - ODESUR
Last modified: 2022-10-01 by zachary harden
Keywords: south-america | games | odesur |
Links: FOTW homepage | search | disclaimer and copyright | write us | mirrors

---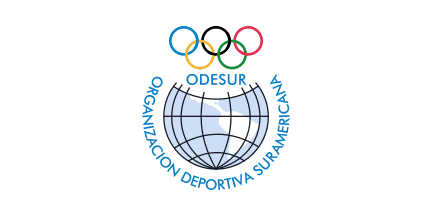 image by Zachary Harden, 23 September 2022
---
See also:
---
About
The ODESUR (Organización Deportiva Suramericana, South American Sports Organization) emerged as an initiative of the President of the Bolivian Olympic Committee, José Gamarra Zorrilla, who took the roll of assuming the olympic ideal throughout South America and in 1976 he promoted a sport congress in La Paz, Bolivia and in assocciation with the Presidents of the respective National Olympic Committees of Argentina, Peru, Paraguay and Chile, founded the South American Sports Organization on March 26, 1976, under the support of the ODEPA. The statutes and rules were approved that very same year the following year in La Paz again. In 1977 they were determined to organizae as soon as possible the Juegos Cruz del Sur (Southern Cross Games) that were later called Juegos Sudamericanos (South American Games) after the third edition. However the first games only took place after the Third ODESUR Congress in June 1978 in Santiago de Chile. In that Congress the rules of the Comité Organizador (Organizing Committee) were approved as well as the event schedule. José Gamarra Zorrilla was also designated as the ODESUR President.
Esteban Rivera, 19 September 2006
---
ODESUR symbols
The South American Games Flag. The shades of blue of the logo may vary - sometimes its a darker shade and sometimes its this lighter shade. The continent of South America should be visible in against the blue globe. The first 2 editions of these games were known as Los Juegos de Cruz del Sur (The Southern Cross Games).
Erik Bell, February 25, 2008.
The full list of all the editions of the South American Games is as follows (sources http://es.wikipedia.org/wiki/Juegos_ODESUR and http://en.wikipedia.org/wiki/South_American_Games):
Games 1978, La Paz, November 3-12
Games 1982, Rosario November 26-December 5
Games 1986, Santiago November 28-December 8
Games 1990, Lima December 1-10
Games 1994, Valencia November 19-28
Games 1998, Cuenca, October 21-31
Games 2002, Rio de Janeiro, Săo Paulo, Curitiba, and Belém, August 1-11
Games 2006 Buenos Aires, November 9-19
IX Games 2010 Medellin, March 17-30 (even though the games were officially hosted by Medellin, several events took place in nearby Municipalities: Bello, Copacabana, Envigado, Guarne, Guatapé, Itagüí, Rionegro and Sabaneta.
Games 2014, Santiago, March 7-18
Games 2018, Cochabamba, May 26-June 8
Games 2022, Asunción, October 1-15
Sources: http://es.wikipedia.org/wiki/Juegos_Suramericanos_de_2010#Subsedes and https://es.wikipedia.org/wiki/Juegos_Suramericanos#Eventos_y_ediciones
---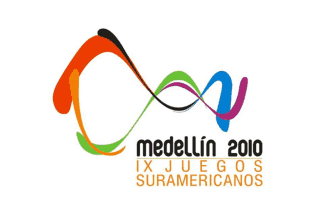 image by Zoltan Horvath, 13 March 2014
The flag of the IX Games held in Medellín, is a white horizontal flag with the logo (http://2.bp.blogspot.com) on the middle, as seen in this image: http://en.wikipedia.org/wiki/File:Medellin-2010.jpg
The Games logo was a proposal among 120 that were submitted, and it was officially awarded on December 3, 2009 to María Paulina Escobar Soto, 22, who was at the time studying her 8th Semester of Graphic Communication and Publicity at the Universidad de Medellín. She was awarded a prize of $15 million pesos (USD 7,500). The design was based on the infinity symbol (called lemniscate in math): ∞.
Source: http://es.wikipedia.org/wiki/Juegos_Suramericanos_de_2010#Logotipo_de_los_Juegos
Also, even though the games were officially inaugurated on March 19, 2010 (as the poster in this image shows: http://es.wikipedia.org/wiki/Archivo:Seminario_Periodismo_Deportivo.jpg) there were some events that were held as early as March 17.
Picture of its flag taken on March 23, 2010, outside a hotel where some athletes were staying.
Esteban Ribera, 6 September 2010
---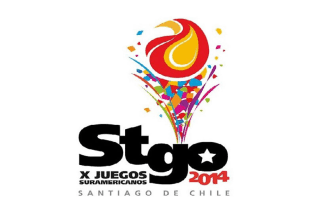 image by Zoltan Horvath, 11 March 2014
The 10th Edition of the ODESUR South American Games, X Games 2014 Santiago are being held on March 7-18 (even though the games are officially hosted by Santiago, several events take place in nearby Municipalities: Valparaíso, Viña del Mar, Curauma, Quillota and Concón). The city was elected as the host of the games on November 7, 2006 (the decision was that the runner-up candidate city for the 2010 edition would hold the 2014 edition). It is the second time Santiago holds the games (the first time being in 1986).
Source: http://es.wikipedia.org/wiki/Juegos_Suramericanos_de_2014
The flag is the logo on a white horizontal flag as seen here (second flag from left to right) and here. (Full gallery)
For additional information please visit: XI Juegos Suramericanos Samtiago 2014 (official website)
Esteban Rivera, 11 March 2014
---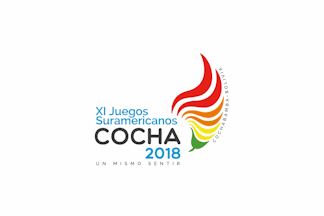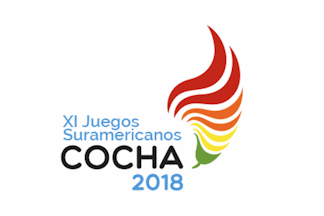 images by Randy Young, 07 June 2018
"The 11th Edition of the ODESUR South American Games, XI Games 2018 Cochabamba are being held from May 26 until June on March 7-18 (even though the games are officially hosted by Santiago, several events take place in nearby Municipalities: Valparaíso, Viña del Mar, Curauma, Quillota and Concón). The city was elected as the host of the games on November 7, 2006 (the decision was that the runner-up candidate city for the 2010 edition would hold the 2014 edition). It is the second time Santiago holds the games (the first time being in 1986).
The offical brand and logo were officially announced on May 20, 2016. The logo was designed by Verónica Flores Achá and Ariel Prado, graduate students of "Diseño Gráfico y Comunicación Visual" (English: Graphic Designa and Visual Communications) at the Universidad Mayor de San Simón (official website). The logo is a Cantuta (Cantua buxifolia) (a flowering plant) in the shape of an olympic torch, displaying the colors of the national flag. It also includes the title "XI Juegos Suramericanos Cocha 2018"
Sources: https://www.cochabamba2018.bo/seccion/categoria_cms/138/seccion/7/
https://en.wikipedia.org/wiki/2018_South_American_Games
The flag is a white horizontal flag with the logo in the middle, as seen here
Source: http://viralbolivia.info/2018/05/cochabamba-confunden-fuegos-con-juegos-en-banderas-durante-acto-en-villa-tunari/
A GIF of the flag is seen here.
For additional information go to Cochabamba 2018 (official website)
Esteban Rivera, 01 June 2018
I believe the logo should be a little bit bigger and also located a bit more towards the hoist.
Esteban Rivera, 07 June 2018
I made my graphic based primarily off this photograph showing the flag actually being carried by a young man in some sort of procession. In that photograph, the top of the flag's hoist is off the photograph to the upper right, while the bottom of the hoist is close to the young man's hands. Based on the folds of the flag as it's being carried at that diagonal, I estimated that it was at least 2 ft x 3 ft, but perhaps closer to square and maybe (judging by the young man's perceived height in comparison to the flag's hoist) something closer to 4 ft x 4 ft. Either way, the logo itself is relatively small on that large white field, leading me to size it as I did.
However, I also just noticed that the wording on the logo in the photograph does not match the logo for the games, referring instead to "XI Fuegos Suramericanos." Would that be the "11th South American Fires?"
I think we should probably see if we can find some additional photographs of the flag in actual use, and then I'll adjust my graphic to match what we find being used.
Randy Young, 07 June 2018
I agree with your point of view totally. Unfortunately, from past experiences, it is well known that regarding this type of flags, the information on its construction and/or regulation is non existent. As for another image showing the flag, I'm afraid I cannot find one. However, I can only infer that the logo is placed in the middle and its is of a higher size (it is merely an assumption since there is no written material to back my claim). But, judging from flags related to games of this sort, I stand by my statement.
Esteban Rivera, 08 June 2018
---
image by Zachary Harden, 26 September 2022
The flag used by the 2022 South American Games, held in Asuncion, Paraguay, is their logo on a white background.
Zachary Harden, 26 September 2022