This page is part of © FOTW Flags Of The World website
Kazerun, Iran
Fars
Last modified: 2019-03-10 by ian macdonald
Keywords: kazerun |
Links: FOTW homepage | search | disclaimer and copyright | write us | mirrors

---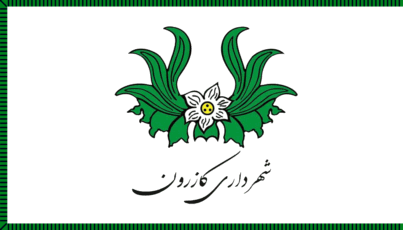 image by Tomislav Šipek, 25 February 2019
---
See also:
---
Description of the flag
The flag of Kazerun is white with logo and green fringe.
http://www.asrekazeroon.ir/
Tomislav Šipek, 25 February 2019
The municipality of Kazerun (150,683 inhabitants in 2016) is located in south-western Iran.

The present city of Kazerun is approximately at the same location as the Achaemenid city of Gazra (circa 556-330 BC) and a few kilometers from the city of Bishapur, which dates from the Sassanid era (224-651).The inhabitants of the city speak a local dialect of modern Persian whose origins go back to Pahlavi, an Iranian (Middle-Persian) language that was spoken during the Sassanid era, itself descended from Old Persian. But in the city and especially in the villages of the department, there is also a population of Turkish Qashqai nomads, sedentary for many decades. The conversion of the inhabitants of Kazerun to Islam began in the 7th C, but a large part of the population remained long as Zoroastrian. The Islamization of the region was therefore complete only quite late in the early 11th century.

Bishapur was founded in 266 by order of the Sassanid king Shapur I (king from 240 to 272). The city bears, in fact, the name of its founder, in Middle Persian, Bai Shapur meaning "Lord Shapur". The ruins of Bishapur extend over a 200-hectare area. The construction of the city dates from the apogee of the reign of its founder after his important victories over the Romans, especially after the defeat of the Roman army and the fall of the emperor Valerian (emperor from 253 to 260), captured by the Sassanid soldiers and transferred to Bishapur. Valerian died in captivity, since the Romans did nothing to release him, having no interest in his return for political reasons related to his succession. During the Sassanid era, Bishapur became the capital of the Persians for a relatively short period. After the Islamization of Iran, it gradually lost its importance for the benefit of its closest neighbor, Kazerun.
However, Bishapur was inhabited until the 14th century, before being abandoned.
The city was built according to the architectural models of the Arsic and Hellenistic period on the basis of a checkerboard plan. The ruins of Bishapur reveal two parts clearly separated from each other: first the imperial citadel (which contains the temple of Anahita, the royal hall, the terrace of mosaics and the residence of Valerian, the commemorative columns where appears the name of Shapur I, and, second, the city proper (houses, public roads, markets, hammams, caravanserais, ...).

Tangueh-Chogan is a narrow horseshoe valley located near the ancient city of Bishapur (500 m) and at the bottom of which flows a small river. The rocks on both sides of the valley are decorated at irregular intervals with six Sassanid bas-reliefs. These bas-reliefs date from the time of the reign of three Sassanid kings: Shapur I, Bahram I (king from 273 to 276) and Bahram II (king from 276 to 293). A gigantic statue of Shapur I watches over the entrance to a deep cave on the heights of the valley of Tangueh-Chogan. Shapur cave is located on a rock perched 800 meters above the village which is just down at the bottom of the valley. The statue is one of the rare examples of Sassanian sculpture available today, the technique generally used during the pre-Islamic antiquity of Iran being bas-relief. It was carved in a natural pillar of the cave, and is more than 7 meters high.

The logo of Kazerun recalls that the city is Iran's narcissus capital. The word Narcissus is of Persian origin ("narges"). In winter (late December-early February), the plains that extend around the city of Kazerun are embellished, for a period of 45 days, with very beautiful flowers: narcissus. Several species of this flower grow in the wild in this region. The most beautiful landscapes of the narcissus season are thus offered to the senses of tourists and inhabitants of the department, on a plain of 25 hectares which is near the villages of Jarreh, Balbal and Famour. The daffodils of Kazerun are among the rare winter species of this family of flowers.

https://www.koochar.com/en/wiki/iran/cities-of-iran/shiraz/kazeroon-the-second-largest-city-of-fars/
Ivan Sache, 25 February 2019