This page is part of © FOTW Flags Of The World website
Persian flags in early flag charts
Last modified: 2011-06-11 by ian macdonald
Keywords: iran |
Links: FOTW homepage | search | disclaimer and copyright | write us | mirrors

---
See also:
---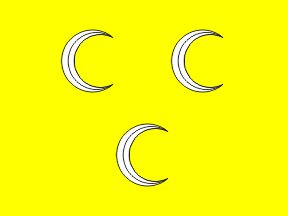 image by Tomislav Todorovic, 24 December 2008
In the flag chart created by Dutch cartographer Pieter Schenk in 1711, which was published in the atlas by Guillaume Delisle of France in 1730 (reissued in 1739 as the "Nouvel atlas" by Covens & Mortier of Amsterdam), two flags of Iran were shown. One of them has three white crescents on yellow field and is titled "Persiaanen" in Dutch and "les Perses" in French.
Tomislav Todorovic, 24 December 2008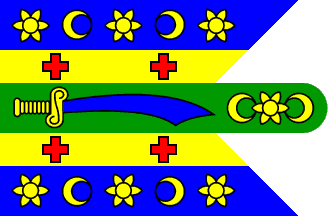 image by Tomislav Todorovic, 24 December 2008
A second one closely resembles the Shah of Persia flag from a 1858 flag chart, but the top and bottom tails are less oblong, the crescents on each of blue fields are pointing at each other, the sword blade is blue and the crosses are red (the one at the bottom fly is actually shown as yellow, but that is certainly a printing error, because the design is otherwise entirely symmetrical). This flag is titled "Persise Mogol" in Dutch and "le Mogol des Perses" in French.
According to these titles, the flag of "the Persians" was considered the flag of the country, and that of "the Persian Mogul" was considered the ruler's standard, because the accompanied title must have been thought to be the title of the ruler of Iran, just like the then Europeans called the rulers of the Mughal Empire and the Ottoman Empire "Grand Mogul" and "Grand Turk", respectively, which can be seen in this flag chart, but also in many others, created either before or after this one.
Sources:
Allen, Phillip: The Atlas of Atlases, London: Bounty Books, 2005, ISBN-13 978-0-7537-1311-2; Znamierowski 1999.
The image above is a modification of the image below by António Martins-Tuválkin. The black "holding lines" are kept here as well, because they are clearly visible in the above source. The same was done on the image below for the same reason; as a matter of fact, this seems to have been typical way to draw crescents on flags at that time, as can be seen in both above sources, and is still used for crescents, especially large ones, in heraldry nowadays as it was since its early days, to make them look more like three-dimensional objects attached to the surface of the shield.
Tomislav Todorovic, 24 December 2008
---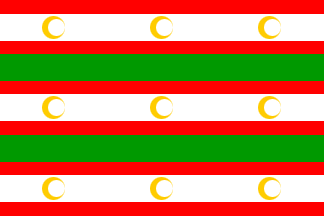 image by António Martins-Tuválkin, 4 September 2008
Rectangular ~2:3 flag with eleven unequal symmetrical horizontal stripes of red, white, red, green, red, and white (approx. 1+2+1+2+1+2+1+2+1+2+1), the white stripes charged each with three yellow crescents pointing toward the fly. Not unlike the "Persian flag" shown on a Japanese flag plate dated 1876.
António Martins-Tuválkin, 4 September 2008
---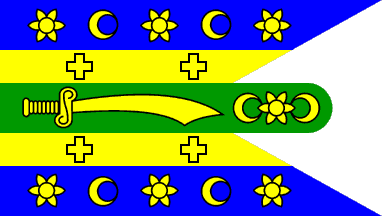 image by António Martins-Tuválkin, 4 September 2008
Rectangular ~4:7 flag with five unequal symmetrical horizontal stripes of blue, yellow, and green (approx. 3+2+3+2+3), with deep triangular cut-out but with green, central stripe protruding to the middle of the cut-out as a lobed langue; on the green stripe, a yellow scimitar pointing to the flag and on the fly a six-petal florette between two crescents, pointing inwards, all yellow; on each of the yellow stripes two yellow couped stubby ("Swiss") crosses; and on each of the blue stripes three florettes alternating with two crescents pointing flywards, all yellow (I kept the black "holding lines"ť from the original since there would be no way to present the yellow crosses on yellow).
António Martins-Tuválkin, 4 September 2008
If the artist made this up/made a mistake the Beylical flag of Tunis could have been the model/the original.
Jan Mertens, 5 September 2008
---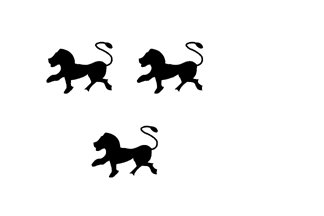 image by António Martins-Tuválkin, 4 September 2008
White rectangular ~2:3 flag with three small lions passant, in solid black contour and placed two above one, the whole slightly offset to the hoist.
António Martins-Tuválkin, 4 September 2008