This page is part of © FOTW Flags Of The World website
Fezzan, Libya (spurious flag)
Last modified: 2014-11-28 by ian macdonald
Keywords: libya | fezzan |
Links: FOTW homepage | search | disclaimer and copyright | write us | mirrors

---
---
See also:
---
A reported flag, shown to be false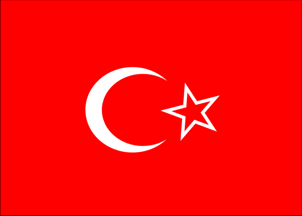 image located by Ben Cahoon, 16 November 2013
Source: http://commons.wikimedia.org/wiki/File:Flag_of_Fezzan.png
Recently I have been sent a few e-mails suggesting that the region of Fezzan in Libya has adopted (or re-adopted) a flag. This article is from 27 Sept 2013 in the English language Libya Herald on federalism in Fezzan that uses the reported flag. This flag is red with a white crescent and star. The image of the flag looks a lot like the flag of the State of Hatay in use 1938-1939. I could imagine that it was in use in the later part of the French administration of Fezzan c.1947-1951 before united Libya was granted independence.

I also found it here: http://www.flyingcolours.org/product-detail.php?ID=3280 "During the French Administration of the former Military Territory of the South, Fezzan-Ghadames had a red flag with a crescent and star. "
Ben Cahoon, 16 November 2013
I have more news on the Fezzan (Libya) flag which I reported above. It appears that I was wrong - there were no actual photographs of this flag, and just one Libya Herald story which used it as a graphic. It turns out that the Libyan Herald used the existing Wikipedia image as their source rather than actual facts. It seems this phantom flag (which does look like the Hatay Republic flag 1938-39) started on a AltHistory site, then went to regular Wikipedia, was passed on by the Libyan Herald and picked up by others.

Ralf Stelter sent me an extensive email on this confusion:
Today there is the flag of Fezzan, as an example for a difficult and dangerous research fact. Tradition tells about a red flag with a crescent and a star! Old encyclopedias show that flag: it is the Osmanli or later Turkish flag. There is not a single record of a red star!

In 2011 althistory.wiki.com showed a flag for Fezzan. If you know who althistory is, then you know about their quality for flags: they are the same as all other flags: a big joke about fictitious states and flags.

In 2013 Libya Herald wrote about Fezzan and had a picture of that flag from althistory.

The flyingcolours website produced a flag and sold it to everyone who believed that this flag is correct. But no one knew and no one had a proof. And then there is Fezzan-Ghadames, and they had a red flag with crescent and star (the Turkish!!!). So the circle is complete. And nobody knows the truth. And some do not want to know, as that would mean loss of money. Sell 1000 flags to Fezzan and you have earned a lot of money....

As Wikipedia states Fezzan was no French territory or colony. There were only ancient flags allowed with a French tricolore in the canton (Tunis, Morocco, Gabon, Tahiti etc.) French Fezzan never had a flag, as French territories never had flags (only a few exceptions) and there are so many other flags which never existed...
On http://messaoud.pagesperso-orange.fr/index.htm you find some buildings with the French flag on it, one building seems to bear a plain red flag, one photo shows some flags but none with a crescent and star.

Fezzan stamps with a flag on it? No, there were none. If there was one it is not in my catalogue, maybe it is or was a fake... Barraclough had no flag for Fezzan. Not any of those books published by Warne had a flag for Fezzan. I have them all from about 1896.
It seems of any Fezzan flag used for the c.1943-1951 era, then it might probably be a plain red one along with the French flag. But the French flag was much more common and photographed at that time and in that place, unlike the modern reported one. I have removed it from my site and suggest others do likewise.
Ben Cahoon, 8 October 2014