This page is part of © FOTW Flags Of The World website
Libya, 1977-2011
Socialist Libyan Arab Peoples Jamahiriya
Last modified: 2023-10-14 by ian macdonald
Keywords: libya | green |
Links: FOTW homepage | search | disclaimer and copyright | write us | mirrors

---

image by António Martins-Tuválkin, 8 February 2008

Proportions: 1:2
Usage Code:


Local Name: الجماهيرية العربية الليبية الشعبية الإشتراكية
---
See also:
---
The green flag of Libya
Libya's flag was adopted in 1977, after leaving the Federation of Arab Republics. Green is the national color of Libya as well as a symbol of devotion to Islam.
---
A note to the image in Album des pavillons explains that it could be also in ratio 2:3, and that there are yet unconfirmed reports of what might be naval ensign green with two crossed anchors in the middle.
Regarding the flag usage, Whitney Smith's works designate

- Albums des Pavillons shows only

keeping the possibility open for the naval ensign, and having no information for what state owned vessels carry.
Željko Heimer, 10 May 2002
---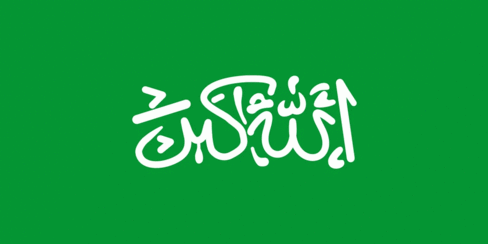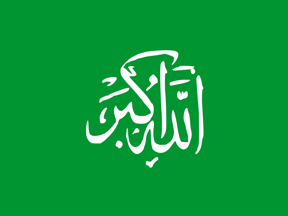 images by Jean-Mark Merklin and BlinxCat, 29 September 2023
In the final days of Gaddafi's government in Libya, the national flag was supposedly modified to contain the takbir on the green field.

A redditor also brought this up 11 years ago, shortly after the civil war ended: https://www.reddit.com/r/vexillology/comments/xgrci/in_the_final_days_of_the_libyan_civil_war_mathaba/

And one source claimed the following: "After agreement in consultation and coordination with the Mujahideen and leaders across Libya, it was declared that the city of Bani Walid is now the provisional capital of occupied Libya until the liberation of Tripoli.. It was also adopted at the same time, the adoption of writing the words "Allah Akbar" on the National Green Flag"

The wording is a bit biased as it's a pro-Gaddafi and anti-NATO website used as as source and I cannot determine how reliable it is as it states Bani Walid was a provisional capital however Sirte was, I've provided two images of known variants
BlinxCat, 29 September 2023
From what I have noted, Bani Walid became the de facto HQ of the Jamahiriya on November 19, 2011 (Sirte was taken at that time), when Saadi Gaddafi became leader of the loyalist resistance in Bani Walid (and of the moribund Jamahiriya). The Jamahiriya's resistance ended in February 2012, before being perpetuated by the "Green Libya" movement. The Loyalists of Bani Walid used the second version of the flag above. I didn't know other versions. Note that the Reddit version respects the 1:2 ratio. As for the Green Libya movement, it seems to have only used the full green flag.
Jean-Mark Merklin, 29 September 2023
---
Naval Ensign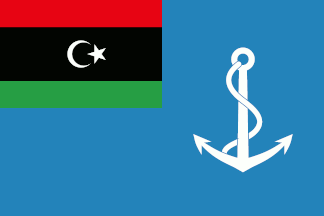 image by Graham Bartram, modified by Rob Raeside
Usage Code:

The current Libyan Naval Ensign is blue (light blue) and has the left top square green and a white anchor in the middle. The World Flag Database shows the flag, but the green square is much lighter than shown.
Not surprisingly, the green part is exactly like that of the Libyan national flag.
I witnessed it during a visit in Tripoli (Tarabulus) last year.
Daniele Romano, 23 March 2005
---
This ensign was not quite confirmed at the time when Armand du Payrat was preparing the Correction. 2 [pay02]. However, it seems that Armand did not indicate this in the image caption, so he must have had some additional confirmation. Also Graham does not have any indication that the flag might not be used. I guess that now Cpt. Romano's independent confirmation we may indeed be positive about its use.
Željko Heimer, 23 March 2004
---
Roundel and Fin Flash
image by Klaus-Michael Schneider, 6 March 2009
Source: David Donald: Taschenhandbuch der Militärflugzeuge; p.176

A Green roundel.

The note in Album des pavillons explains that the national flag is painted on the fin.

A quick consultation with Military Insignia of the World reveals that the roundel was always inspired with the flag:
1959-1969 Red-Black-Green, the black "wider" then other two colors, national flag on fin
1969-1978 Red-White-Black, national flag on fin (stripes only without the central emblem on drawing, text says with Quraysh falcon)
Since 1978 - Green roundel, national flag on the fin
Željko Heimer, 10 May 2002
---
Formed in 1959 as Al Quwwat al-Jawwiya al-Malakiya al-Libiyya it later became Al Quwwat al-Jawwiya al-Libiyya , Al Quwwat al-Jawwiya al-Arabiya al-Libyya and Al Quwwatal Jawwiya al Jamahiriya al Arabia al Libyya
Dov Gutterman, 19 June 2004