This page is part of © FOTW Flags Of The World website
Cyrenaica, Libya
Barqah
Last modified: 2014-04-26 by ian macdonald
Keywords: libya | cyrenaica | cirenaica | barqah |
Links: FOTW homepage | search | disclaimer and copyright | write us | mirrors

---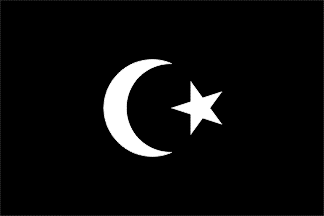 image by Ivan Sache, 8 June 2012
---
---
See also:
---
Cyrenaica
Cyrenaica in English, Cyrenaique in French and Cirenaica in Italian. The Arab name is Barqah. The main city is Benghazi.
Willem von Erpecom, 23 August 2000
The Sanussiyya used a black flag with white crescent and star: this flag was recognized for the Cyrenaica (under British administration) after 1945. Other flags were probably hoisted in Tripolitania (under British rule) and Fezzan (under French control).
Jaume Ollé, 29 September 1996
---
1947 flag of Cyrenaica
After the decree establishing the autonomy of Cyrenaique on 31 October 1919, the Italians granted Idriss el Senoussi as Emir on 25 October 1919, but with authority only on the regions of Koufrah, Djarabouh, Audjila and Djalo, with Adjedabia (Agedabia) as the capital. The text of the treaty states that the Emir was allowed to hoist his flag along with the Italian one, but does not describe the flag. The Senoussis used mostly black or white flags ornamented with Quran verses. The flags had sometimes a coloured border.
The treaty was denounced by the Italians in 1920.
After the Italian defeat of 1943 and the French-British occupation of Libya, Italy abandoned the control of Libya by the treaty of Paris (10 February 1947). Emir Idriss proclaimed the independence of Cyrenaique on 1st March 1949, and was granted as Emir by the Allied in June. On 24 December 1951, Libya became finally an independent kingdom, as the federation of Tripolitania, Cyrenaique and Fezzan. The federal system was abolished on 27 April 1963.
The 1947 flag is a black field with crescent and star. It might have been the 1919 flag but there is no historical evidence for that.
Source: Franciae Vexilla [frv], March 1999, article by M. Corbic.
Ivan Sache, 31 March 1999
---
The Reuters agency, 16 April 2012, reports from Benghazi:

"Last month demonstrators were back at the same spot*, now part of a Libya free of Gaddafi. This time they also waved another flag, with a white star and crescent etched on a black background - the flag of eastern Libya. This flag has become the banner of a push for regional autonomy that has enraged Libya's new leadership and raised questions about whether the country, focus of huge optimism after it forced out Gaddafi, can hold together now he has gone."

*Benghazi main square, one of the cradles of Libya's revolution.

The flag of "eastern Libya" is, as expected, the flag of Cyrenaica, the Benghazi region and one of the three components once federated into the Kingdom of Libya.
Ivan Sache, 24 April 2012
---
Another Cyrenaica flag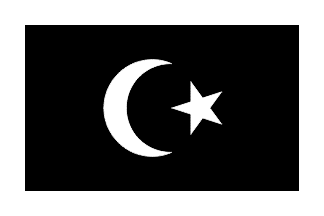 image by Ivan Sache, 8 June 2012
Concerning Cyrenaique, L. Philippe reports (Franciae Vexilla [frv] #15/61, September 1999) that a post stamp released in 1956 to commemorate the 100th anniversary of the death of imam Muhammad Said ben Ali el Senussi shows a flag similar to above, but with a white border all around the flag.
This imam founded in 1837 the Moslem brotherhood of Senussis which fought against Italy from 1919-1920 until its dissolution in 1930. King Idris I (1890-1983) became leader of the brotherhood in 1917 [a rather young leader], and was king of the Libyan Federation until overthrown by Qaddafi in 1969 [and reached the respectable age of 93 years despite a rather agitated life.]
Ivan Sache, 08 October 1999