This page is part of © FOTW Flags Of The World website
German Flag of Palestine
Last modified: 2023-01-21 by martin karner
Keywords: british mandate of palestine | germany | nazi | world war ii |
Links: FOTW homepage | search | disclaimer and copyright | write us | mirrors

---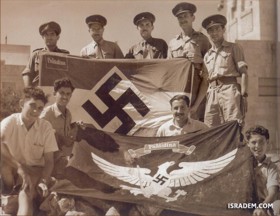 image located by Victor Lomantsov, 4 August 2012


See also:
---
Interesting photo of Palestinians with flags http://www.diletant.ru/blogs/1321/2528/ [expired] Inscription: "Palästina". Photo made in 1937.
Victor Lomantsov, 4 August 2012
This seems to be a photo of Palestinian Arab members of the German (Nazi) military, as borne out by the other photos, which show Haj Amin Al-Husseini, the Grand Mufti of Jerusalem, meeting with Hitler and Himmler. Husseini was an enthusiastic supporter of the Nazis and helped raise (albeit not too successfully) Muslim units for the Waffen-SS and Wehrmacht (Of course, he and the Nazis saw eye to eye on the "Jewish Problem" and saw this cooperation as part of that cause in their respective spheres). I've read about Bosnian and Azerbaijani units, but it's news to me that there were units (if indeed there were, and this isn't just propaganda) from Palestine.
It should also be pointed out that there was Nazi sympathy among some (but, it should be stressed, not nearly all) of the Templers, Christian German settlers in Palestine (They were the namesakes of the "German Colony," a neighborhood not far from where I live in Jerusalem, and other neighborhoods around Israel, for example one right in the middle of the Defense Ministry campus in Tel Aviv. A couple of years ago, if I recall correctly, Nazi flags and even a swastika-patterned inlay floor were discovered in an old house in the Jerusalem neighborhood, interestingly but perhaps coincidentally not far from the old headquarters of the Mufti). Some of these sympathizers enlisted in the German military and there was even a Hitler Youth branch in Jerusalem, so this photo may well not be a picture of Arabs at all but of one of those groups, and the author of the linked page may have made a mistake.
Nachum Lamm, 4 August 2012
This flags are flags of the Nazi Youth Organisation "Hitler-Jugend", regional branch of Palestine. The historical context to the Grand Mufti of Jerusalem, Haj Amin Al-Husseini, is correct.
Jens Pattke, 5 August 2012
Actually, I would tend to doubt the 1937 date unless there is some compelling reason to believe it. What we have here is a scene of the "victors" (for want of a better term) displaying the symbols of the "vanquished". The uniforms of the military personnel appear to be British-style, not German, to me and the fact that civilians are involved tell a specific story even if we are not privy to it.

The two flags, that of the "Palestine" regiment of the Hitler Youth and of the German Young People, are, I think, being displayed as trophies. Here is my theory on when and where and why:
There was a German settlement in the British mandate of Palestine founded in 1908 named Waldheim. The citizens of this town were all German citizens. After the Nazis took power in Germany, that government handled all of the affairs of Waldheim, including supplying appropriate Nazi teachers and establishing Nazi institutions such as the Hitler Youth. A branch of the latter, including a large camp, for all of Palestine was established there in the 1930s (likely 1935–36). By the time the war started some 350 men from Waldheim had returned to Germany to serve in the German Army.
In 1939, after hostilities were commenced between Germany and Great Britain, the remaining settlers, mainly the old, the sick, and the fanatical evangelicals, were interned there along with other Axis soldiers captured during the course of the war. By the end of the war and shortly thereafter, almost all of the German residents were either transported to Australia or were otherwise expelled from Waldheim.

The Haganah entered the nearly abandoned settlement 17 April 1948 and on 12 May 1948 a group of young Zionist pioneers from Czechoslovakia, Austria and Romania established Kibbutz BaMa'avak (lit. "In The Struggle") in the abandoned colony.

Three years later, the name was changed to Alonei Abba in memory of Abba Berdichev, who was parachuted into Czechoslovakia in 1943 to assist clandestine British forces, but was captured and executed in 1945 (see Wikipedia entry on Alonei Abba).

I'm guessing the photo shows the members of the new kibbutz displaying the trophies of their taking of the settlement in April or May 1948, or some such.
Dave Martucci, 5 August 2012
A big mistake, I am afraid, for it conveys a very incorrect idea of the political situation in Palestine in the 1930s and 1940s. Given the politically-charged connotations of this photo (notably the word "Palästina" on Swastika flags), and given the propensity of Zionist revisionists to willfully or ignorantly distort the historical context of this photo in order to advance current propaganda, it behooves us to set the record straight.

The Russian blogger (Dmitry Puchkov) who originally posted this photo, stated incorrectly that it was 1937 with "happy faces of Palestinians" (presumably Palestinian Arabs.) This is impossible on many levels. His linkage of this photo to the schemes of Haj Amin al Husseini, the Grand Mufti of Jerusalem, is also disingenuous at best.
Jens Pattke and Dave Martucci are, of course, correct that the two flags are Third Reich youth flags. Dave is also very much on the right track with his speculation about the historical context.

The German consulate in Jerusalem was closed when the British captured the city in 1917. It reopened in 1924 and enjoyed perfectly good relations with both German Jews and Palestinian Jews. With Hitler's accession to power in 1933, the consulate in Jerusalem entered a surreal period of enforcing Nazi racial policy on German Jews (such as professors at the Hebrew University) while simultaneously continuing cordial relations with Palestinian Jews (even though consul staff had been quickly replaced with loyal Nazis). Hitler's Englandpolitik and Britain's strong German sympathies (including notably King Edward VIII in 1936) meant that both sides strained until the outbreak of war in 1939 to remain friendly. This also meant that the substantial German community in British Mandate Palestine operated freely and openly under the aegis of their internationally-recognized Nazi government in Berlin. Here are photos of Germans freely flying swastika flags in British Palestine between 1933 and 1939:
http://3.bp.blogspot.com/_eQNPu6zzxaU/SGxXOoB2Q6I/AAAAAAAACrw/A8iEUsk8ugQ/s1600-h/m.0.2902.20.1.9.jpg (picture)
http://1.bp.blogspot.com/_eQNPu6zzxaU/SGlLmLmNd3I/AAAAAAAACqI/iJ3ePH9R2vA/s1600-h/64754700.jpg (picture)
http://2.bp.blogspot.com/_eQNPu6zzxaU/SGlLmc0dM8I/AAAAAAAACqQ/vp4ytvrmlrQ/s1600-h/80744257.jpg (picture)
Note that these are Germans in Palestine, not Palestinian Arabs. I challenge anybody to find a legitimate instance of Palestinian Arabs embracing the Nazi swastika as their own in British Palestine, even in the entourage of al Husseini (It's not impossible, but the probability is almost nil). After the Arab Revolt of 1936, al Husseini fled first to Lebanon (where he subsequently escaped French house arrest), then to Baghdad where he fomented a little trouble for the British, then to Italy and finally to Germany. Despite the smiling photos of al Husseini with Hitler and Himmler in 1941, the Nazis did not give him all he wanted, and historians differ as to whether al Husseini was driven by genuine anti-Semitism or rather by opportunistic nationalism at a time when he thought the Germans would win the war. Al Husseini's influence in British Palestine after his 1937 departure was very limited, and later quite discredited amongst Palestinian Arabs.

So what about that photo?
Dave Martucci is absolutely correct that this is a classic victor's pose with war trophies (Note that the flag in the foreground is soiled). The uniforms of the men in the back row are definitely British. Although the cap badges are indistinguishable, they are possibly Jewish remnants of the (British) Palestine Police. They do not appear to be Haganah (but I could be mistaken). Nothing about this photo would have been possible in 1937.
Dave speculates that these trophies were found in Waldheim (Alonei Abba), but I think the buildings in the background suggest a much more built-up area like Jerusalem. During the 1948 war Israeli soldiers found a cache of Nazi flags, badges, and documents (including passport applications) in a disused building on the southern outskirts of Jerusalem, thought to have been the Nazi headquarters in Palestine in the 1930s (When the German consulate closed in 1939, many records were passed to the Spanish consulate for safe-keeping, and perhaps later conveniently "misplaced" by the Spanish). After the fighting stopped, H.D. Schmidt went to examine the artifacts and described his findings in "The Nazi Party in Palestine and the Levant 1932–9" (International Affairs, v. 28, no 4, Oct 1952, p. 460–469.

Our photo in question almost certainly depicts this 1948 find in Jerusalem. The men are Jews triumphantly displaying Nazi trophies found three years after the defeat of Germany. Neither the men nor the flags are Arab.
T.F. Mills, 6 August 2012
Somewhat larger at http://isradem.com/uploads/posts/2010-05/1272742598_0_40f4e_23d45034_xl.jpg [expired / Ed. note: A larger picture has been posted now on this page], but I can't find the article to go with it. I'm not sure what we're seeing, though. Apart from maybe the man in the middle, nobody in the picture seems to like being there. If they are "Palestinians", whatever that meant at the time of the photograph, they apparently are not the kind who like such flags.
In the comments other years are mentioned, and someone with a name I can't transliterate seems to insist on 1948. I was going to ask whether anyone could ask the author how he dated the photograph, but it would seem this already happened in the comments. Could someone check those comments further; there's are whole blocks of text in there, and the style suggests added information. Maybe some of it pertains to the photograph.
Anyway, which flags do we see, and are these specimen different in anyway?
Peter Hans van den Muijzenberg, 26 August 2012
The more I look at that photo the more I am persuaded that the men in the picture, although in British uniform (or British-style, note) are in fact Israelis; this is buttressed by the young boys up front, who certainly are neither British nor Arab. That would likely date this picture as the 1948 war, and not earlier. I couldn't find the text on isradem.com that went with the flag (they have some 26 pages of photos) but that might help.
One further comment: I ran a Google translation of the last two Russian paragraphs above the photo. Allowing for the awkwardness of machine translation, they read: "See for yourself. This is a picture of 1937. Her joyful faces of Palestinians. In fact, no state of Israel also, did not. There is some (already considerable, however, especially after 33 years) the number of Jewish settlers living in the Promised Land. And it is in the hands of the Palestinian youths? Under which banners they intend to go to the fight against the infidels? With whom to fight? And who are considered allies in the "holy war"?"
It should be noted that the Jewish settlers of Palestine before 1948 referred to themselves as "Palestinians", whereas the Arabs of the area did not. They only assumed that label after the '48 war.
Albert S. Kirsch, 26 August 2012
For some reason, the two messages that give what I think are the definitive answer to the question are not automatically included in the thread. Simply put, this flag was among Nazi paraphernalia, about a decade old, found by Jewish soldiers in a building in Jerusalem's German Colony during the 1948 war. They had been used by Nazi groups in Jerusalem in the 1930's; when the Nazis were thrown out by the British, the possessions of the consulate (or related bodies) were given to another embassy, which put them in storage until they were found.
Nachum Lamm, 26 August 2012
You wrote a very detailed research about the origins of the picture above. You rightfully assume it was not from 1937 but probably from 1948 and that the people in the picture are probably not members of the Palestinian Nazi party but probably Jewish Israelis that found the flags and took a picture with them.

There is a local book that published in Israel in 2008 and written by David Koryanker named "The German colony and Emek Rephaim". The picture appears on page 71 of the book and it is said that the picture was taken in 1948 after Israeli forces occupied the German colony and that's what they found in some of the German houses.

So the flags did belong to the Palestinian Nazi party and was used by the people of the German colony in Jerusalem. Most of the Germans were deported from Palestine in 1939 by the British and left behind their real estate. The flags and other Nazi art effects were found after the colony was occupied by Israeli forces in 1948. Additional Nazi art effects were found hidden in one of the houses as late as 1978.

So the picture is not from 1937 and is not of Arab or Palestinian Nazis.
Elan Oren, 11 November 2017