This page is part of © FOTW Flags Of The World website
Frente de Libertaçâo de Moçambique
Liberation Front of Mozambique (FRELIMO)
Last modified: 2005-12-17 by bruce berry
Keywords: mozambique | frelimo |
Links: FOTW homepage | search | disclaimer and copyright | write us | mirrors

---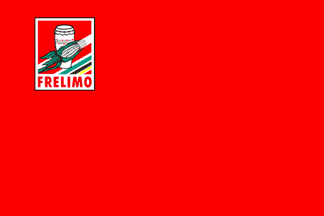 image by Antonio Martins, 30 Dec 2004 See also:
---
Introduction
The Liberation Front of Mozambique (Frente de Libertaçâo de Moçambique) has been the ruling political party in Mozambique since independence in 1975 and led the struggle for independence by waging a guerilla war against the Portuguese in the 1960s and 1970s.
FRELIMO was founded in Dar es Salaam (Tanzania) on 25 June 1962, when three regionally based nationalist organisations, the Mozambican African National Union (MANU), the National Democratic Union of Mozambique (UDENAMO) and the National African Union of Independent Mozambique (UNAMI) merged into one broad based guerilla movement. Under the leadership of Eduardo Mondlane, FRELIMO fought a guerilla war for independence and was in control of the northern region of the country by 1964. After the new reformist government in Portugal granted independence to its African colonies, FRELIMO established a one-party state (no elections were held) based on Marxist principles with Samora Machel as President. The new government received diplomatic and some military support from Cuba and the Soviet Union.
The new government was engaged in a civil war with the anti-Communist faction known as RENAMO which was sponsored by the then minority regimes in Rhodesia and South Africa. Samora Machel was killed in a suspicious aircraft crash in 1986 and was succeeded by Joaquim Chissano as leader of both the party and the state. The civil war ended with the Rome General Peace Accords in 1992, following which elections were held in 1994 which although won by FRELIMO, ended single-party rule. FRELIMO also won the 1999 elections. Chissano was succeeded by Armando Guebuza as President of Mozambique and leader of the party following the December 2004 elections when FRELIMO won 62.0% of the popular vote.
Bruce Berry, 07 Dec 2005
---
Current FRELIMO flag (2004- )
The current Frelimo flag, according to António Kitabulu Teixeira in Lusovex (his report included a photo) is still red with the emblem on the canton, but the emblem has changed recently, so the flag is a new one also.
Antonio Martins, 30 Dec 2004

---
FRELIMO Flag (1997-2004)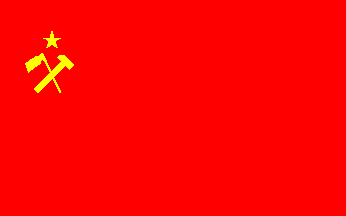 image by Antonio Martins, 21 Sep 1997
The second flag of FRELIMO (Frente de Libertaçâo de Moçambique) is red with a rifle and a hoe crossed saltire under a star, all yellow, in the canton (upper hoist).
Antonio Martins, 21 Sep 1997
"ARTICLE 3
PARTY symbols
3. The flag of FRELIMO is a red rectangle with, at the upper left corner, a star topping a hammer and a hoe, crossed, all in gold."
Source: the FRELIMO homepage.
Dov Gutterman, translated by Jorge Candeias, 7 Aug 2002


---
Original FRELIMO Flag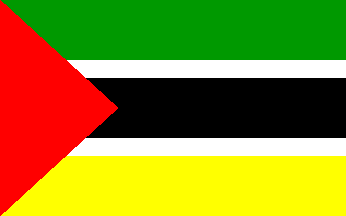 image by Antonio Martins, 21 Sep 1997

According to William Crampton in the World of Flags (Studio, 1990) the original flag of FRELIMO was inspired by that of the African National Congress (ANC), with white fimbriations added between the stripes and a red hoist triangle extending about 1/3. The proportions are said to be 5:8.
Antonio Martins, 21 Sep 1997
---
Unofficial FRELIMO flags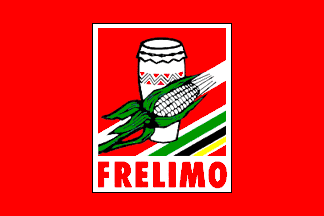 image by Antonio Martins, 30 Dec 2004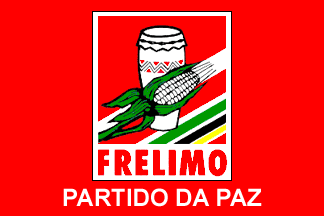 image by Antonio Martins, 30 Dec 2004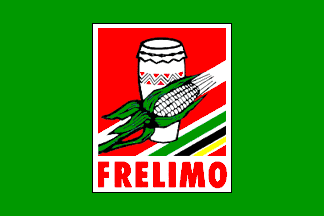 image by Antonio Martins, 30 Dec 2004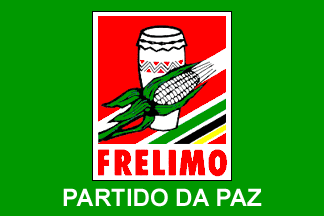 image by Antonio Martins, 30 Dec 2004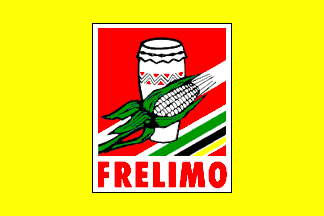 image by Antonio Martins, 30 Dec 2004

These FRELIMO flags were seen during the parliamentary election campaign in November 2004 and were also featured on campaign posters. It is not clear whether these are official flags or not.
Bruce Berry, 29 Nov 2004

At this website are shown some Mozambique 2004 Parliament election campaign scenes, where several variant unofficial Frelimo flags containing a large logo can be seen. The logo appears on green, yellow, and mostly red backgrounds, sometimes with a motto bellow the logo: «Partido da Paz» (peace party) -- this is attested for the green and red variants.

The logo is a tall white rectangle with the lettering "FRELIMO" in red bold narrow sans capitals below a square image which portrays an ear of corn (green leaves and stalk, white grains) over a native drum (white with red and black ornament around its belly); the background is red with diagonal stripes along the lower right corner: Almost in the middle of the square a white (wide) stripe, then red (wide), white, green, white (thin), black, white (thin), yellow, white (thin) and red. These come from the national flag (both current and pre-1983 versions), which in turn come from the first Frelimo flag.
Antonio Martins, 30 Dec 2004
---
Unknown FRELIMO (?) Flag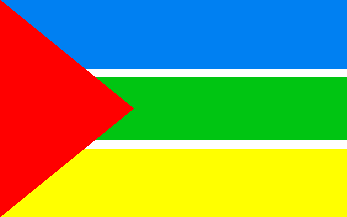 image by Falko Schmidt, 23 Mar 2001

In the book "Unterwegs am Sambesi" published in the German Democratic Republic in the early 1980s there is a colour photo of this flag. The colour differs from the first FRELIMO flag. It could not be this flag, because this is shown on the same picture near this unidentified flag.
Falko Schmidt, 23 Mar 2001

On the photo in this book the top stripe is blue. The accepted flag of FRELIMO is shown flying alongside it, so a mistake in the colour is not possible.
Jens Pattke, 24 Mar 2001

---