This page is part of © FOTW Flags Of The World website
Flag History of Namibia
South West Africa, Südwest-Afrika, Suidwes-Afrika
Last modified: 2007-02-16 by bruce berry
Keywords: namibia | suedwestafrica | southwestafrica |
Links: FOTW homepage | search | disclaimer and copyright | write us | mirrors

---
See also:
---
Deutsch
Südwestafrika

(1884 - 1915) (German South West Africa) - proposed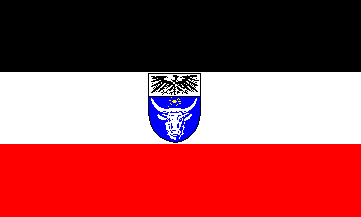 image by Mark Sensen, 08 Oct 1999
The German administration of South West Africa lasted little more than three decades from 1884 to 1915. In contrast to territories which made up the British Empire, virtually all of which were granted a distinctive heraldic and vexillological identity, German colonies and protectorates did not have their own heraldic devices or flags. Following in the Portuguese and Dutch colonial practice, the Germans treated their overseas possessions an integral part of one empire and consequently the Imperial German Arms and flags were used throughout the Empire, including German South West Africa as Namibia was then known.
During a visit by the then German Secretary of State, Dr. Solf, to German possessions in Africa during 1912 - 1913, he noted that each of the British colonial territories had their own distinctive colonial emblem. The fact that these "colonial flags" all followed a single pattern made a great impression on Dr. Solf who submitted a memorandum to Kaiser Wilhelm II stressing the desirability of adopting distinctive emblems for Germany's overseas possessions. He went to far as to suggest that the matter receive urgent attention. The Kaiser agreed and suggested that Dr. Solf take the necessary steps to prepare the appropriate designs. In close co-operation with Johann Albrecht, Duke of Mecklenburg and the Herald's Office a series of designs were prepared and submitted to the Kaiser.
The flags were to be based on the German horizontal tricolour of black, white and red charged in the centre with a distinctive shield of the colony. In the case of South West Africa, this was to be a blue shield bearing a silver ox's head and diamond.
The outbreak of World War I in 1914 diverted attention to more pressing matters and the flags designed for Germany's colonial possessions were never taken into use.
Bruce Berry 13 Feb 1998
I noticed that in the key word NAMIBIA, you miss something very important, even if you mentioned about the colonization of Namibia and the colonial flags after the First World War, it should be noted that NAMIBIA was a German colony from 1884-1915, after which the Union of South Africa took control of this area. Did the German colony from 1884-1915 have its own flag? This site has interesting information.
Yannis C. Karayannis, 14 Aug 2001
---
Mandated Territory of South West Africa (1915 - 1990)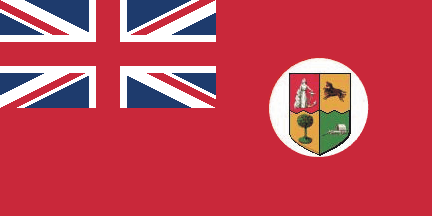 image by Mark Sensen, 08 Oct 1999 and Blas Delgado Ortiz, 14 May 2002
During World War I South African troops entered South West Africa in February 1915 and the German forces in the territory surrendered on 09 July 1915. South African forces thus occupied German South West Africa for and on behalf of the British Government. Until the signing of the Peace Treaty with Germany at Versailles on 28 June 1919, South West Africa was described as being a "Protectorate ... in Military Occupation of the Union Forces".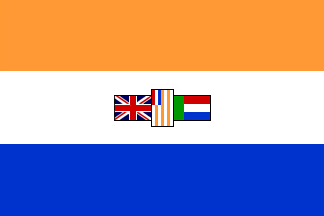 image by Clay Moss, 07 Dec 2005
Under the mandate system, set out in Article 22 of the Versailles Treaty, ex-enemy territory would be governed by individual states, which later would be accountable to the League of Nations. South West Africa was mandated to South Africa and the South African Red Ensign came to be flown in the territory until 31 May 1928, when the South African national flag (horizontal orange, white and blue stripes with flaglets in the centre) was adopted.
Bruce Berry, 13 Feb 1998
---