This page is part of © FOTW Flags Of The World website
Games of the XXXII Olympiad: Tokyo 2020
2020 Summer Olympics
Last modified: 2023-06-10 by

zachary harden
Keywords: olympic games | tokyo |
Links: FOTW homepage | search | disclaimer and copyright | write us | mirrors

---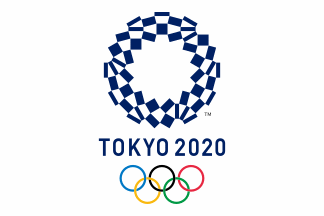 image by Zachary Harden, 30 August 2017
---
See also:
Other sites:
---
[Ed. note: A majority of the information here was presented before the delay of the Thirty Second Olympiad due to the Covid-19 global pandemic.
On September 7, 2013, the International Olympic Committee awarded the Games of the XXXII Olympiad in 2020 to Tokyo, which was chosen over fellow Candidate Cities Istanbul and Madrid after two rounds of voting during the 125th IOC Session in Buenos Aires. Tokyo received 60 votes to Istanbul's 36 in the final round, with Madrid having been eliminated in the first round after losing a tie-breaker with Istanbul. Tokyo, which also bid for the 2016 Olympic Games, previously hosted the Games in 1964.
Source: http://www.olympic.org/tokyo-2020-summer-olympics
Zoltan Horvath, 02 February 2014
---
The Games of the XXXII Olympiad, held in 2020 at Tokyo, has had an interesting ride when it comes to the symbolism used for the Games.

The bid logo was designed by Ai Shimamine. The bid emblem, along with the emblem flag, can be seen at https://www.japantimes.co.jp when Tokyo was announced as the winner to host the 2020 Games on September 7, 2013.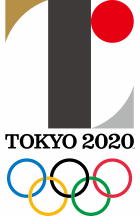 image by Zachary Harden, 30 August 2017

The first emblem for the Games was unveiled on 24th July 2015; according to http://www.bbc.com/news/world-asia-33656579 and http://designmadeinjapan.com/magazine/graphic-design/the-2020-tokyo-olympic-logo-emblem-designed-by-kenjiro-mr_design-sano/, the T in the logo stands for three elements: Tokyo, Tomorrow and Team. According to the organizing committee, "The black colour of the central column represents diversity, the combination of all colours. The shape of the circle represents an inclusive world in which everyone accepts each other. The red of the circle represents the power and strength of every beating heart." The red circle was also interpreted as evoking the Japanese flag, which was not used in the 1998 Winter Games and made a homage to emblem designed by Yusaku Kamekura for the 1964 Tokyo Games. Discussion ensued about this design (some talked about the use of the Clarendon font family for the typeface, some talked about how minimalist it was) resulting in its undoing.

A week after the design by Sano was unveiled to the public, reports began to surface that it might have copied some other works. The website at https://www.theguardian.com/artanddesign/2015/jul/30/tokyo-olympics-logo-plagiarism-row, among others, came out with a story that another graphic designer, Olivier Debie of Belgium, and pointed out the similarities between Sano's Olympic emblem and his own logo for the Theatre de Liege, also in Belgium, which was created in 2011 and put in use in 2013. While Sano did not comment at the first instance of the claim by Debie, the Organizing Committee defended the logo choice because of the checks of any IP rights and designs. However, things went to another level where Debie contacted lawyers in Belgium to create an injunction to prevent the usage of this emblem and that of the Paralympic Games, which also used the block T as the main Olympic Games. As legal proceedings began against the IOC, the Tokyo Organizing Committee decided on September 1, 2015, to scrap the emblems designed by Sano after more allegations of plagiarism and copyright infringement came up.
(https://www.theguardian.com/world/2015/sep/01/tokyo-2020-olympics-logo-scrapped-after-allegations-of-plagiarism and https://www.japantimes.co.jp/news/2015/09/01/national/tokyo-2020-olympic-logo-dropped-amid-plagiarism-claim/#.WaaI-9GQy1s)
Some reports suggested that Sano's emblems were scrapped without any comments from him, Sano offered to withdraw the emblems voluntarily because he felt the issue was marring the image of the 2020 Games and wanted an emblem that everyone can use, enjoy and love.
(https://www.japantimes.co.jp/news/2015/09/02/national/sano-stands-olympics-logo-denies-plagiarism-retracts-design-protect-family-staff/#.WaaJM9GQy1s)

In the same emergency meeting that where Sano's emblems were officially scrapped, a new contest was set up for a replacement emblem for the Games. The process, which is detailed at https://tokyo2020.jp/en/games/emblem/archive/, four designs were shortlisted from 14,599 entries submitted by the public. The winning design, created by Asao Tokolo, used elements of the "Cichimatsu moyo" checked pattern that was made famous in the Edo period and the use of the indigo blue, a traditional and sporting color of Japan, "expresses a refined elegance and sophistication that exemplifies Japan" according to a statement and concept video at https://tokyo2020.jp/en/games/emblem/. This second (and current)
emblem was published on April 25, 2016, roughly seven months after the design by Sano was scrapped.

Flags: we discussed the bid flag and the use of the flag was used for the celebrations and presentations with the "Candidate City" byline under "Tokyo (Hinomaru) 2020". After the emblem row with Sano, the bid emblem was revived and the "Candidate City" byline was dropped from looking at a picture at http://www.gettyimages.com. I could not find any picture with the emblem designed from Sano used on a flag, perhaps because it was scrapped too quickly before it became a flag. Yet, I am going to send an image with the logo for commentary purposes. For the current emblem, it is used as a flag as evidenced by a photo from a June 2017 meeting held in Tokyo regarding cost cutting measures by the
hosts. http://www.insidethegames.biz/media/image/71295/o/CEnOPtlXskP3g02Z I have not been able to located a graphic manual showing the flag use or any kind of use of the emblem on flags besides this photo, but as the Games get closer, it might just happen.
Zachary Harden, 30 August 2017
I discovered a sub-brand usage guidelines describing a co-branding (sub-brand) protocols and legalities for using the Tokyo 2020 Olympic and Paralympic emblems. For the color of the emblem, it was listed as Pantone 281 C (close to the color of the US flag. The Pantone colors of the Olympic Rings and the Paralympic Agitos are the same as prescribed by the IOC and IPC, respectively. As for font, it is a part of the FF DIN font family (according to the document properties of the sub-brand usage guidelines) and the same font family was used for the bid logo.
Zachary Harden, 11 September 2017
Another flag representing Tokyo 2020 seen by large numbers of people is this one [used at the closing of the Rio de Janeiro games]: http://mediad.publicbroadcasting.net/p/shared/npr/styles/x_large/nprshared/201608/490876632.jpg, at http://wnpr.org/post/rio-dances-closing-ceremony-2016-summer-olympics. I'm not sure it's even possible to top that one, even though it's a design with letters on it.
Peter Hans van den Muijzenberg, 13 October 2017
---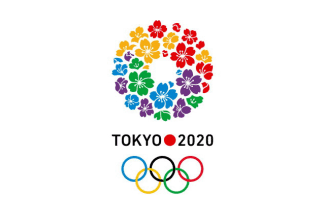 image by Zachary Harden, 30 August 2017
The logo was designed by fourth year student Ai Shimamine, who participated in a design competition to create a logo for Tokyo's bid. The circular wreath of cherry blossoms, Japan's most celebrated flower, takes the cake for cultivating a happy, peaceful, and comforting feeling, setting Tokyo apart from the playing field. The circular shape symbolizes a sense of eternity; accompanied by the playful cherry blossoms, it further evolves to express the eternal happiness which the Games inspire. Each individual petal within the circular wreath shape of the cherry blossoms represents the interconnectivity and interdependence of the world.
Zoltan Horvath, 02 February 2014
In an interview given to Reuters during the big logo unveiling on November 30, 2011., Shimamine stated that she wanted to design something for Japan to give her a boost during the recovery efforts from the 2011 East Japan Earthquake and Tsunami. In her own words, the symbolism of the cherry blossom "represents friendship and peace, has a softness and also holds a special place in the hearts of Japanese people." Like the 1998 Nagano Games emblem, the bid emblem uses purple instead of black, due to purple being a traditional color of Japan; purple was prominent in cultural events in Japan's Edo period from 1603-1867. The bid emblem, along with the emblem flag, can be seen when Tokyo was announced as the winner to host the 2020 Games on September 7, 2013.
Zachary Harden, 30 August 2017
---
Russian flag banned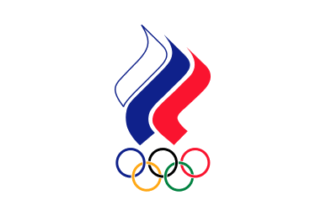 ROC flag; image by Tomislav Šipek, 6 February 2018

The flag of the Russian Olympic Committee will be used to represent the Russian atheletes and coaches for the next two Olympic games (2020 and 2022); this is due to Russia's ban related to a state-backed program of doping and cover-ups.
Dave Fowler, 20 February 2021

In some photos around Tokyo, the flag used by Russian athletes is that of the Russian Olympic Committee, which is their logo on a white background.
Zachary Harden, 22 July 2021
---
Candidate cities
Madrid, Spain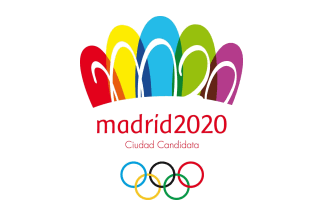 source; image by Zachary Harden, 31 July 2021
Instanbul, Turkey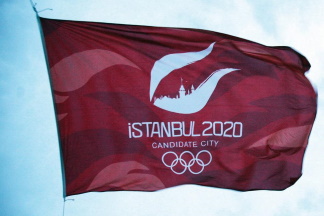 source; image located by Zachary Harden, 31 July 2021