This page is part of © FOTW Flags Of The World website
CALABARZON, Region IV-A, Philippines
Last modified: 2023-06-03 by

zachary harden
Keywords: southern tagalog | tagalog | calabarzon | batangas | lipa | cavite | tagaytay | tres martires | laguna | san pablo | quezon | rizal | lucena |
Links: FOTW homepage | search | disclaimer and copyright | write us | mirrors

---
The Philippine Republic's Region IV, Southern Tagalog, comprised eleven provinces with eight cities. Most of these provinces are in the southern part of the island of Luzon, but the province of Palawan, an archipelago in itself, stretches southwest of Luzon almost as far as Borneo, forming one of the four sides of the Sulu Sea. It has subsequently been subdivided into CALABARZON (Region IVA, comprising Batangas, Cavite, Laguna, Quezon and Rizal) and MIMAROPA (Region IVB, comprising Occidental Mindoro, Oriental Mindoro, Marinduque, Romblon and Palawan).
Flag images here drawn after Symbols of the State, published by the Philippines Bureau of Local Government.
Region IV-A: CALABARZON
Region IV-B: MIMAROPA
See also:
---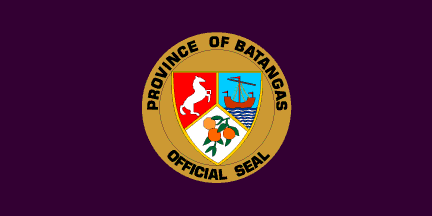 image by Jaume Ollé, 12 January 2001
The Philippine Republic's Province of Batangas, located on the island of Luzon, comprises two cities, Batangas (the capital, pop. 245,000) and Lipa (pop. 219,000), and thirty-two towns on 3,165 sq.km. with a total population of 1,885,000.

In the late nineteenth century the Philippines became one of the world's leading sources of coffee, and Batangas was heavily given over to coffee cultivation, but the coffee blight of the eighteen-eighties eventually overleapt quarantine measures and devastated the Philippine crops. The Philippines would not again export coffee for almost a century. The stately homes of the coffee planters still stand. Batangas was home to several early nationalist leaders, and contains museum-monuments to General Malvar, the last military leader in the Philippine-American War (Philippine Insurrection) to surrender to the United States, to Apolinario Mabini, to President José P. Laurel, and to Marcela Agoncillo, who made the first official Philippine flag during the insurrection against the Spanish.

Batangas offers a number of vacation destinations, including Taal Volcano, the world's smallest, on an island in Lake Bombon. Dive spots are extremely numerous, and there is a "submarine garden" of coral, visible at low tide, at the town of Lobo. The first balisong, or Philippine butterfly knife, was made in Taal, Batangas, in 1905, and the province is still a center for their manufacture. It produces rice, maize, coconuts, sugar, pepper, fruits, vegetables, poultry, cattle, horses, other livestock, and fish, and has a considerable variety of light and heavy industries, from garments to electronics to steel. It is also a shipping center..
John Ayer, 12 March 2001
image by Dirk Schönberger, 12 January 2001
Source: Symbols of the state
Batangas City is the capital of Batangas, pop. 245,000.
John Ayer, 12 March 2001
image by Dirk Schönberger, 12 January 2001
Source: Symbols of the state
Lipa, the second city of Batangas, has a population of 219,000.
John Ayer, 12 March 2001
---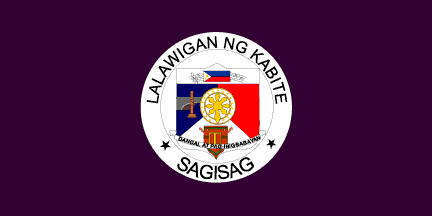 image by Jaume Ollé, 12 January 2001
The Philippine Republic's Province of Cavite abuts metropolitan Manila. It is named for the hook (Tagalog kawit) of land that juts into Manila Bay, and which is an important objective of any force wanting to rule Luzon and the Philippines. The province's population is 1,907,000 by the census of 2000, its area 1,474 sq.km. There are three chartered cities, Cavite (pop. 98,000), Tagaytay (32,000) and Trece Martires (35,000), and twenty towns. The legislature meets in the town of Imus (pop. 177,000 by the 1995 census) and that is not the most populous town; two others have more than a quarter of a million apiece. Trece Martires is the seat of provincial administration. Tagaytay is "the second summer capital" of the Philippine Republic, famous for its perch overlooking Taal Lake, also known as Lake Bombon, the crater of what is said to be the world's largest volcano.
What is now the Province of Cavite in the Philippine Republic has a long history of resistance to Spanish rule. It was known for generations as "Madre de los Ladrones," the mother of bandits--the way an imperial power usually describes resistance forces. (I do not know Spanish, and am open to correction on this interpretation.) In 1859 a battle involving cannon was fought at the Julian Bridge in Imus between Philippine and Spanish forces. In 1872 two hundred Filipinos working at the naval arsenal at Cavite mutinied. This mutiny was put down, and three Catholic priests, José Burgos, Mariano Gomez, and Jacinto Zamora, who were implicated in the uprising were executed. In 1896 the last uprising against Spain began, and Cavite was swiftly secured for the rebellion. General Emilio Aguinaldo, president of that first Philippine Republic, was a native and resident of Cavite. One of the towns in the province now bears his name. The province also includes the island of Corregidor famous from World War II. Also in Imus is a monument commemorating the Battle of Alapan; this includes a ninety-foot-tall flagpole from which the Philippine flag flies, and a statue of a woman carrying a Philippine flag. The province is very liberally supplied with historical monuments, resorts, noteworthy churches, and places of religious retreat. Its economy seems to be more industrial than agricultural, though it produces rice, coffee, fruits, vegetables, and seafood.
John Ayer, 13 March 2001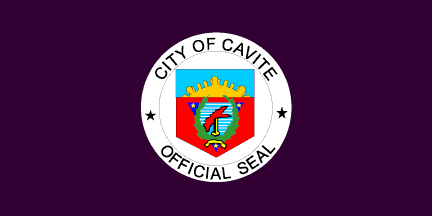 image by Dirk Schönberger, 12 January 2001
Source: Symbols of the state
Alternate flag?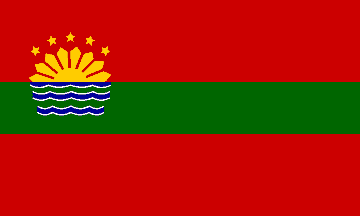 image by Ivan Sarajcic, 27 December 2002
Cavite City appears to use an alternate flag (see its website), using a red-green-red horizontal triband, with an emblem near the hoist comprising some elements from the official seal.
"Designed and conceptualized by former City Mayor Timoteo O. Encarnacion, Jr., the city flag symbolizes the many facets of the city and its people. The two red stripes symbolize the courage and bravery of the Cavitenos, the courage to shed blood or even to die to protect and defend their country. Likewise they symbolize the courage and bravery to uphold the noble values, tradition and culture or our country and people; courage to change what needs to be changed for the better, for the common good. The middle green stripe symbolizes and signifies the progress and advancement achieved so far by the city and the vision and dreams to achieve further progress and development, with the help and guidance of Almighty God. The half sun signifies the rising sun, which embodies the hopes, dreams and visions of the Cavitenos for material, physical and spiritual progress. It can also signify the setting sun, to show that the western shores of the city provides one of the most beautiful sunsets in the country, if not the whole world. The five yellow stars represent the five districts comprising Cavite City: San Roque including Fort San Felipe; San Antonio, including Sangley Point and the Corregidor Island and other islands nearby; Caridad, Sta. Cruz and Dalahican. The half-circle below the sun composed of three sets of waves, in blue and white, stand for the fact that Cavite is a peninsula surrounded by sea, while the three sets of navy blue and light blue and white strips stand for the three bays that surround the city, namely: Canacao Bay, Bacoor Bay and Manila Bay."
Source : Socio-Economic Profile 2000 of Cavite City prepared by the City Planning and Development Office
located by Dov Gutterman, 27 December 2002
This horizontal flag is shown on the site of the Philippines Intellectual Property Office which shows registered emblems of several government bodies, agencies etc.: http://www.ipophil.gov.ph/tmgazette/Unlimited/OfficialSigns.asp?pubdate=1/24/2005.
Valentin Poposki, 11 January 2006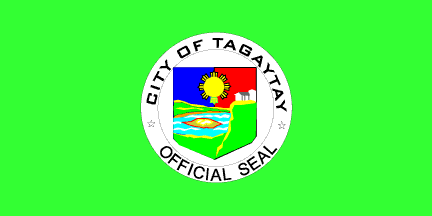 image by Dirk Schönberger, 12 January 2001
Source: Symbols of the state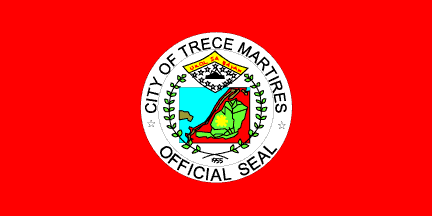 image by Dirk Schönberger, 12 January 2001
Source: Symbols of the state
---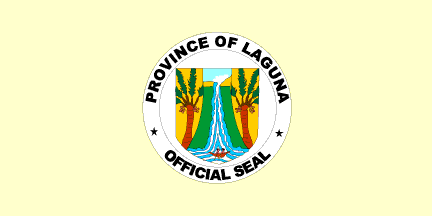 image by Jaume Ollé, 12 January 2001
The Philippine Republic's Province of Laguna is named for Laguna de Bay, the second largest fresh-water lake in South-East Asia, which discharges through the Pasig River into Manila Bay. Preserving the health of this lake is a matter of great importance to authorities at all levels, as the population is rapidly increasing and industrial development proceeds apace. The province is blessed with the amazing flow of 1,200,000,000 liters of fresh water per day, which combined with the mild climate has permitted the province to sustain a considerable agricultural output, including the commercial cultivation of orchids, other flowers, rice, fruits, and sugar, while retaining its natural beauty. Its industries are numerous and varied. There are numerous other lakes (including the Seven Lakes of San Pablo), streams, and hot springs. Calamba is home to the museum-monument to Dr. José Rizal y Mercado, the Philippine national hero. At Lumban is a Japanese memorial to the dead soldiers of World War II; the altar is rumored to contain the remains of General Yamashita. Los Baños is home to the premier campus of the National University of the Philippines. There are numerous museums, noteworthy buildings, demonstration farms, and many resorts serving domestic and international traffic.

The Province of Laguna has a population of 1,747,000 in one city (San Pablo, pop. 205,000) and twenty-nine towns. The capital is Santa Cruz. The total area is 1816 sq.km.
John Ayer, 14 March 2003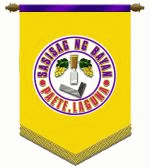 image located by Valentin Poposki
The flag of the Paete municipality in Laguna province is quite unusual flag for the Philippines. Here is the website: http://www.paete.gov.ph/.
Valentin Poposki, 24 September 2005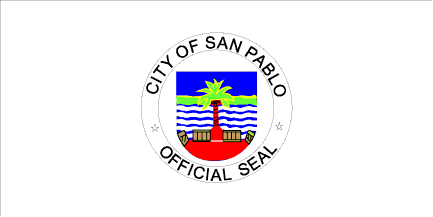 image by Dirk Schönberger, 12 January 2001
Source: Symbols of the state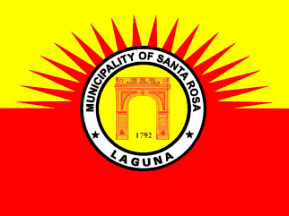 image by Olivier Touzeau, 24 July 2005
Source: http://starosa-laguna.gov.ph/index2.htm
Olivier Touzeau, 24 July 2005
---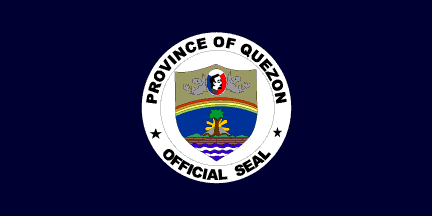 image by Jaume Ollé, 12 January 2001
Much the largest province in the Philippine Republic's Region IV, Southern Tagalog, is Quezon, at 11,946 sq.km. By the 2000 census it has a population of 1,656,000. Its capital is the city of Lucena, pop. 196,000, and there are forty towns besides. The former capital was Tayabas, built on its present site a few miles inland after Moro pirates had destroyed the previous capital on the coast. Here, too, watchtowers built to give warning of raiders from the sea still survive. Lucena City is now an international port. The land supports a large agricultural production. Coconut is the dominant crop, with bananas, maize, vegetables, poultry, and livestock contributing their parts. There is considerable industry. Natural attractions include Quezon National Park, full of caves, springs, creeks, waterfalls, gorges, ravines, lush vegetation, butterflies, birds, monkeys, and other wildlife, plus several submarine gardens, bird sanctuaries, and lots of beach. Mount Banahaw, a dormant volcano on the border with Laguna, has been the scene of several dramatic episodes in the country's history, and is the focus of a number of religious rituals, some Christian, some not. The province was named Tayabas until 1946, when it was renamed Quezon in honor of Manuel Quezon, first President of the Commonwealth of the Philippines.
John Ayer, 17 March 2001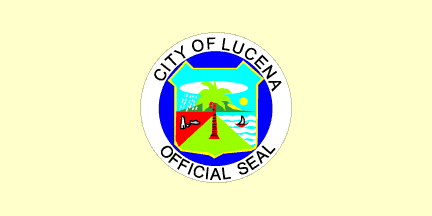 image by Dirk Schönberger, 12 January 2001
Source: Symbols of the state
Lucena is the capital of Quezon Province, pop. 196,000.
John Ayer, 17 March 2001
---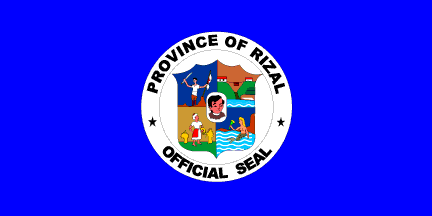 image by Jaume Ollé, 12 January 2001
The Philippine Province of Rizal is a monument to the memory of Dr. José P. Rizal y Mercado, who founded the Liga Filipina (in Hong Kong) in 1891, was active in the leadership of the Young Filipino Party, and wrote vigorously condemning the dominance of the Catholic religious orders over the country's economy and other oppressions of the Filipinos. A rebellion--not the first, as we have seen--against the Spanish authority broke out in Cavite in August 1896. It was suppressed within two months, and the Spanish, apparently thinking to scotch the snake at the head, subjected Rizal to a pro-forma trial and executed him in December. Rebellion immediately broke out again, and spread rapidly. Spanish authority never recovered. In 1901 the Province of Rizal was created. In 1975 almost half the province was taken to form the National Capital Region, and what was taken included the city of Pasig, the provincial capital. There are indications that the town of Antipolo, with about 350,000 inhabitants much the most populous town in the residual province, has been chartered as a city and made the new capital. Current and reliable information would certainly be welcome. Dr. Rizal, by the way, was of partial Chinese descent (Chinese had been trading with, and settling in, this part of the Philippines centuries before the Spanish arrived), and was a native of Laguna Province.

Rizal Province extends eastward from the Manila area east of the Pasig River to Laguna de Bay, now, with the decline of Spanish and the ascendancy of English, often called Laguna Lake. Rizal's population is some 1,689,000 by the 2000 census. Its area is 1,860 sq.km. Its chief agricultural products are rice, cacao, coffee, citrus, and cashews. Some 57,000 hectares of Laguna de Bay, including its only large island, belong to Rizal. Fish-farming yields massive amounts of fish that mostly go to feed Manila, and ducks and livestock are grown in considerable quantity for the same market. The forests yield rattan and firewood. Shoes are made in large quantities for export, and industry is spreading steadily from Manila. Products include pharmaceuticals, cosmetics, and textiles, among others. There seems to be considerable tourist trade, with plenty of scenery, caves, water, waterfalls, and fresh air.
John Ayer, 17 March 2001