This page is part of © FOTW Flags Of The World website
Presbyterian Churches
Last modified: 2023-03-11 by rob raeside
Keywords: church of scotland | burning bush | presbyterian church usa | cross | dove | flames |
Links: FOTW homepage | search | disclaimer and copyright | write us | mirrors

---
See also:
---
The article at http://www.presbyterianireland.org/about/bush2.html explains the history of the use of the Burning Bush symbol and the motto as used by the Presbyterian Church in Ireland. The Burning Bush is used so frequently within Presbyterianism (including Presbyterian Church flags - see for example the flag of the Church of Scotland) that it can be regarded as the definitive emblem of Presbyterianism worldwide.
Ron Lahav, 29 January 2009
---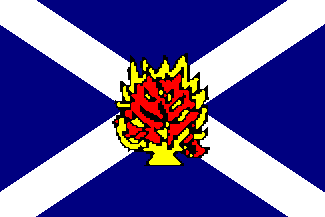 by Chris Pinette, 10 June 1998
Flag of the Church of Scotland. This flag is also used by Presbyterian churches in Canada. It is the Saint Andrew's cross with a burning bush centered, which signifies Presbyterianism.
The flame is from the traditional symbol of the Church of Scotland - the burning bush seen by Moses.
Earl Fain IV, 3 June 1998
The symbol comes from the motto of the Presbyterian Church, nec tamen consumebatur (neither was it consumed) referring the bush that burned, but was not consumed, so will be the church that will last for ever.
Rob Raeside, 2 January 1999
The Moderator of the Church of Scotland has a similar flag except that there is a green mound beneath the bush and a black arch across the top of the flag.
Graham Bartram, 18 January 2002
---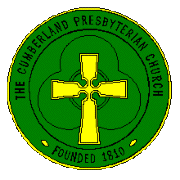 from http://www.cumberland.org/center/
The Cumberland Presbyterian Church is a small Presbyterian denomination whose churches are located primarily in the Southern mountains of the United States along the banks of the Cumberland River and whose headquarters are located in the small town of Franklin, Tennessee (site of a sharp battle during the American Civil War) and also at Bethel College in McKenzie, Tennessee, the church's principal institution of higher education. The church's URL is http://www.cumberland.org.

The historical tradition of the church is reflected in its seal, which consists of two concentric circles in green; the outer one being bordered externally in gold and internally in black. At the top of the outer circle are the words 'THE CUMBERLAND PRESBYTERIAN CHURCH' in black block lettering. At the lower right and left respectively of this outer circle are two small gold flashes, flanking the word and date 'FOUNDED 1810' similarly written. The central image consists of a shamrock outlined in black, in the center of which is a Celtic or Gaelic Cross in gold and black.

There is a note on the home page to the effect that a new logo is preparation. Frankly I don't see the need to replace the present very striking seal, unless it is as a result of a misplaced effort to appear trendy
Ron Lahav, 15 February 2005
There are actually two churches of this name, one historically white, the other historically African-American. The Cumberland Presbyterian Church (white) is headquartered in Memphis, Tennessee; its upcoming General Assembly meeting is what's in Franklin. The Cumberland Presbyterian Church in America is African-American and headquartered in Huntsville, Alabama. The two cooperate closely with one another and with the much larger Presbyterian Church USA. The Cumberland Presbyterians were a group of churches on the frontier that broke away from the main Presbyterian body in 1810 in repudiation of the Calvinist doctrine of double predestination.
Joe McMillan, 15 February 2005
---
The Free Presbyterian Church is a small but very vocal Presbyterian denomination with branches in Northern Ireland, many parts of the US, and in other parts of the world. The chief difference between the Free Presbyterians and other Presbyterian denominations is their refusal to participate in the ecumenical or charismatic movements and their refusal to cooperate with organisations such as the National Council of Churches in the US and other similar bodies elsewhere because of the supposed departure of these bodies from the true practices of Christianity. The most well-known member of this church is the Rev Dr Ian Paisley, the Northern Ireland Unionist political leader.

The emblem of the Free Presbyterians can be seen at http://www.freepres.org. It differs from the Burning Bush used by many other Presbyterian bodies in that the bush is quite large and appears to be, if not an actual tree, then certainly a shrub of some kind. The image is slate blue, with deep blue flecks representing flames and a deep blue nimbus or aura around it. The Bush stands on a plowed field, indicated by black and gray striations. At the base of the image there is a curved black ribbon edged in blue and divided into five segments, the largest of which contains the Church motto in slate blue block lettering: 'ARDENS SED VIRENS,' or 'Burning Yet Living.'
Ron Lahav, 27 February 2005
---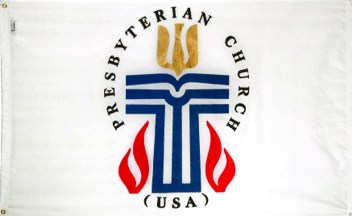 from http://www.flagguys.com/religious.html, located by Ned Smith
In the Book of Confessions of the Presbyterian Church (USA) are depicted eight confessional banners. They symbolize the contents of different Christian creeds from the Nicene Creed (325 AD) until the Confession of 1967 (p. 276 and foll.).

From the introduction to the banner section (p. 277):
"When The Book of Confessions was adopted, Richard K. Avery, pastor, and Donald S. Marsh, choir director, of the Port Jervis, New York, Presbyterian Church devised eight banners symbolic of the confessions. They also wrote a service of worship explaining the history and symbolism of the eight confessions through words and music. The banners were made by members of the Port Jervis Church. The banner designs are copyrighted by Avery and Marsh, who should be contacted for permission to duplicate the banners."

After these eight banners there is also depicted a banner called "A brief statement of Faith", symbolizing the church's beliefs. The introduction text notes about this banner:
"A Brief Statement of Faith became part of the Book of Confessions in 1991, following its approval by the 203rd General Assembly (1991). Gay M. Sorenson, member of the First Presbyterian Church, Port Charlotte, Florida, has devised a banner appropriate for use with A Brief Statement of Faith. It is included here by the permission of the copyright holder. Sorenson has chosen "He's got the whole world in His hands" as the song that best depicts A Brief Statement of Faith. The banner A Brief Statement of Faith is copyrighted by the First Presbyterian Church of Port Charlotte, Florida. You may contact the church for permission to duplicate this banner."
Martin Karner, 6 September 2004
The "Book of Confessions", mentioned above, contains in its last chapter several beautiful illustrations of the banners whose confessions are discussed in the front part of the book. Those banners are not only interesting from a theological but also from a vexillological perspective, since they do not represent political or ecclesiastical entities but theological concepts. AFAIK this is a rather unique approach for a flag design.
Martin Karner, 3 February 2023
Variant flag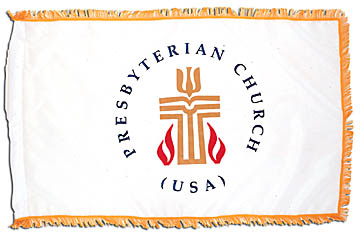 from http://www.cokesbury.com, located by Ned Smith
I'm not sure how official this flag is. The logo of the PCUSA is always, as far as I know, used by Presbyterian churches and related bodies as either blue on white or white on blue, in both cases with red flames at the base of the cross.
Joe McMillan, 15 November 2004
While the blue on white is by far the most common variant there are some exceptions- for example, see http://www.roselle.beliefnet.com for a yellow on blue version used by a PCUSA member church, and the PCUSA website itself has yellow on blue, black on white, and white on black versions along with the more common combination ...see http://www.pcusa.org/pcusa/clipart/seals/ and http://www.pcusa.org/calendar/index.jsp.
Ned Smith, 16 November 2004
I received the following reply from the PCUSA official: "To my knowledge, Cokesbury's flag has not been adopted by the PCUSA. Cokesbury has an agreement with the PCUSA for using the seal." So, while it is clearly not the official flag of the PCUSA, does the PCUSA approval of its production and sale make it a de facto flag of the church?
Ned Smith, 23 November 2004
Blue flag

image located by Dave Fowler, 3 February 2023
The University of Pikeville in Kentucky has a version with the same logo on a royal blue field.
Dave Fowler, 3 February 2023