This page is part of © FOTW Flags Of The World website
Serbia: Ministry of the Interior
Last modified: 2016-03-24 by ivan sache
Keywords: ministry of the interior | police |
Links: FOTW homepage | search | disclaimer and copyright | write us | mirrors

---
See also:
---
Police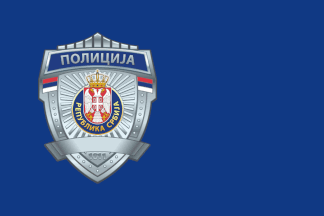 Police flag - Image by Milan Jovanović, 30 May 2007

The flag of the Serbian Police (photo) is blue with the Police insignia in the middle.

Milan Jovanović, 30 May 2007
---
Serbian Police Union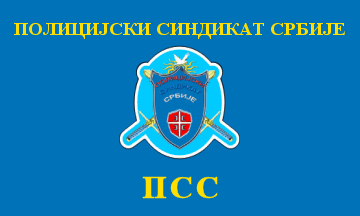 Serbian Police Union flag - Image by Eugene Ipavec, 9 January 2008
The flag of the Serbian Police Union (website) is prescribed in Article 5 of the Union Statutes (text) as follows:
The flag of Policijski Sindikat Srbije [Police Union of Serbia] flag is dark blue with the union emblem, surmounted by ПОЛИЦИЈСКИ СИНДИКАТ СРБИЈЕ, and with ПСС under the emblem, all writings in gold letters.
On the flag in actual use (photos, the blue shade appears to be much lighter than the prescribed "dark blue".
Milan Jovanović, 4 November 2007
---
Anti-Terrorist Unit
PTJ (Protiv teroristička jedinica) is a special police unit. As its name states, the 400 man-strong PTJ is oriented towards anti-terror operations as well as securing and maintaining the internal security of Serbia. Often only used in such circumstances deemed too dangerous and sensitive for other police units. Highly trained and equipped the PTJ is ideal for resolving hostage situations, fight against corruption, rescue, bomb disposal, prime security concerns (such as airport security) and many other situations where their skills are applicable.
The flag (>A HREF="http://s21.photobucket.com/user/milanwviz/media/policija/PTJ_Zastava12.jpg.html; image) of the Anti-Terrorist Unit (PTJ) is red with the PTJ emblem in the middle. Proportions of the flag seem to be 2:3.
Milan Jovanović, 17 February 2009
---
Special Anti-Terrorist Unit
The flag (photo) of the Special Anti-Terrorist Unit (SAJ) is the Serbian tricolor flag charged with the insignia of the SAJ.

Milan Jovanović, 30 May 2007
---
Zandarmerija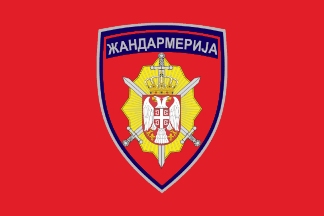 Zendarmerija flag - Image by Milan Jovanović, 8 June 2007

Originally founded in 1860 and disbanded after the Second World War, the Serbian Gendarmerie was refounded on 28 June 2001, under Minister of the Interior Dušan Mihajlović. The Special Operations Unit (JSO) and Special Police Unit (PJP) were attached to the Gendarmerie. At this moment, this is the only unit completely equipped by NATO standards.
The Gendarmerie consists of of four units, each one itself consisting of 500 gendarmes. The principal bases are located in Belgrade, Novi Sad, Niš and Kraljevo.

The Gendarmerie's duties are both civil and military. Its main assignments of the Gendarmerie are:
- to restore peace and stability if they have been heavily disturbed
- to fight terrorist and other violent groups
- to repress riots in prisons
Its civil duties are:
- to provide security and public peace
- to investigate and prevent organized crime, terrorism and other violent groups
- to protect state and private property
- to help and assist civilians and other emergency forces in a case of emergency, natural disaster,civil unrest and armed conflicts.
Its military duties are:
- to provide, preserve and protect security and public peace, public order
- to protect state and private property
- to assist other security forces in case of emergency, civil unrest, war
- to repress riots
- to reinforce martial law and mobilization
- to fight and apprehend suspect criminals, terrorists and other violent groups
Other duties are prescribed in the decrees of law and regulations other than civil, military and other duties and duties given by the governmental decrees based on them.

The flag of the Zandarmerija, as drawn after photographies of the real flag, is red with the Zandarmerija insignia, surmounted by Zandarmerija written in Cyrillic silver letters (ЖАНДАРМЕРИЈА).

Milan Jovanović, 4 September 2007