This page is part of © FOTW Flags Of The World website
NSK (Micronation, Slovenia)
Neue Slowenische Kunst
Last modified: 2014-12-20 by ivan sache
Keywords: nsk |
Links: FOTW homepage | search | disclaimer and copyright | write us | mirrors

---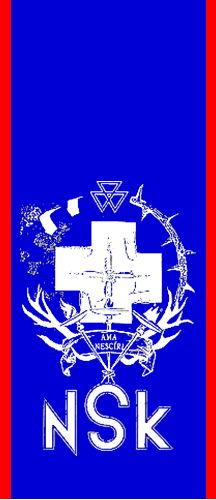 Flag of NSK - Image by Olivier Touzeau, 6 April 2012
---
See also:
---
Presentation of NSK
Neue Slowenische Kunst (NSK, meaning "New Slovenian Art" in german) is a Slovenian art collective. NSK's best-known member is the musical group Laibach. Other NSK member groups include IRWIN (visual art), Scipion Nasice Sisters Theatre (also known as Red Pilot and Cosmokinetic Theatre Noordung), New Collective Studio (graphics; also known as New Collectivism), Retrovision (film and video), and the Department of Pure and Applied Philosophy.
The NSK State (website), created in 1992, is an utopian micronation and an artistic project of the NSK art collective.
Neue Slowenische Kunst was founded in Ljubljana in 1984 as Socialist Yugoslavia began to fracture. By the end of that decade the NSK groups had gained a reputation across Western Europe, America and Japan. NSK works and actions have commented on many of the political events of the last two decades and NSK is now widely acknowledged to have played a key role in the political and cultural history of Slovenia and former Yugoslavia, even being credited with playing a role in the pluralisation of society and culture in 1980s Slovenia.

The NSK State was created in 1992 [...] in the aftermath of Slovene independence. It has carried out a series of temporary "Embassy" and "Consulate" events in locations including Moscow, Ghent, Berlin and Sarajevo plus other collective actions. The State is conceived as a utopian formation which has no physical territory and is not identified with any existing national state. It is inherently transnational and describes itself as "the first global state of the universe". It issues passports to anyone who is prepared to identify with its founding principles and citizenship is open to all regardless of national, sexual, religious or other status. It now has several thousand citizens across numerous countries and all continents, including a large number in Nigeria. The NSK State itself is a collective cultural work, formed by both the iconography and statements of its founders and its citizens' responses to these and to the existence of the state. It is also part of the wider "Micronations" movement which has grown increasingly visible and received growing critical and theoretical attention in recent years.

The NSK micronation is an art project, and so are the passports issued by the NSK State: but many people have taken for granted scams from Nigeria and Egypt selling NSK passports as if they were valid.
The first NSK citizens congress was held in Berlin 2010, and several "NSK Rendez-Vous" took place in Lyon, France, and in London in 2011, and in February 2012 in New York's Museum of Modern Art.
According to NSK member Alexei Monroe, NSK's aim is to make people "aware that totalitarianism isn't a discrete historical phenomenon which went on from 1933 to 1989 and then it's over: so let's have a nice triumph of liberal democracy".
Olivier Touzeau, 6 April 2010
---
Flag of NSK
The banner of NSK State (photo, NSK passport office in Athens, Greece, 2009 - photo no longer available) is blue with a narrow red stripe on the left and right sides, and with the emblem of NSK State at the center in the lower part. The emblem includes the cross used by Laibach band, and the latin motto "Ama Nesciri".
Olivier Touzeau, 6 April 2010
---
Laibach

Flag of Laibach - Image by Olivier Touzeau, 4 April 2012
Laibach (official website) is a Slovenian avant-garde music group associated with industrial, martial, and neo-classical musical styles. Formed on 1 June 1980 in Trbovlje, Laibach represents the music wing of the Neue Slowenische Kunst (NSK) art collective, of which it was a founding member in 1984. Laibach is the German name for Slovenia's capital city, Ljubljana.
Laibach is known for their cover versions, which are often used to subvert the original message or intention of the song.
Laibach uses a black vertical banner during its concerts (photo), with its emblem in white/silver in the center, and narrow white/silver stripes on the left and right sides.
Ivan Novak, member of Laibach, explains the emblem as follows (text):
"The authorship of the Laibach logo is a complex one. First of all, it's taken and synthesized from history; from its various uses and contents. Therefore, the author is collective history / memory. Second - Laibach is a collective by definition and we practice collectiveauthorship. We picked it up and created it in 1980 - we found the image, which initiated our choice of the logo, on the street in Ljubljana: the iron lid of the canals system dated from the first half of the 20th century: the cross, cog-wheel and the name Laibach, (which was the) German historical name for Ljubljana. It was all there".
On its resemblance to the Malevich Cross. "Malevich is only a small part in the cross. The history of cross is of course much bigger and longer and universally more applicable than the one from Malevich". So it's not simply a detourned Malevich cross? "Of course not. Why should it be? The cross was "imposed" on us as the universal cultural, political, and social symbol, carrying "the big mystery" - a big empty "nothing" which could be filled up by practically anything. References to Malevich go only as much as we believe that the cross - even as a purely abstract, suprematist symbol - can never really be without energy, without the "content" and the meaning in whatever ideological context it appears."
Olivier Touzeau, 4 April 2012