This page is part of © FOTW Flags Of The World website
Sivrihisar (District Municipality, Turkey)
Last modified: 2017-11-04 by ivan sache
Keywords: sivrihisar |
Links: FOTW homepage | search | disclaimer and copyright | write us | mirrors

---
Flag of Sivrihisar, three versions - Images by Tomislav Šipek (left and center), 18 May 2015, and Jens Pattke (right), 20 October 2012, respectively
---
See also:
---
Flag of Sivrihisar
The flag of Sivrihisar (photo) is white with the municipality's emblem, in white on blue. "Belediyesi" means "Municipality".
The former flag of Sivrihisar was blue with the municipality's former emblem, either blue on white (photoö or white on blue (photo).
The emblem pictures the town's namesake, Hodja Nasreddin. A Seljuk satirical Sufi figure, very popular in the Islamic world, the Hodja lived in the 13th century and is considered as a folk philosopher and a wise man, remembered for his funny stories and anecdotes.
The Hodja wanted to ride his donkey one day. Standing on the mounting block to the left of the animal, he put his right foot in the stirrup, and in one fluid movement mounted his ride, backwards. The bystanders laughed, and asked him: "Hodja, why are you sitting back to front?" Yet the Hodja answered: I'm sitting as I should, but this unfortunate donkey is facing the wrong way".
Though Hodja Nasreddin lived in Akşehir for many years, for all men a day is ordained on which they must die. When that day had come and gone, the Hodja's body was buried in the town's graveyard. He had become quite popular in town over the years, and the people of Akşehir brought together the money for a fitting tomb for the Hodja.
It was not long after the tomb was erected that on a Friday the guard of the graveyard saw the ghost of the Hodja appear before him. "Quick, go to the mosque," said the Hodja's ghost to him: "tell everyone there, to come to my grave. They'll see me ride the tomb like I once rode my donkey. Let them all come."
The guard ran to the mosque as fast as he could and delivered his message. Well, there is many an opportunity for prayer, yet rare are the occasions where a ghost announces his presence beforehand. Everyone in the mosque accompanied the guard back to the graveyard. And there they stood, and waited. And waited. And waited. But the ghost of the Hodja didn't make an appearance. It began to dawn on those present that once more, the Hodja had played a trick on them.
But just when they were about to protest this, behind them in the city, the roof of the mosque collapsed. When the ground had stopped its trembling, one of them hesitantly began: "If the Hodja ...". He didn't have to finish that sentence. Nasreddin Hodja has been revered in Aksehir ever since.
[Z. Bayraktar. 2012. Bosna Hersek Sözlü Kültüründe Nasreddin Hoca Tipi Üzerine. Journal of Academic Social Science Studies 3, 33-42]
Peter Hans van den Muijzenberg & Tomislav Šipek, 18 May 2015
---
Former municipalities
Nasreddin Hoca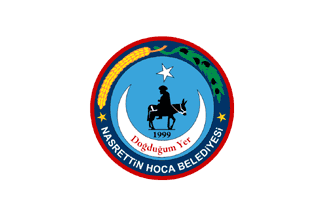 Flag of Nasreddin Hoca - Image by Jens Pattke, 13 July 2013
The flag of Nasreddin Hoca (photo) is white with the municipality's emblem. "Belediyesi" means "Municipality".
The emblem pictures the town's namesake, Hodja Nasreddin. A Seljuk satirical Sufi figure, very popular in the Islamic world, the Hodja lived in the 13th century and is considered as a folk philosopher and a wise man, remembered for his funny stories and anecdotes.
The Hodja wanted to ride his donkey one day. Standing on the mounting block to the left of the animal, he put his right foot in the stirrup, and in one fluid movement mounted his ride, backwards. The bystanders laughed, and asked him: "Hodja, why are you sitting back to front?" Yet the Hodja answered: I'm sitting as I should, but this unfortunate donkey is facing the wrong way".
Though Hodja Nasreddin lived in Akşehir for many years, for all men a day is ordained on which they must die. When that day had come and gone, the Hodja's body was buried in the town's graveyard. He had become quite popular in town over the years, and the people of Akşehir brought together the money for a fitting tomb for the Hodja.
It was not long after the tomb was erected that on a Friday the guard of the graveyard saw the ghost of the Hodja appear before him. "Quick, go to the mosque," said the Hodja's ghost to him: "tell everyone there, to come to my grave. They'll see me ride the tomb like I once rode my donkey. Let them all come."
The guard ran to the mosque as fast as he could and delivered his message. Well, there is many an opportunity for prayer, yet rare are the occasions where a ghost announces his presence beforehand. Everyone in the mosque accompanied the guard back to the graveyard. And there they stood, and waited. And waited. And waited. But the ghost of the Hodja didn't make an appearance. It began to dawn on those present that once more, the Hodja had played a trick on them.
But just when they were about to protest this, behind them in the city, the roof of the mosque collapsed. When the ground had stopped its trembling, one of them hesitantly began: "If the Hodja ...". He didn't have to finish that sentence. Nasreddin Hodja has been revered in Aksehir ever since.
[Z. Bayraktar. 2012. Bosna Hersek Sözlü Kültüründe Nasreddin Hoca Tipi Üzerine. Journal of Academic Social Science Studies 3, 33-42]
Peter Hans van den Muijzenberg & Tomislav Šipek, 5 July 2013