This page is part of © FOTW Flags Of The World website
Vanguard America (U.S.)
Last modified: 2022-06-04 by rick wyatt
Keywords: vanguard america | neo-nazi | united states | kekistan |
Links: FOTW homepage | search | disclaimer and copyright | write us | mirrors

---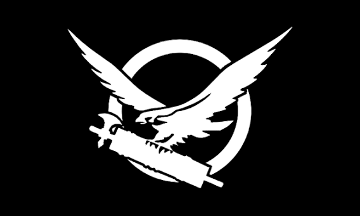 image by Tomislav Todorović, 26 August 2018
---
---
See also:
---
Introduction
Seen used at Charlottesville were two flags favored by Vanguard America. Vanguard America (VA) is a white supremacist group that believes that America should be an exclusively white nation. Using a right-wing nationalist slogan "Blood and Soil", VA romanticizes the notion that people with "white blood" have a special bond with "American soil."
One flag popular with the VA is the "National Flag of Kekistan" which mimics a German Nazi war flag, with the Kek logo replacing the swastika and the green replacing the German red. A 4chan logo is emblazoned in the upper left-hand corner. Alt-righters are particularly fond of the way this flag bothers those who recognize its origins.
Kekistan is a fictional country invented by users on 4chan's pol board as the tongue-in-cheek ethnic origin of "shitposters" or "Kekistanis" who worship the ancient Egyptian deity Kek. In January of 2017 the fictitious Kekistan flag began widely circulating on Twitter.
Pete Loeser, 29 August 2017
This flag is widely used among white supremacists in the USA, not only members of Vanguard America, but also of other organizations and probably those which are not affiliated to any particular group. The flag should therefore be treated separately from any organization, perhaps even any country.
Tomislav Todorovic, 30 August 2017
Vanguard America (VA) was founded in California in 2015. In April 2017, they claimed to have approximately 200 members in 20 states. However, after the Charlottesville rally, the decline begun due to struggles for leadership, but also because the fact that the Charlottesville murderer was their member, although they tried to deny it, brought enough negative attention to make many members willing to distance from the VA. Most members defected to Patriot Front, a splinter group founded in August 2017, but also to other organizations. While there still were some activities in early 2018, the VA has become nearly defunct by the middle of year.

The flag of the Vanguard America is black, with an eagle grasping a fasces, superimposed over a ring, all in white. The ratio is about 3:5.
Tomislav Todorović, 26 August 2018
---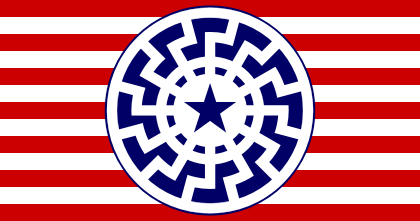 image by Tomislav Todorovic, 26 August 2018
The neo-Nazi man accused of killing a woman at the white supremacist rally in Charlottesville when he ran his car through a crowd of counter-protesters was a member a sub-branch of Vanguard America named Vanguard America-Texas. VA-T pasted hate fliers on signs, doors and gates at two Houston-area synagogues in July of 2017 and distributed flyers with similar messages at universities in Houston and other parts of Texas in January.
The Vanguard America-Texas flag incorporates the Schwarze Sonne (Black Sun) with star of Texas in middle. The Black Sun is used by a large number of far-right groups who believe in neo-Nazi and/or neo-Volkisch ideologies.
Sources: Historical Flags of Our Ancestors (http://www.loeser.us/flags/hate3.html)
Pete Loeser, 29 August 2017
They also use a flag derived from the Stars & Stripes, with a Black Sun replacing the stars in the canton, as is visible throughout this video: https://www.youtube.com/watch?time_continue=7&v=vwPxCh2QNZw
There, the Black Sun is lacking the white disc with blue star which is placed in its center on the other flag.
Tomislav Todorovic, 30 August 2017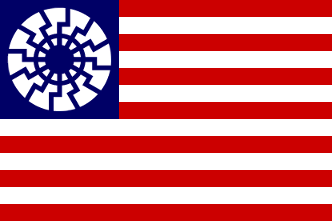 image by Tomislav Todorovic, 26 August 2018
Another flag of Vanguard America-Texas derived from the Stars & Stripes, with a "reverse Black Sun" replacing the stars in the canton. The "reverse Black Sun" is formed by merging the Black Sun symbol with the canton - both are in same color, only the areas enclosed by the symbol are white. The canton is square and the flag ratio is about 2:3.
Sources:
[1] Anti-Defamation League website - report on Vanguard America: https://www.adl.org/resources/backgrounders/vanguard-america
[2] Southern Poverty Law Center website - Flags and Other Symbols Used By Far-Right Groups in Charlottesville: https://www.splcenter.org/hatewatch/2017/08/12/flags-and-other-symbols-used-far-right-groups-charlottesville
[3] Alamy photo archive - Photo of Vanguard America members in Harrisburg, Pennsylvania on 2017-06-10: https://www.alamy.com/stock-photo-harrisburg-pennsylvania-members-of-vanguard-america-many-of-them-wearing-145721803.html
[4] Photos of the flag of Vanguard America-Texas at Twitter: https://twitter.com/sparrowmedia/status/921059007183376389
[5] Pennsylvania Real-Time News website - Flags of the alt-right, white supremacists: https://www.pennlive.com/news/2017/08/post_143.html
[6] LGBTQ Nation website: https://www.lgbtqnation.com/2017/06/white-supremacists-scramble-fight-whos-racist/
[7] YouTube - Video of a Vanguard America rally (place and time not specified): https://www.youtube.com/watch?time_continue=53&v=VJt0NbmV0Dg

Tomislav Todorovic, 26 August 2018