This page is part of © FOTW Flags Of The World website
Florida Beach Warning Flags (U.S.)
Last modified: 2016-12-23 by rick wyatt
Keywords: clean boatyard | marina | boatyard | pelican | waves | beach | warning |
Links: FOTW homepage | search | disclaimer and copyright | write us | mirrors

---
---
See also:
---
Description of the flags
On 8 June 2005 the governor of Florida amended a 2002 state law to mandate adherence to the state's beach warning flag program on all public beaches where a warning program is utilized. According to the Department of Environmental Protection press release at www.dep.state.fl.us/secretary/news/2005/06/0608_04.htm
"Three years ago, at the request of the Florida Legislature, DEP began developing uniform safety flags and notification signs for life-guarded beaches along Florida's coast. HB 1395 expands the existing program to more beaches, allowing use of the warning flag system on non-life-guarded beaches. In addition, the amended law eliminates confusion for beachgoers, standardizing beach flags state-wide by requiring consistency with those issued by DEP.

The uniform flags and signs, which use the colors adopted by the International Lifesaving Federation, are available to beach communities free of charge through DEP's Coastal Management Program. Flag warnings and colors are:

Green: Low hazard, calm conditions, exercise caution.
Yellow: Medium hazard, moderate surf and/or currents.
Red: High hazard, high surf and/or strong currents.
Red over Red [i.e., two red flags]: Water closed to the public.
Purple: Dangerous marine life."
The lower red flag in the "red-over-red" illustration shows a no swimming logo in white.

The flags provided by the DEP are 29.25 inches by 39 inches (about 75 x 100 cm).

Joe McMillan, 23 June 2005

As reported above, according to bill CS/SB 2426, on Beach Safety/Warning Flags of April 2005, www.flsenate.gov/data/session/2005/Senate/bills/analysis/pdf/2005s2426.ep.pdf the State Senate of Florida adopted uniform beach flag design and symbolism based on the recommendations of International Lifesaving Federation. Its Part II further mentions, under Present Situation, that Warning flags may be posted by many coastal communities, but the flags used to identify different tide and surf conditions may vary from beach to beach and acknowledges the inherent risk of confusion.

In 2002, by document s. 380.276, F.S., the Department of Environmental Protection was tasked to coordinate the uniform warning and safety flag program. Local governments with life-guarded public beaches are strongly encouraged to participate in the uniform warning flag program by adopting the same standard colors used by the Department and the International Lifesaving Federation. The description of the flags' design and meanings mirrors that of the I.S.L.:

Each flag measures 29.25"H. x 39"W. The signs are 30" x 36".
The flag colors are:
Double Red Water Closed to Public
Red High Hazard (high surf and/or strong currents)
Yellow Medium Hazard (moderate surf and/or currents)
Green Low Hazard (calm conditions, exercise caution)
Purple Dangerous Marine Life

The mandatory explanation signs can be found on location:
www.flickr.com/photos/ontheroad_usa/227497980/ (Flagler Beach)
www.flickr.com/photos/bitter_neko/170414715/ (St. Augustine)
www.flickr.com/photos/jwinterscom/350017840/ (St. Augustine)
In spite what is shown in the explanation signs (both on location and on line), the white pictogram of the bottom red flag when two reds are up shows not a swimmer in a slashed ring but a swimmer in a slashed square box, trusting this photo taken on June 2006: www.flickr.com/photos/bitter_neko/170414714/. The legal requirements for uniform flag size notwithstanding, I found evidence of use of a smaller purple flag Pensacola Beach, used along with green and red flags:
www.flickr.com/photos/travelingfoolsofamerica/820849706/ (+red)
www.flickr.com/photos/travelingfoolsofamerica/819579128/ (+red)
www.flickr.com/photos/glassesface/477455889/ (+red)
www.flickr.com/photos/travelingfoolsofamerica/820849660/ (+green)

However, signal flags with different designs and symbolism can also be found in Florida:
At www.flickr.com/photos/8619952@N03/1163617893/, a plain light blue(?) flag hoisted by the lifeguard cabin.
At www.flickr.com/photos/8619952@N03/1164467898/, a yellow flag with black disc on pole stuck on the sand by a choppy sea in sunless weather.

Another image uses similar flags, but location is unknown:
At www.flickr.com/photos/studio1-one/489339314/, large flags on crossed poles joint by announcement broad with both flag designs and reading "swim" for the yellow flag with black disc
and "surf" for the black and white chequered flag (34 on board; ~75 on flag).

António Martins-Tuválkin, 2 November 2007

The yellow flag with black disk means "No Surfing". According to www.wrightsvillebeachmagazine.com/article.asp?aid=202&iid=37&sud=27 an online version of a beach magazine from somewhere in the Carolinas the checkered flag marks a transition point, in this case from Surfing to No Surfing. Scroll down to the article Peaceful Waters: "Surf zones on Wrightsville Beach have finally come to a peaceful resolution with both surfers and swimmers. The new regulations create no-surfing zones within 200 yards of each of the 13 lifeguard stands on the beach strand, with swimming allowed on all areas of the beach. ... Buoys and a flag system used by the International Lifesaving Association will mark the zones. Checkered flags indicate a change in the use of the area and will be placed at the end of no-surfing zones. Yellow flags with a black ball will mean a no-surfing zone. "
Ned Smith, 2 November 2007
---
Green flag

image by António Martins-Tuválkin, 23 June 2005
The green flag indicates "Low hazard, calm conditions, exercise caution."
António Martins-Tuválkin, 23 June 2005
---
Yellow flag

image by António Martins-Tuválkin, 23 June 2005
The yellow flag indicates "Medium hazard, moderate surf and/or currents."
António Martins-Tuválkin, 23 June 2005
---
Red flag

image by António Martins-Tuválkin, 23 June 2005
The red flag indicates "High hazard, high surf and/or strong currents."
Red over Red [i.e., two red flags]: Water closed to the public.
António Martins-Tuválkin, 23 June 2005
---
Purple flag

image by António Martins-Tuválkin, 23 June 2005
The purple flag indicates "Dangerous marine life." This color is illustrated in the mentioned pdf form as a 2x2 pattern of RGB:57-56-148 and RGB:57-60-156 in 3:1 color ratio; this is very close to BS RGB:51-51-153, which is not purple by my book, rather dark blue.
António Martins-Tuválkin, 23 June 2005
---
No swimming flag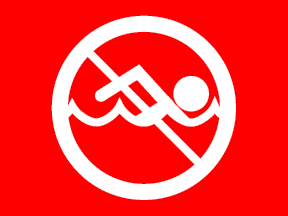 image by António Martins-Tuválkin, 23 June 2005
No swimming flag
António Martins-Tuválkin, 23 June 2005