This page is part of © FOTW Flags Of The World website
Wayland, Massachusetts (U.S.)
Middlesex County
Last modified: 2016-03-31 by rick wyatt
Keywords: wayland | massachusetts | middlesex county |
Links: FOTW homepage | search | disclaimer and copyright | write us | mirrors

---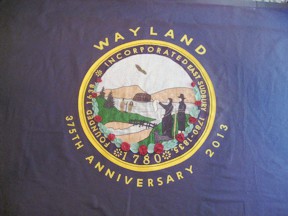 image located by Dave Fowler, 26 August 2014
from waylandenews.com/2014/06/05/june-14-town-parade-features-waylands-new-flag/
---
---
See also:
---
Description of the flag
Detailed information about the new flag of Wayland, Massachusetts can be found at waylandenews.com/2014/06/05/june-14-town-parade-features-waylands-new-flag/:
[For the] 375th anniversary year (June 2013-2014) in which our town has been celebrating history, community, achievement, and, shortly, [it] will celebrate a new flag. The June 14 parade that salutes the conclusion of our 375th year will introduce a navy-blue, 3-by-5 foot flag with a colorful 21.5" diameter seal in its center. The flag will spearhead a 3-mile procession that sets out from Cochituate Ball Field at 9:30 a.m. and concludes at the Town Building (www.waylandparade.org).

This year, our parade coincides with Flag Day - an observance that began when the U.S. Second Continental Congress adopted the Stars and Stripes on June 14, 1777 and culminated with President Truman signing an Act of Congress designating the 14th day of June annually as National Flag Day. Perhaps the coincidence of Flag Day with the new Town flag's introduction is auspicious!!

When the 375th celebration planning effort was gaining momentum, interest arose in a having a new flag. "This seemed appropriate," said Mary Antes, Chair of the 375th Anniversary Committee. "We thought that the new flag could highlight the anniversary milestone, and perhaps could include some new wording. We wanted the flag to reflect our town's heritage - as portrayed in the Town Seal. We also wanted the flag to consist of visually-pleasing elements that would endure for quite some time in its 'post-375th new residence' - i.e. the Hall of Flags."

"A new flag would be a fitting symbol of the 375th year from a historical perspective, Antes continued, "yet we also wanted it to be designed and constructed by someone with appropriate expertise and practice." After due diligence, a team was selected: Wayland residents Betsy Athan and Penelope Beer, who bring decades of personal and professional experience to this endeavor.

A framed copy of the town seal [is to be found] on the wall of a Town Building meeting room or as a cover for a town Annual Report. Around the inner border encircling the pastoral scene, one reads "Founded 1638" [i.e. the Wayland settlement of the Sudbury Plantation].. "East Sudbury 1780" [ i.e. the year that our town separated from the Sudbury Plantation and became independently incorporated] ... "Wayland 1835" [i.e. the year our town took the name that it bears today].

Athan and Beer carefully researched the imagery of Wayland's town seal, taking note of its pastoral scene in which two Puritans appear to be waving (or offering peace) to a pair of Native Americans across the river. "We have not created a new Wayland seal," they emphasize, "but have adapted the design of the seal to the flag. In selecting fabrics for the seal, we aimed for visual appeal, vibrant color, and historical accuracy. In a few cases, we made slight modification, for example: the Puritans - as well as the Native Americans - are now a male and a female; we changed the tee-pee to a long house because it seemed more historically accurate; we added a bald eagle in flight; and we showed that the Native Americans wore wampum."

The new flag's dark blue color provides a striking background for the bright colors and yellow-gold lettering around the seal. On the new flag, "Wayland" now appears in an area above (rather than inside) the seal, while "375th Anniversary 2013" appears below the seal. After the parade, Wayland's new flag will be displayed for a brief time in the Town Building, and then installed in the Hall of Flags, replacing the current Wayland flag.
Dave Fowler, 26 August 2014
---
Former flag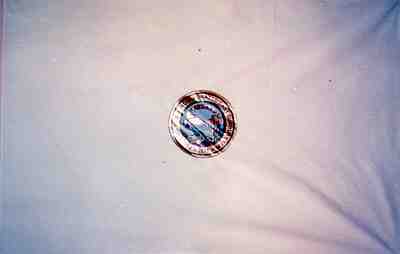 image from www.state.ma.us/bsb/images/Wayland.jpg
A plain white flag with a small town seal in the center. Wayland is in Middlesex County.

Homepage: www.wayland.ma.us
"Wayland is a peaceful community located in MetroWest situated at the halfway point between Boston and Worcester. While Wayland is located in an area that provides easily accessible shopping, sightseeing, dining and entertainment, Wayland itself remains a quiet bedroom community in a semi-rural setting with little industrial or commercial base.

Wayland is the home to many urban professionals due in part to its peaceful setting and its close proximity to the City of Boston. In addition to that, Wayland is an ideal community to raise a family as Wayland's School System is known as one of the finest school systems in the state. Also, the Town has taken many steps to preserve forests, marshes and fields that surround the Sudbury River and provides its residents an opportunity to enjoy these areas for passive recreation."
Dov Gutterman, 5 December 2002
---
Police Department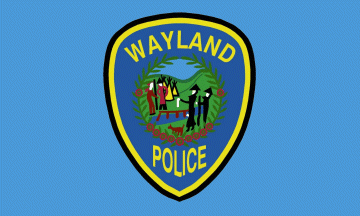 image by Randy Young, 31 August 2014
Wayland is a suburb of Boston. While checking out the information about the town's new flag, I found several photographs of the Wayland Police Department's honor guard carrying the department flag (www.wayland.ma.us/Pages/WaylandMA_BComm/Ceremonies/017177F9-000F8513.0/100_44547.jpg and
www.facebook.com/Wayland.MA.Police/photos/pb.362673499103.-2207520000.1409042970./411743569103/?type=3&theater). Based on those photographs, the flag of the Wayland Police Department features the department's shoulder patch centered on a light blue field.
Randy Young, 31 August 2014