This page is part of © FOTW Flags Of The World website
Kansas City Royals (U.S.)
Major League Baseball, MLB, American League Central, AL-Central
Last modified: 2019-05-18 by rick wyatt
Keywords: united states | baseball | mlb | nlc | royals | kansas city royals |
Links: FOTW homepage | search | disclaimer and copyright | write us | mirrors

---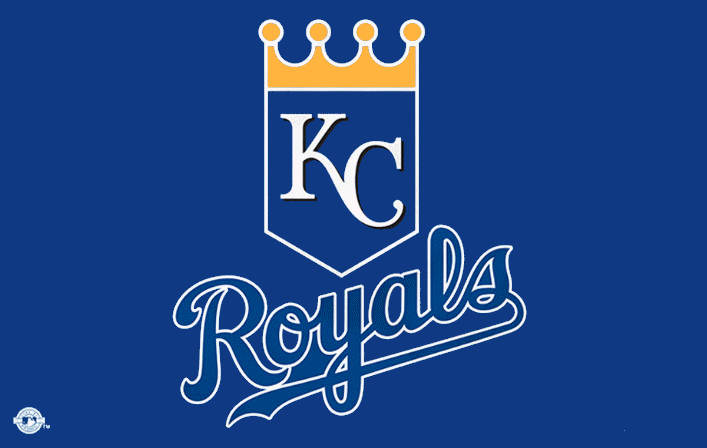 Logo Flag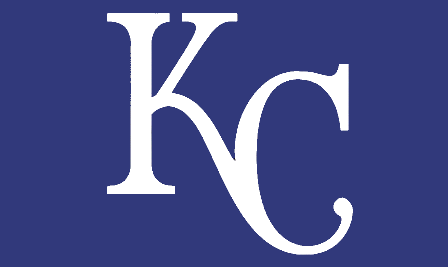 Cap Emblem Flag
images from Pete Loeser, 26 March 2019
---
See also:
---
Introduction: Kansas City Royals
Kansas City Royals (1969-present)
The Kansas City Royals compete in Major League Baseball (MLB) as a member club of the National League (NL) Central division. They are headquartered in Kansas City, Missouri. The team was founded in 1969 after the Athletics (Kansas City's previous major league team (1955-1967) moved to Oakland, California in 1968. Two former Negro league baseball teams named "The Royals" played in both in Kansas City and Los Angeles between 1910 and the 1940s. Also since 1899 a livestock show - horse show, rodeo, and championship barbecue competition - called the American Royal has been held annually in Kansas City and hence the chose of the teams name. The team's first home stadium was Municipal Stadium (1969-1972) and now Kauffman Stadium (1973-present).
In their first game the Royals defeated the Minnesota Twins 4-3 in an overtime game of 12 innings. Since 1969 the Royals have participated in four World Series, winning in 1985 and 2015, and losing in 1980 and 2014. They also have four American League Pennants (1980, 1985, 2014 and 2015), one Central Division title (2015) and six West Division titles (1976, 1977, 1978, 1980, 1984 and 1985) as of this date.
It should be noted that in the early years baseball teams used pennants rather than flags (hence the practice of calling championships winning the pennant) and there were a host of unofficial manufacturer's variants of these and later fan flags marketed for the teams and their fans. They included flags, banners, and pennants too numerous to all be shown here.
Pete Loeser, 24 February 2019
---
Commemorative flags
World Series Championship Flags 1985 and 2015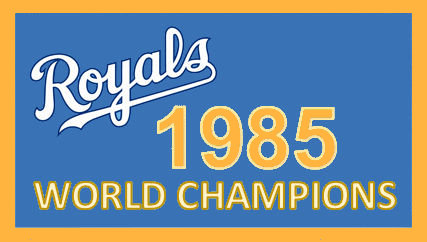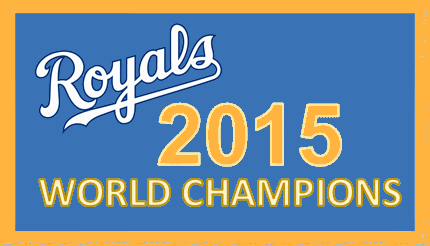 images from Pete Loeser, 24 February 2017
In Major League Baseball, a team that wins their respective league championship prior to reaching the World Series is said to have "won the pennant." This refers to the original reward for said team, which was the authorization to fly at their home field a pennant denoting the team as the champions. This tradition continues today, with teams that have "won the pennant" flying at their home stadiums pennants representing their historical championships.
Randy Young, 23 February 2019

In the 1985 World Series, or the "I-70 Series" since the two Missouri teams are both connected by Interstate Highway 70, against the St. Louis Cardinals, the Royals fell behind 0-3, then won the last 4 games to win the championship. In 2015 the "Blue Crew" defeated the New York Mets 4 games to 1. These two powder blue flags are flown at the Royals home stadium honoring their two World Series victories. The gold borders shown here are a fringes.
Pete Loeser, 24 February 2019
---
Royals World Series Flag 2015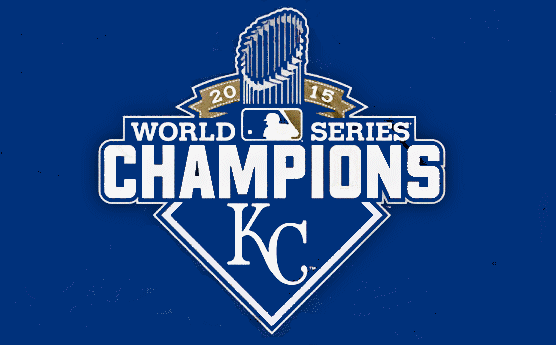 image from Pete Loeser, 24 February 2017
The "Boy's in Blue" won the Central Division title in 2015 and went on to defeat the New York Mets for their second World Series title in 30 years.
Pete Loeser, 24 February 2019
---
Fan flags
Kansas City Powder Blue Flag
Manufacturer's variant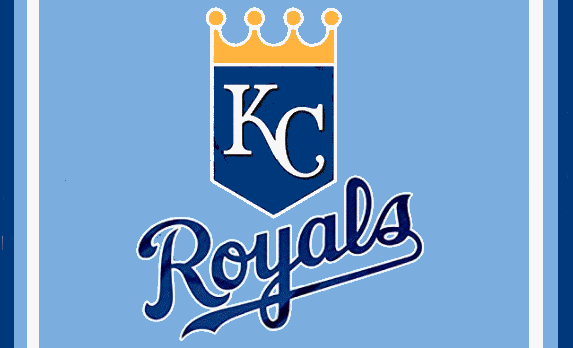 image from Pete Loeser, 24 February 2017
This Kansas City Royals fan flag features the "Royals" logo on a "powder blue" field. The official team colors are royal blue, gold, powder blue, and white. The Royals use powder blue uniforms at their home games.
Pete Loeser, 24 February 2017
---
The Royals "Stars and Stripes" Flag
Manufacturer Variants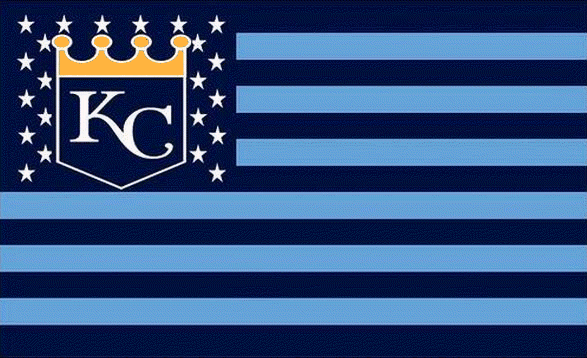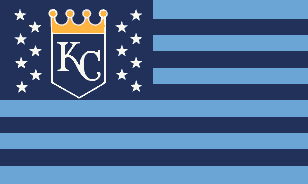 images from Pete Loeser, 24 February 2017
These popular variants of the American national flag have been produced for all the MLB teams and displayed by their enthusiastic fans. There are several Royals manufacturer's variants of this design available. These two use both royal blue and powder blue.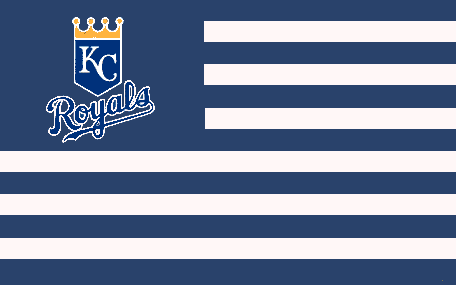 image from Pete Loeser, 24 February 2017
This third Manufacturer's variant uses royal blue and white, but not the powder blue.
Pete Loeser, 24 February 2017
---
Kansas City Royals Logo Flags
Manufacturer Variants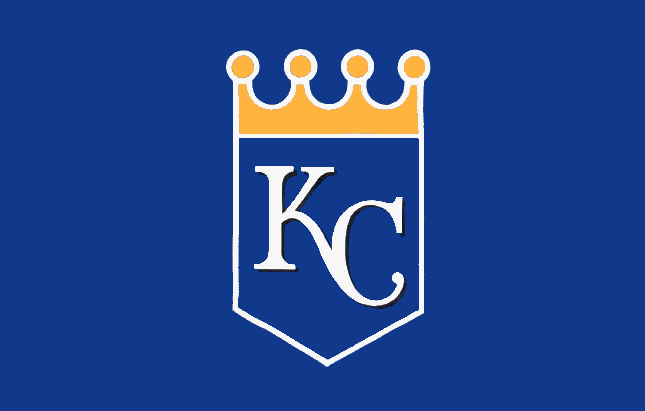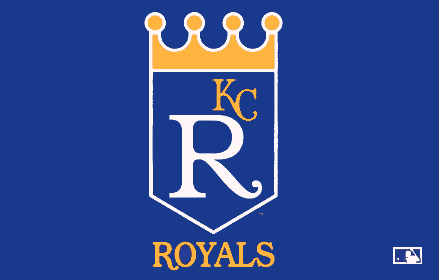 images from Pete Loeser, 24 February 2017
These Kansas City Royals fan flags each display variants of the "Royals" logo. This logo also appears on fan memorabilia like T-shirts, mugs, etc.
Pete Loeser, 24 February 2017
---
Royals Badge and Jersey Flags
Manufacturer Variants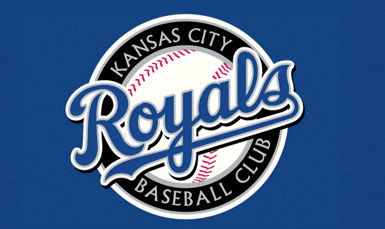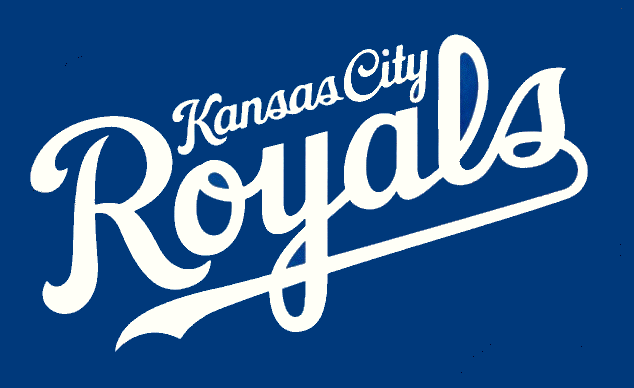 images from Pete Loeser, 24 February 2017
Shoulder badges and Jersey text are also popular on flag designs as these two demonstrate.
Pete Loeser, 24 February 2019
---
Kansas City Royals Acknowledgement Flag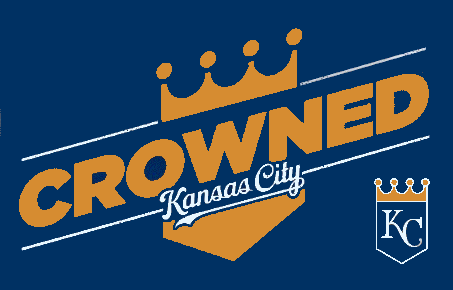 image from Pete Loeser, 24 February 2017
This flag acknowledges the Royals Central Division title in 2015 and their six West Division titles after that in an interesting play on words.
Pete Loeser, 24 February 2019
---
Kansas City Royals, Kansas City, and Kansas City Chiefs Flag
Manufacturer's Variant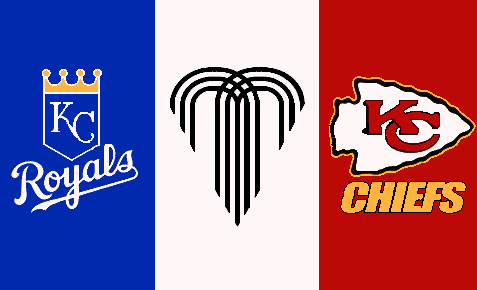 image from Pete Loeser, 24 February 2017
This horizontal blue-white-red triband places the two Kansas City professional sport team's logos on either side of the Kansas City municipal logo on the same flag. Here we see the Kansas City Royals logo (baseball), the "City of Fountains" logo (Kansas City), and the Kansas City Chiefs (football) logo each centered on a colored stripe.
Pete Loeser, 24 February 2019
---
Dark Vader Royals Flag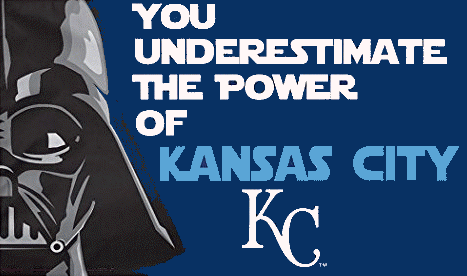 image from Pete Loeser, 24 February 2017
An increasingly popular manufacturer's variant of the Giant's Flag places a large team logo on a black field rather than orange.
Pete Loeser, 24 February 2019
---
Kansas City Royals Yacht Flags and Pennants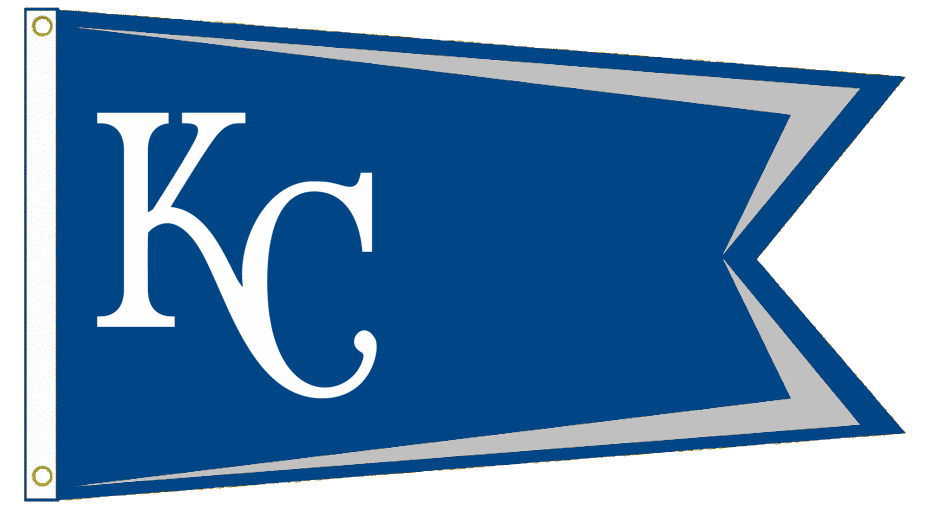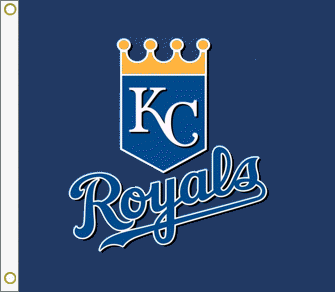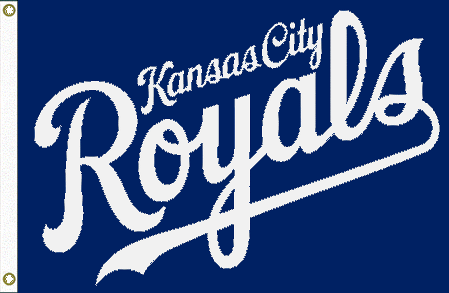 images from Pete Loeser, 17 May 2019
For those baseball fans who own boats and want to display their team loyalty afloat, these flags are available for them. The flags take the form of either a broad pennant or a square boat flag with either text, or a cap or team logo near the hoist. Each uses the individual team's colors in their designs.
Note: Because of the small size of these nautical broad pennants. usually about a foot tall (approximately 30.48 centimeters), they have also gained popularity as "golf cart" flags. It should also be noted that a broad pennant, or any other flag shape, is only called a "burgee" if it designates an organized boating club.
Pete Loeser, 17 May 2019
---