This page is part of © FOTW Flags Of The World website
Coushatta Nation - Louisiana (U.S.)
Native American
Last modified: 2017-08-21 by rick wyatt
Keywords: coushatta | louisiana | native american |
Links: FOTW homepage | search | disclaimer and copyright | write us | mirrors

---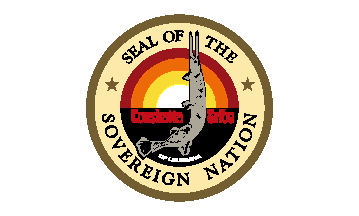 image by Donald Healy, 3 January 2008
---
---
See also:
---
The Band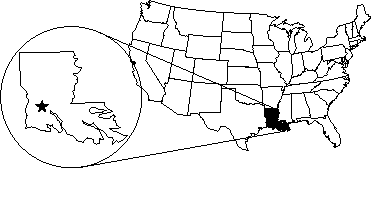 map image by Peter Orenski based on input from Don Healy
Coushatta - Louisiana

Accepted by the federal government in 1973, after a long campaign by the Coushatta people, the Coushatta of Louisiana first came into contact with the Europeans in 1540 when the Spanish explorer Ferdinand DeSoto trekked through what is now Alabama, Mississippi, Louisiana and Texas. In traditional European style, DeSoto pillaged the Coushatta lands around the Tennessee River region of Alabama and held the chief and tribal elders hostage. In typically diplomatic style, he threatened to burn the hostages alive should the Coushatta oppose his continual robbing of their villages. The initial encounter with the explorer set the tone for European/Indian relations for almost 500 years. The last major blow to the Coushatta came as a result of the Creek War of 1813-1814 when many tribes were decimated and shipped off to Oklahoma.

Today's Coushatta are based in the small town of Elton, Louisiana, with additional tribal holdings around the towns of Kinder and Sulpher. Approximately 300 tribal members reside on the small reservation. They arrived in the late 1700s following a chief called Red Shoes, "King of the Alabamas and Coosades". He led a band of some 80 to 100 Indians to Louisiana. With that first band, Red Shoes settled the lower reaches of the Red River in Louisiana. Hundreds more Coushattas followed Red Shoes and his people. Soon the Tribe established itself firmly within Louisiana. According to the Coushatta, the Tribe's name may have one of several origins. One theory is the name originally meant "white-reed brake" and came from the swamp cane that grew in the areas where the Tribe usually settled. The cane was used in traditional basket weaving and for arrows and blowguns. A second, and more popular legend is that a wandering band of tribesmen came upon a group of white men and were asked who they were. They misunderstood the question and answered "koashatt", meaning they tribesmen were "lost", thus they "lost tribe" and the name the name stuck. It is however accepted among tribal members that the traditional name for the Tribe is Koasati, which repudiates the popular legend.
© Donald Healy 2008

---
The Flag
The Coushatta of Louisiana use a plain white flag bearing the tribal seal in the center. The seal is round and divided in half. The lower half is black while the top half is a series of concentric rainbow-like half rings. The core of the top portion is white, then the rings work outward yellow, then orange, red and finally black. On the lower half is the Tribe's name in red with the words "of Louisiana" appearing below in small white letters. Crossing both halves is a Garfish in natural colors. The fish is posed as if it were jumping out of the water symbolically formed by the black portion of the seal. The Garfish extends beyond the circle into the writing surrounding the seal. That include the phrase "Seal of the" on top and "Sovereign Nation" on bottom. The two phrases are separated by red ovals.

Each element of the Coushatta Tribe emblem has a traditional meaning. The Garfish, once used for food and jewelry, represents courage, wisdom, strength and discipline. The colors, reflecting the traditional clothing of the Coushatta people, also reflect the changing colors of the day and night. Each color has its own meaning: black is for night, white for the day, red is the life-giving blood, orange symbolizes discipline while yellow represents the sun. The colors also include the four sacred colors of most Native Tribes in North America - red, white, yellow and black. After 500 years of interaction with the Europeans, the Coushatta may have finally achieved the peace, prosperity and stability that had disappeared so long ago.

© Donald Healy 2008
information provided by Peter Orenski, 3 January 2008