This page is part of © FOTW Flags Of The World website
Lower Elwha Klallam - Washington (U.S.)
Native American
Last modified: 2017-08-22 by rick wyatt
Keywords: lower elwha klallam | washington | native american |
Links: FOTW homepage | search | disclaimer and copyright | write us | mirrors

---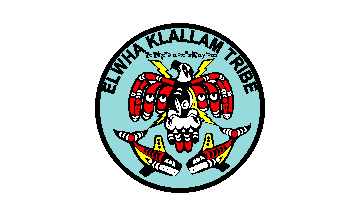 image by Donald Healy, 12 January 2008
---
---
See also:
---
The Band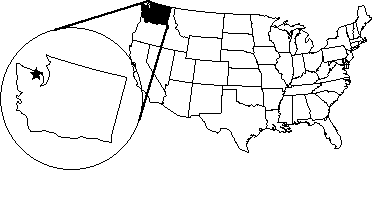 map image by Peter Orenski based on input from Don Healy
Lower Elwha Klallam - Washington

In the early 1800's, before intensive encroachment by American and British fur traders and before missionaries were established, the Klallam were approximately 10,000 strong. Their many villages dotted the Strait of Juan de Fuca along the northern coast of present-day Washington State, neighboring the Makah lands in the west and the Skokomish Tribe of Puget Sound in the east (Elwha Klallam History" provided by Barbara Lawrence of the Lower Elwha Tribal Office). Like other Coastal Salish of the Olympic Peninsula (see Quinault, Quileute, Makah), the Klallam - whose name in their native language means "Strong People" - lived up to their nickname "Fish-Eaters". They skillfully secured life-sustaining catches of salmon, herring, trout, sturgeon, and other small fish (Indians of the Northwest, Petra Press, Running Press Book Publishers, 1997, p. 15.).

Like the other southern Tribes along the Northwest Coast (see Quileute), the Klallam stalked whales, but were mainly content to obtain valuable meat, bones, and oil from whales that were caught in shallows or beached by storms (ibid.., p. 19).

In the 1840's, following the large-scale arrival of fur traders and missionaries who slowly decimated the Natives with epidemics of smallpox, flu, and tuberculosis - diseases to that indigenous people had no immunity - the ranks of the Klallam decreased dramatically. Today, they occupy three reservations with a total tribal enrollment of about 1700 people, of which some 650 are Elwha Klallam. The 572-acre (231 hectares) Lower Elwha reservation is located six miles (10 km) west of the city of Port Angeles at the mouth of the Elwha River, about midpoint along the northern Washington State shoreline that marks the Juan de Fuca Strait (see also Jamestown S'Klallam).
© Donald Healy 2008

---
The Flag
According to Barbara Anne Lawrence, Cultural Resources Specialist for the Tribe, (Elwha Klallam History"), the Lower Elwha flag was created in 1995 by 25-year-old Alfred Charles Jr., who responded to an invitation for tribal members to design a flag. Starting from design elements such as the thunderbird and killer whales already present in the seal of tribal stationery. Mr. Charles simplified and sharpened these seal design elements, placed them on a white background, and thereby produced the striking flag the Lower Elwha display today. According to tribal member Brenda Masocol, the logo, or tribal seal was originally made by Billy "White Shoes" Charles.

The entire symbolism of the flag - from the light-blue background evoking water, to the thunderbird by whose spirit the earth is watered and the harvest from sea and field is gathered, to the respectful regard for the whale as protector rather than prey - reflects the Elwha Klallam's ancient fishermen tradition. Ms. Lawrence describes the symbolism as follows ("Elwha Klallam History"):

"The thunderbird represents the protection of our people. The lightning bolts it is throwing comes from a story about the thunderbird flying up a river and throwing lightning bolts at the water to ensure a good fish harvest. The black fish are killer whales. They are the protectors of our people when traveling by canoe or water."

The circular seal is bordered by a heavy black ring inside which curve across the top the English words "ELWHA KLALLAM TRIBE" in black letters; curved beneath them appears, in black and spelled in international phonetics, their translation into the Klallam language. The body of the thunderbird is black with white highlights; its neck and upper tail are white with black borders and accents, the lower four feathers of the tail are black with white highlights while the lowest two feathers are red, bordered in black. The wings of the bird are red, bordered in black, showing black and white elements. The lightening bolts are yellow with black borders. The heads of the two killer whales are black with white teeth and eyes, the upper bodies are red with black highlights. The whales' lower bodies each have a horizontal yellow "Y" with the open ends directed toward the head and containing a white dot. The tails are black, each containing a red disk and white accents. The upper fins are yellow, bordered in black, and contain 3 black dots each whereas the lower fins are solid black.

The flag of the Lower Elwha Klallam is an example of strong, balanced design that remains faithful to the mythology as well as to the historic and artistic tradition of its people.

© Donald Healy 2008
information provided by Peter Orenski, 12 January 2008