This page is part of © FOTW Flags Of The World website
List of defaced Australian blue and red ensigns
Last modified: 2021-09-25 by ian macdonald
Keywords: australia |
Links: FOTW homepage | search | disclaimer and copyright | write us | mirrors

---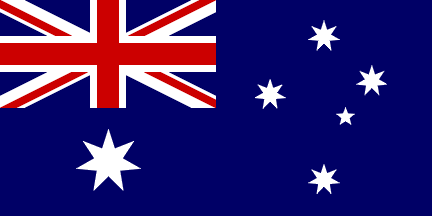 image by António Martins, 28 November 2005
---
See also:
---
List of known defaced Australian ensigns
This is a list of known past and present defaced Australian Blue (& Red) Ensigns, in order of their appearance 'in the bunting' or prescribed in legislation. Defacement of the Australian flags was not subject to centralised control. The concept began to fall from favour in the mid-1930s and by 1960 the Australian Government had adopted a 'no-defacement' policy towards Australian flags. Most existing ones gradually faded away by the mid-1980s. Only three remain in current use.

Unlike British Ensigns, the Australian Ensign defacements were usually placed in the lower centre of the flags, between the Commonwealth Star and the Southern Cross. However from about 1910 to the 1930s the defacements were often placed in the true fly centre within a non-standard expanded Southern Cross. This practice was invalidated after the precise Southern Cross dimensions were gazetted in 1934, and it finally ceased in the years after the Flags Act 1953 took effect.

Any service ensigns and other 'special flags' flown in New Guinea and Papua were taken to have ceased use from noon on 14 February 1942 due to the Pacific War situation. Formal withdrawal was on 30 October 1945 when the Provisional (Combined) Administration was established.
Jeff Thomson, 8 August 2021

AUSTRALIAN CUSTOMS FLAG 1901-1904 Prescribed in the Customs Regulations as a (British) Blue Ensign defaced with 'H.M.C. Australia' in the fly, but 1901 and 1903-type Australian Blue Ensign variants would have been valid.

AUSTRALIAN CUSTOMS FLAG 1904-1987 The prescribed defacement in the Customs Regulations from June 1904 to December 1987 was a bold white 'H.M.C.' added to the fly of the Australian Blue Ensign (six-point Cth Star until 1909).

FLAG OF PAPUA 1908 (and see below) An Australian Blue Ensign with the six or seven-point Commonwealth Star, and a white disc with 'Papua.' in black in the lower centre. Apparently lapsed in 1908 after only a few made, in favour of the British Blue Ensign version 'Flag of Papua' which entered service at about the same time.

PAPUAN CUSTOMS FLAG 1909-1951 The Papuan Customs Regulations between 1909 and 1951 prescribed 'the Flag of the Territory of Papua (Blue Ensign) as the basis of its Customs flag, with a bold black HMC added. No record has been found of any such Customs flag ever being flown. Although nominally a British Blue Ensign, an Australian Blue Ensign variant would have been valid.

AUSTRALIAN QUARANTINE ENSIGN 1911-1935 (continued in use into the 1980s) Prescribed in the Quarantine Regulations as a 'blue ensign' with a yellow-disc Quarantine badge in the fly. The few known examples reported in use were all Australian Blue Ensigns.

COMMONWEALTH LIGHTHOUSE SERVICE FLAGS 1915-1963 A blue flag was flown at 'lightstations' and a red flag by 'steamers in the lighthouse service'. Both had the same oval lighthouse badge placed within an expanded Southern Cross. Supply of the blue flag to lightstations was discontinued in 1955 in favour of the undefaced Australian National Flag.

NEW GUINEA QUARANTINE ENSIGN 1924-1956 The same prescription as for the Australian Quarantine Ensign, but there is no known report of this flag being flown in New Guinea, in either British or Australian ensign format.

NEW GUINEA CUSTOMS FLAG 1928-1951 An Australian Blue Ensign prescribed in the New Guinea Customs Regulations from 1928 to 1951. The badge was a white disc with a bold black T.N.G.C. Use reportedly ceased in 1942.

REAPPEARANCE OF 1908 FLAG OF PAPUA 1931-1945 There is evidence that this or a similar Australian flag reappeared as an alternative to the British type. Contrary to suggestions of a 1954 report, there was no known red ensign variant.

MILITARY BOARD FLAG 1941-1947 The Australian Military Regulations 1927 from 1941 to 1947 prescribed an Australian Blue Ensign with a badge of a crown on a blue shield, and a white scroll with the words 'Military Board' in the lower half of the shield. The exact form of this badge, and where it was located on the flag is not known. It was only to be flown afloat, the car-flag was an entirely different flag. The Military Board was suspended due to the Pacific War situation in 1942.

COMMANDER-IN-CHIEF PERSONAL FLAG 1941-1945 This was apparently an Australian Blue Ensign defaced with the 1904-pattern Rising Sun Badge in gold on both sides, presumably in the lower centre. A series of 1942-1944 wartime orders included a car-flag version of this flag in 2:3 proportion. Use of both versions ceased 30 November 1945.

PAPUAN CUSTOMS FLAG 1945-1951 A purely hypothetical flag deduced from the Papuan Customs Regulations, based on the undefaced Australian Blue Ensign having in effect become 'the Flag of the Territory of Papua (Blue Ensign) post-war. It would have had a bold black HMC in the lower centre, obviously edged in white for visibility. In fact the undefaced Australian Blue Ensign was flown as the Customs flag post-war.

CHIEF OF GENERAL STAFF PERSONAL FLAG 1946-2001 An Australian Blue Ensign with the Royal Crest in gold on both sides for the Chief of the General Staff as a personal flag and 2:3 proportion car-flag. This was approved by various Army, and later Australian Defence Force administrative processes. As with many other British flags, the form of the crowns was changed when Queen Elizabeth took the throne.

NAURU CUSTOMS FLAG circa 1949 No formal prescription for a Customs flag for the Territory of Nauru has been found. However a 1949 report disclosed an apparently locally-improvised Customs flag with a reported 'N.C.' (Nauru Customs?) 'under the Jack'. This suggests that it was based upon an Australian Blue Ensign.

NAURU QUARANTINE ENSIGN circa 1949 No formal prescription for a Quarantine ensign for the Territory of Nauru has been found. But a 1949 report disclosed a Quarantine ensign with 'a yellow circle under the Jack' suggesting that it was the same Quarantine ensign as worn by Australian quarantine launches.

PRIME MINISTERS MENZIES' AND HOLT'S CAR-FLAGS 1949-1966 Australian Blue Ensign car-pennants with a Commonwealth Coat-of-Arms added to the flag lower centre. No formal authorisation. During Prime Minister Harold Holt's trip to the USA in 1966, his cars and aircraft flew flags of similar design but professionally-made. They do not seem to have been flown again after this trip, a 2:3 proportion Australian National Flag being flown ever since.

PAPUA AND NEW GUINEA CUSTOMS FLAG 1951-1975 Prescribed in the unified Customs Regulations of 1951. Similar to the 1928 New Guinea one, with the badge letters changed to T.P & N.G.C. In effect replaced by the PNG National Flag from mid-1971 but remained valid for use until PNG independence on 16 September 1975. No known report of it ever being flown.

COMMONWEALTH LIGHTHOUSE SERVICE AUSTRALIAN RED ENSIGN 1962-1973 This Australian Red Ensign had a round badge located in the flag lower centre and was flown as the ship ensign. No authorisation has been found other than detailed drawings of the flag and the badge.

AUSTRALIAN CUSTOMS FLAG 1988-2015 From January 1988 to June 2015 the prescribed defacement for the Australian Customs flag was amended from H.M.C. to 'CUSTOMS'.

CHIEF OF ARMY PERSONAL FLAG 2001-present This flag replaced the Royal Crest CGS version in 2001. It reverts to the Rising Sun Badge in gold, superimposed on crossed swords on both sides. It remains in use in both personal flag and 2:3 car-flag formats. This flag is approved by Australian Defence Force administrative processes.

CENTENARY FLAG 2001-present To date the only known defaced flag warranted under Section 6 of the Flags Act 1953. A one-off, and Australia's Flag of State, with a 'defaced headband' instead of a defacement to the field of the flag itself.

AUSTRALIAN BORDER FORCE'S FLAG 2015-present From July 2015 the CUSTOMS defacement was replaced by a bold white 'AUSTRALIAN BORDER FORCE'. The Customs Regulation flag prescription title was changed from 'Customs flag' to simply 'Flag'. The July 2015 flag noted with just 'BORDER FORCE' on it, was apparently an error in ordering from a flag maker, before the amended prescription in the Customs Regulation had become known.

As far as is known, there has been only one defaced Australian Blue Ensign produced for a State government department or agency. Virtually all state government service ensigns were the flag of the state, a defaced version of the flag of the state, or a British Blue Ensign with a state government agency badge in the fly. The only known defaced Australian Blue Ensign with a State Government agency badge was;-

MARINE BOARD OF LAUNCESTON FLAG (replaced circa 1968) The Marine Board of Launceston flag appeared at an unknown date. The badge was a foul anchor within a white garter in the true fly, and the Southern Cross stars were moved slightly to clear it. It was replaced circa 1968 by a British Blue Ensign with a badge in the fly. As the badge was oval-shaped, this suggests that it was designed to be added to an Australian Blue Ensign but the only known images are of British Blue Ensigns with this badge.